Hi, New Haven!  You are windy and cold.  :)  VERY wind and cold.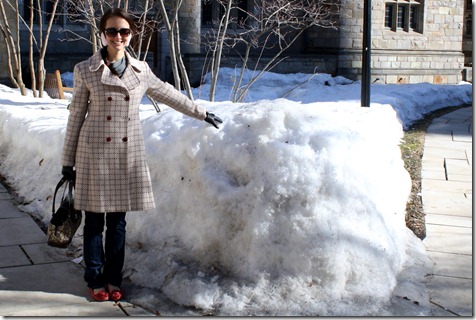 I told you the snow banks were nearly as tall as me!
I slept well last night, considering I was in a hotel room (anther cool app you must download for you phone: Ambiance).  I woke up 45 minutes before my alarm and decided to squeeze in a workout.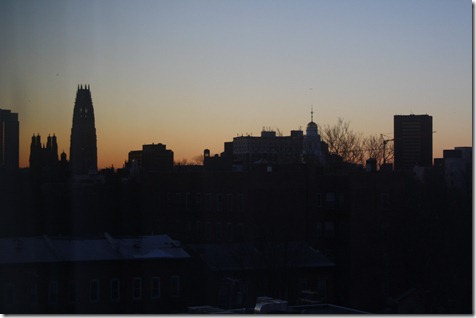 I trudged downstairs to the hotel gym and banged out an awesome 3.0 mile speedwork session similar to this Progressive Speedwork workout.  I finished in 26:42 – its amazing how much faster I am on the treadmill!
I had to rush-rush-rush to get ready in time.  I hate when I'm still sweating when I hop OUT of the shower!  But I had a fun breakfast planned with some fellow bloggers and readers: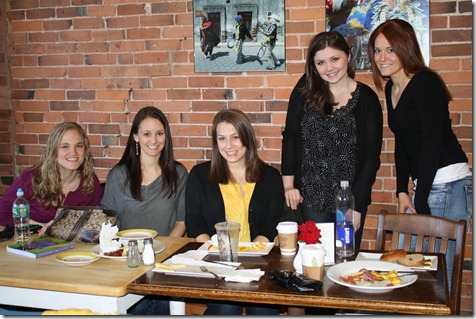 Sarah, me, Allison, Jennifer, and Jennifer.
We went to a little organic vegetarian place called Claire's.  I was intimidated by the loooong menu.  Everything looked good!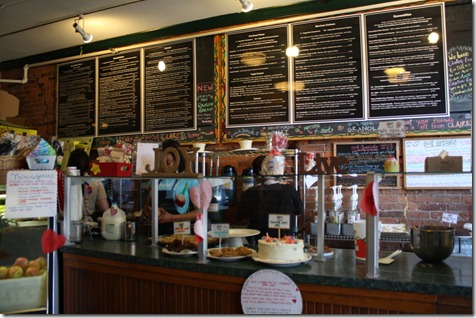 I got the Eggs Florentine, which came with a side of spinach in cream sauce, sweet potato fries, and apple: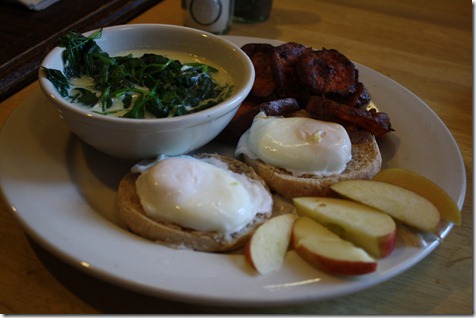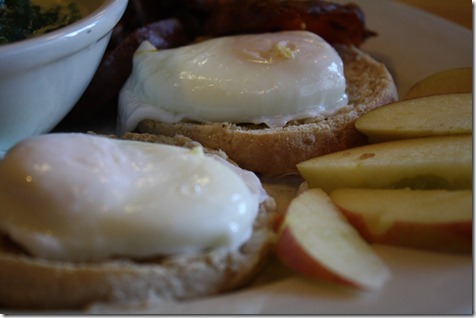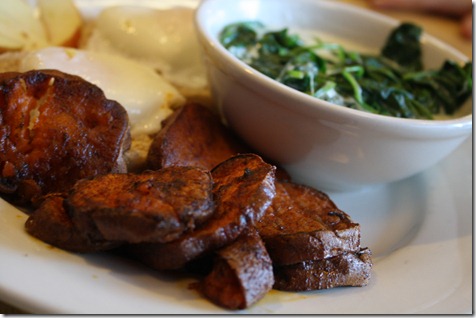 The food was pretty alright (the eggs were way overcooked… however, Claire's got bonus points for being organic) but the conversation was awesome.  It's so nice to meet people you've been communicating with over the Internet for so long!  I think we all had to tear ourselves away at the end of the meal – people had to get to class and work!
Allison gave me a mini-tour of the Yale campus.  I felt smarter just being there.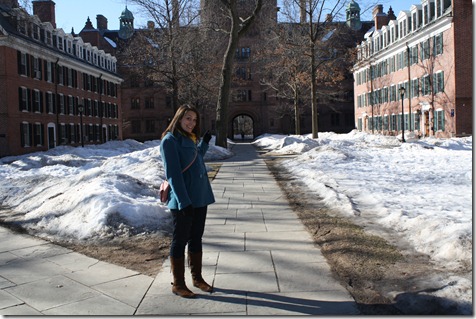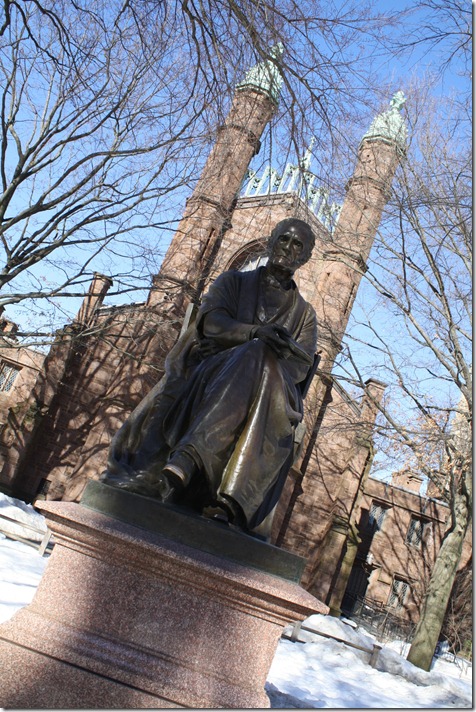 I rubbed this guy's foot for good luck!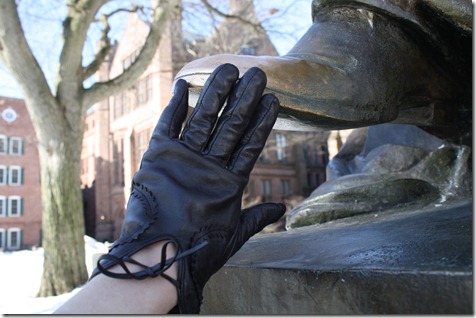 Fun fact: "Some time in the last ten years, someone invented a "tradition" of rubbing the toe of the Woolsey statue on the Old Campus for luck, explaining that students employ this practice before exams. Similar traditions exist at many other institutions, but it's difficult to find an alumnus over the age of 30 who has ever heard about President Woolsey's toe. Nevertheless, Yale tour guides spread the story diligently, inviting visitors to give it a try themselves. As a result, the statue, the rest of which is a dull gray-green, has a left toe that has been rubbed shiny, and the story seems for all practical purposes as old as the statue itself."  Allison told me that Woolsey used to use his foot to push the crew team's boat off the away from the dock, and every time he did this, they would win.  Fun urban legend!
I better prep for my presentation now.  See you this afternoon!
Question of the day:  What colleges did you apply to?  What was your first pick?  Where did you end up going?  I applied to:  University of Pittsburgh, Carnegie Mellon, Emory, University of Florida, University of Miami, Washington St. Louis, and Boston.  My first pick was PITT and that's where I went to school!  And not to hate on my Gator readers, but I would've rather shot myself than gone to UF.  ;)  (I have to say that because I'm a Hurricane fan!)