The thought of getting on this little puddle jumper sent me into a tailspin this afternoon!  I hate flying on little planes.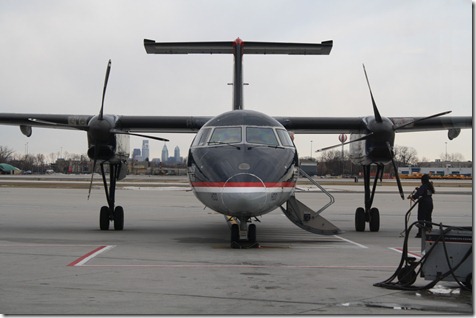 Luckily, I was prepared with snacks and a distracting issue of Runner's World magazine.  🙂
In hopes of spending less money on eating out, I packed a bunch of food for the trip, including a few bananas, almond butter, and bread.  Everything survived the journey!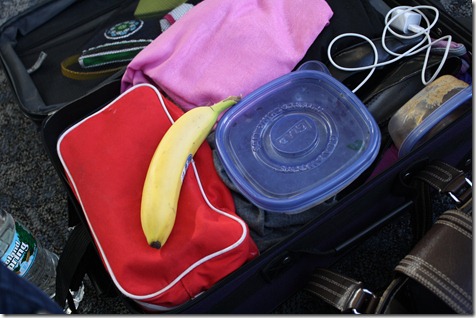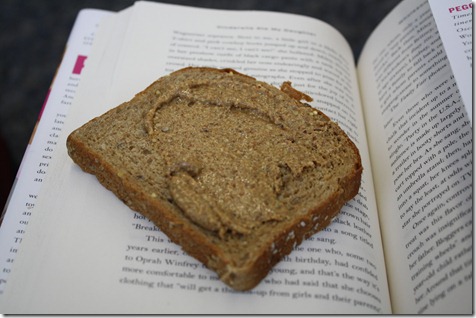 Despite my trepidations about flying on such a small plane, the flight went smoothly, and I touched down in New Haven without a glitch.  I was surprised to discover that it's warm out – nearly 50 – but there are HUGE snow banks all over the place from the last big blizzard.  Some are as tall as the cars!
Want to know the best app to download for your smart phone?  The Yelp! app.  Whenever I visit a new city for work and am not sure where to eat, I just search Yelp for nearby vegetarian restaurants.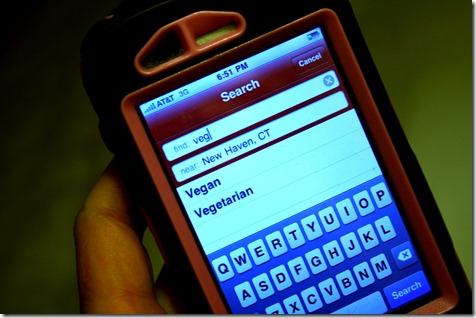 Elaine's Healthy Choice came up on my Yelp map – it was a drive away but the menu seemed intriguing.  Plus, a review said that the macaroni and cheese was amazing, so I hopped in the rental car and headed over.
Oh, Elaine's – you had me at the 100% vegetarian/vegan hand-painted sign on the small shop in the creepy neighborhood.  What else could a girl ask for?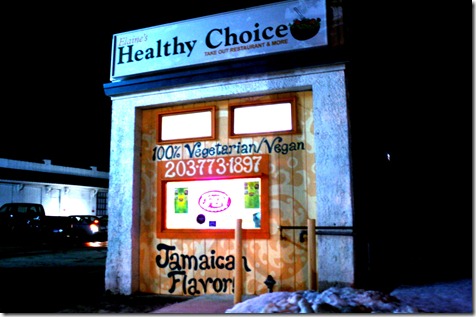 Takeout: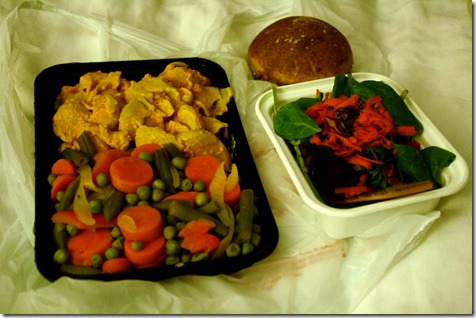 The curried vegetables with macaroni and cheese (a huge portion, only ate half), a side salad, and a wheat roll.  All very good!  Another Yelp success.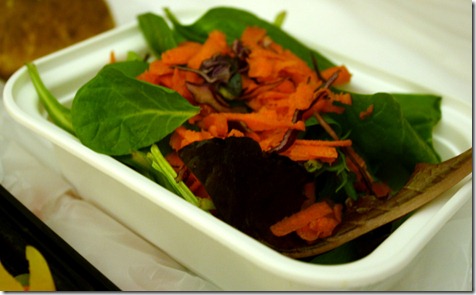 I had thought about going down to the gym, but now I have a macaroni and cheese block in my tummy and the soft bed and television seem sooooo inviting.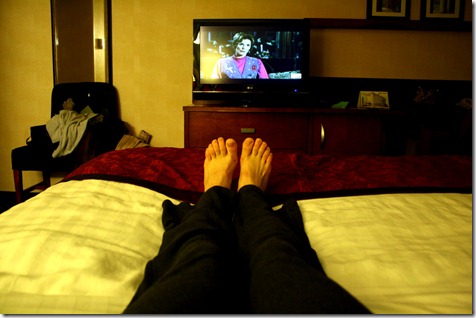 Help!  I've sunk into a Sleep Number bed, and I cannot get out!
PS – My social media buddy (cute story) Peter Hollens has a new video!