When you tell a stranger that you're a vegetarian, the first question out of their mouth is usually, "So, where do you get your protein?"  The next statement is, "I could never do that," but I hope my blog illustrates that being a veg isn't that hard or boring!
While I believe protein is an important part of your diet (especially if you're really active), it's certainly not the end-all-be-all.  Most vegetarians who eat a varied and healthy diet easily meet the daily requirements as recommended by the government, which is 40 – 70 grams (depending on your gender, weight, and activity level).
Personally, I think our obsession with protein is a leftover from the Atkins age/a meat and dairy industry conspiracy.  If you're rolling your eyes right now at my paranoia, check out In Defense of Food.  Another awesome resource is No Meat Athlete's Vegetarian Guide. He really breaks it all down on a scientific level.
Fun fact: this breakfast has 20 grams of protein in it!  Roughly the same as a 3 ounce piece of fish.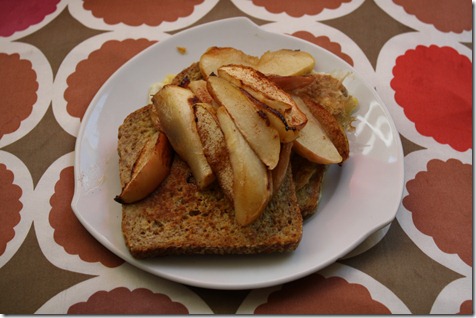 French toast made with Ezekiel bread, topped with baked apples.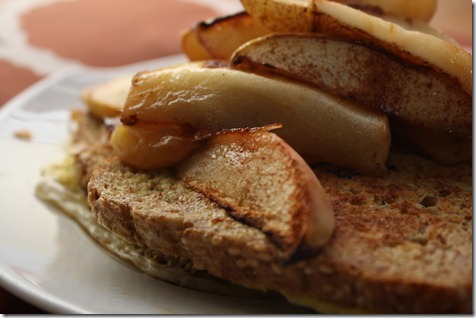 Off to run and then work.  🙁
At least it's gorgeous outside…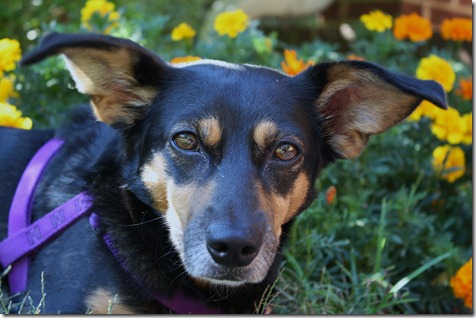 Spring is right around the corner!  I can smell it in the air.