A little something NEW for breakfast: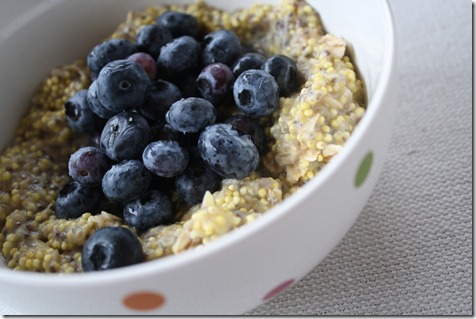 Millet is an awesome oatmeal alternative, but I've never really prepared it in this way.  Plus, this breakfast cooks quickly and you don't have to 'watch' it the whole time.  I don't have time to slave over the stove on a Friday morning!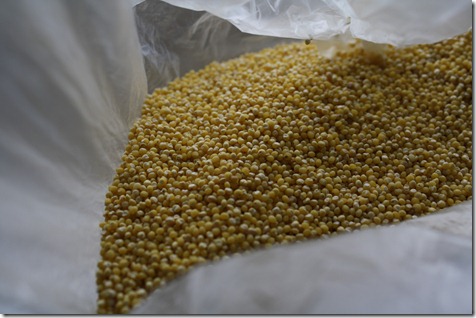 Millet and Creamy Banana Bowl
Ingredients:
1/4 cup millet
1/4 cup oats
1/2 cup almond milk
1 large banana
1 tablespoon chia seeds
Toppings:  blueberries
Directions:
In a small pot, mix millet and almond milk.  Turn heat to medium high.
After 3 minutes or so, add a thinly sliced banana, stirring occasionally in between feeding the dogs or brushing your teeth. 🙂
After 5 minutes, add oats and chia seed.
Stir, turn to medium low, and let stand under all the liquid evaporates away (another 5 minutes or so).  The banana should be creamy by now.
Plate and top with chia seeds.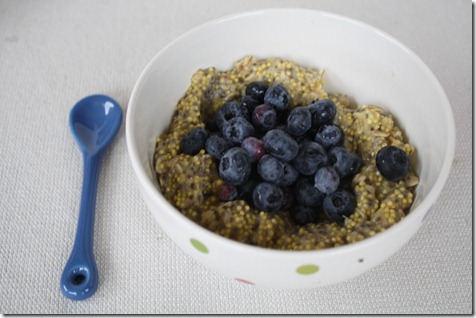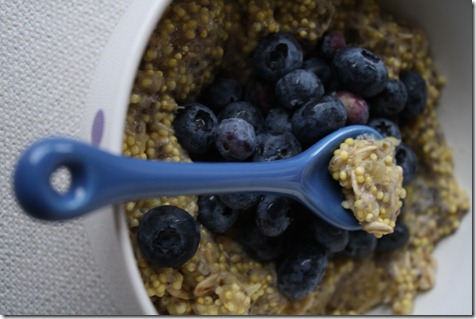 The Short or Long Debate
Sometimes we have serious debates on Healthy Tipping Point (like The Unsettling Case of Michael Vick or The Ethical Eating Debate).  Sometimes we have silly debates on HTP (like The Sleeping Nekkid Debate or The Dog Poop Debate).  Here's another fun little debate for everyone this morning!
When I was in college, I worked at Career Services for three years.  I really liked my job!  I was a Peer Career Advisor (ha) and would review other student's resumes and give them interview tips.    One question I received a lot from girls was, "What should I do with my hair?"  especially if the girl had longer hair.  Our general response was, "As long as it isn't in your face and you're not twirling it, do whatever you want with it – wear it up or down," but in hindsight, that wasn't super helpful.
Sarah from The Strength of Faith e-mailed me to say, "I have a series of job interviews coming up and I am trying to think about how I want to present myself.  I've got the power suit and heels, but I'm torn on what to do with my hair.  Do women with long hair look more professional with their hair pulled back, down, or somewhere in the middle?  I am also in a unique position, because I am going into the ministry – so as a 20-something female, I already don't really "look" the part (when people think "pastor" they think tall, middle-aged male).  For that reason, I'm trying to make myself look a little bit older as well.  I know it seems kind of vain to be so concerned about how I look, but I do try to present my outside to match what I know and am capable of on the inside as much."
Side Note – When I was on The Today Show, I opted to wear my hair down because I feel more comfortable that way, but it was a CONSTANT battle not to twirl my hair out of nerves.  My mother warned me, "Don't play with your hair in front of Meredith Vieira or no one will take you seriously!"  If you watch the segment, I only twirled once.  I was so proud!
Should Sarah the pastor-to-be wear her hair up or down for job interviews?  And are you a nervous hair-twirler like me?