As you may have guessed from this morning's post on surviving long runs, I did a long run today!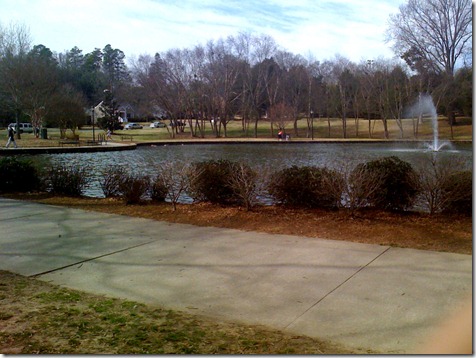 I am running the National Half Marathon in Washington DC at the end of March, and today was my first double digit run since I ran a marathon in October.  I was a little nervous, but also excited.  I really love long runs – the way they feel during and after, too.
Plus, the weather was gorgeous earlier – not too hot, a little windy.  I started to sweat after a mile (and I was rockin' a sleeveless shirt!). My aim was to maintain a steady pace that was a little slower than my goal pace (I hope to run a sub-2:00 hour Half or MAYBE a 1:55).
Around Mile 4.0, I stopped off at the store to grab fuel: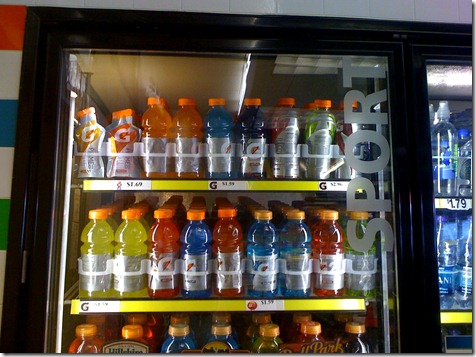 I was tempted by this $1 beer though… Heh.  Can you imagine?  I knew a guy who drank a beer at Mile 24 of a marathon (he vomited his way across the finish line).  I know it's not a good idea; however, it did sound REALLY refreshing.  Maybe later!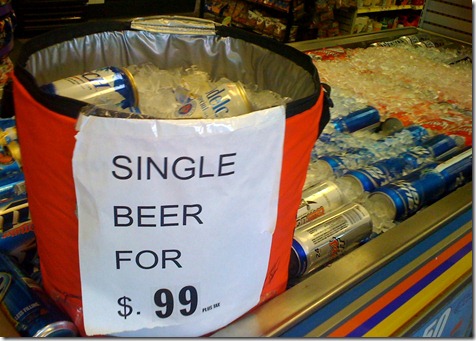 Here are my splits:
Distance: 10.0 miles
Duration: 1:38:10
Mile 1: 9:38
Mile 2: 9:36
Mile 3: 9:42
Mile 4: 9:47
Mile 5: 10:01
Mile 6: 10:06
Mile 7: 9:32 <— glucose from the Gatorade kickin' in!
Mile 8: 9:59
Mile 9: 10:00
Mile 10: 9:47
I cannot imagine running another 3.1 miles in the space of 17 minutes!  But hopefully, I'll be able to do it under race conditions.
Pre-run breakfast was a Grilled Banana Sandwich: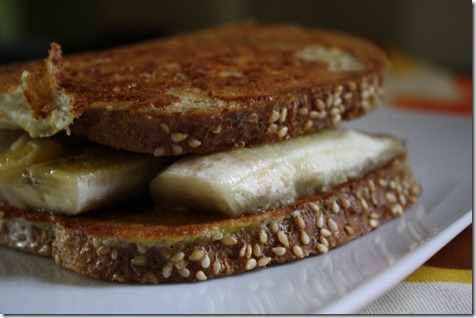 And afterwards, I made this incredibly easy bowl of pasta.  Would you believe this whole thing took 4 minutes after the water started to boil?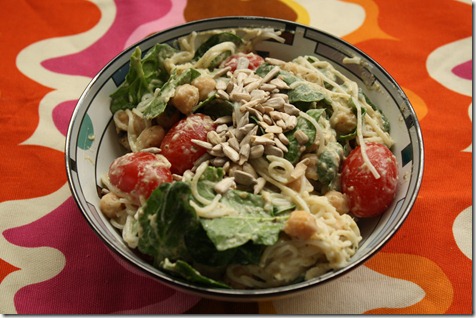 I cooked Somen noodles (Japanese whole wheat, very thin), drained, put back in the pot, added white bean and basil hummus, added some tomatoes, chickpeas, and spinach, and gave it a good stir.  Tada!  Creamy vegan pasta.  Topped with sunflower seeds.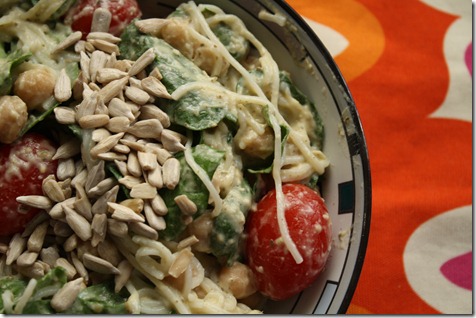 I had about 1.5 servings of pasta in the bowl.  I'm sure my hunger is going to kick in strong after such a hard workout, but it usually takes a few hours to catch up with me.
Psst – This morning, a producer of a major morning talk show (can't say which one, but it's cool!) contacted me and asked me to put a call out on my blog.  Are you overweight or obese according to BMI charts and been denied health insurance because of your weight… despite the fact that you live a healthy lifestyle? If so, shoot me an email at caitlinjboyle@gmail.com.  You could be on TV!
Off to Girls on the Run!  🙂