This is Part II of a new blog series called Eat-In Challenge Shopping Cart.  Over the years, many people have asked to me to write about grocery shopping, but it's so hard to really detail what's in our fridge and pantry in just one blog post (hence, a series!).   Here's my shopping cart at Trader Joe's.
The second grocery store we frequent is also the most expensive and, therefore, the one we go to the least:  Earth Fare.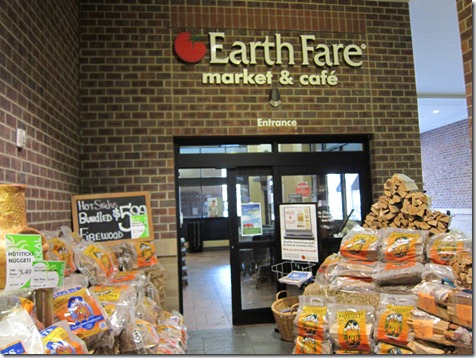 We attend this foodie heaven once or MAYBE twice a month.  The main motivation for going to Earth Fare is actually dog food (we feed our pups Holistic Select). 
However, Earth Fare is the Husband's favorite grocery store.  He loves the foodie presentation, all the organic produce, the fun vegan treats, the health snacks, the aisle of sauces, the variety… He loves it all.  And tries to put it all in the cart.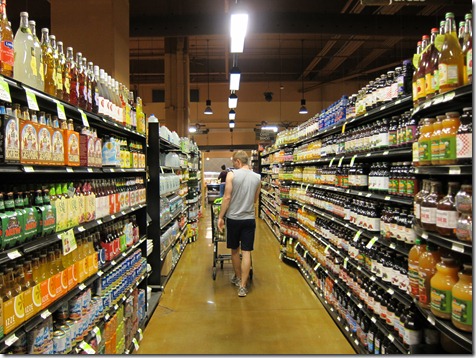 As a result, I try to leave the Husband at home when I need to go to Earth Fare.  Whenever he comes with me, we end up spending so much more money!  I spend a lot of time wagging my finger and putting stuff back on the shelf.  :)  Today I put back a $8 bunch of asparagus!  And $13 worth of shitake mushrooms!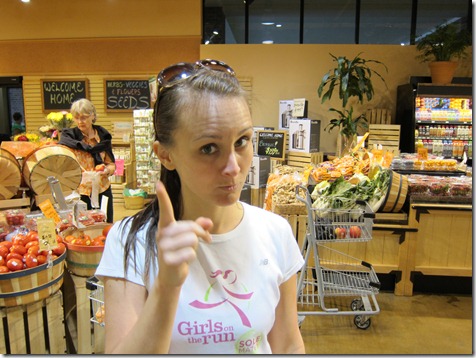 However, I will admit that Earth Fare is actually CHEAPER than other grocery stores for a few basic things (the trouble is with the specialty items).   Earth Fare is awesome for buying bulk grains, nuts, or pasta.  Also, Earth Fare does have the greatest variety of organic produce.  The Earth Fare in-store brand is also quite affordable (and organic) – for example, Earth Fare BBQ sauce is $2.99 while Bone Suckin' sauce is $4.99.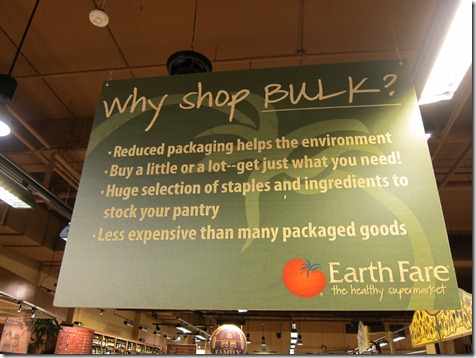 We managed to escape Earth Fare only $120 poorer – which, honestly, I consider a major accomplishment.  We probably won't do a major shopping trip for another two weeks (although we'll clear through this produce in 5 days or so).
So, what did we buy?
Produce
Two oranges
Two pears
Four apples
Two kiwi
Parsnips
Huge bunch of spinach
(All organic)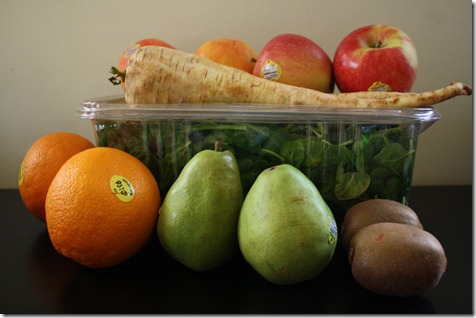 Two bunches of bananas (I'll wait for one to ripen and then peel and freeze it for smoothies)
Broccoli
Kale
Ginger
Sprouts
Pepper
Frozen cranberries and blueberries (for smoothies)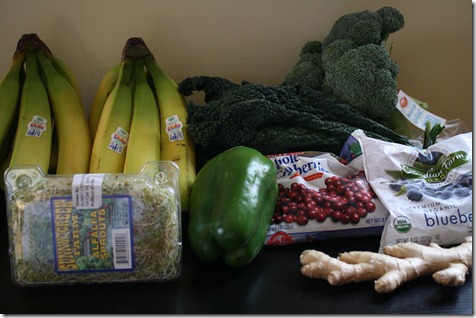 Dairy/Dairy-Like
Greek yogurt
So Delicious Coconut Milk coffee creamer (so yum)
Almond Milk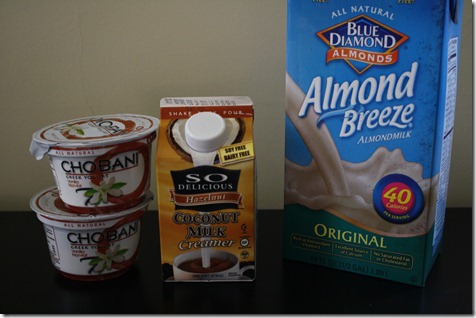 'Splurge' Prepared Items (Damn Earth Fare!)
Quorn meatballs
Almond grain burgers
Vegan bulk bin ravioli
Amy's Roasted Vegetable No-Cheese Pizza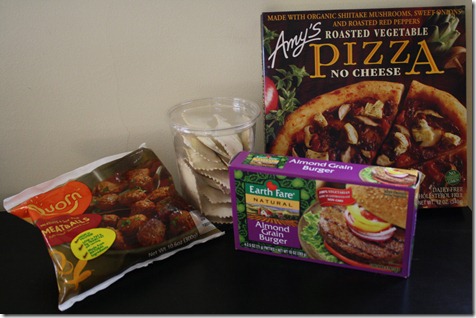 Grains
Two loaves of bread
Puffed rice (making granola bars tomorrow)
Whole wheat buttermilk pancakes
Shredded wheat cereal
Bulk bin oatmeal
Bulk bin millet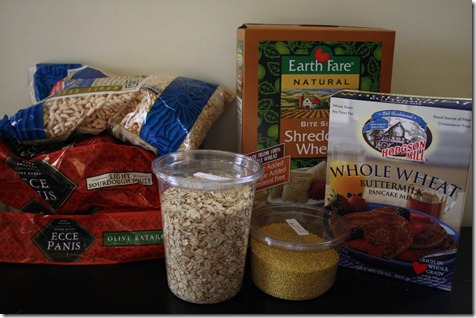 Randomness
Wolfgang Puck soups
Earth Fare BBQ sauce
Earth Fare Pasta Sauce
Olives
Chocolate PB
Local honey
Eggs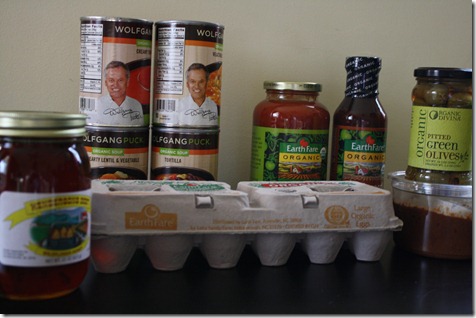 It was QUITE the grocery haul!  Our fridge is now packed.  A packed fridge makes me happy.  🙂
Onto today's post-10 mile eats:
I bought myself a box of discounted Valentine's Day chocolates and ate five pieces.  Um, yum.  No shame that I bought myself a heart-shaped box of chocolates, either.  Even if the woman at the counter kind of giggled.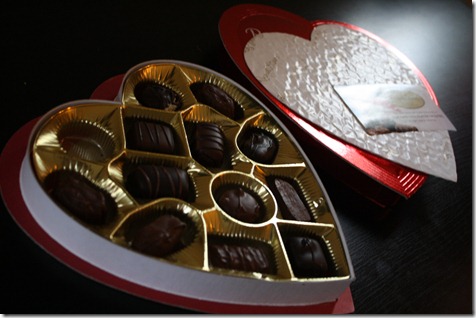 A blueberry, banana, almond milk, and protein powdered smoothie: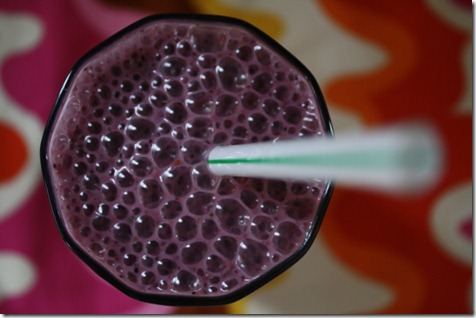 And the Husband was responsible for this lovely dinner.  He cooked up that vegan Amy's pizza and added goat cheese to my half.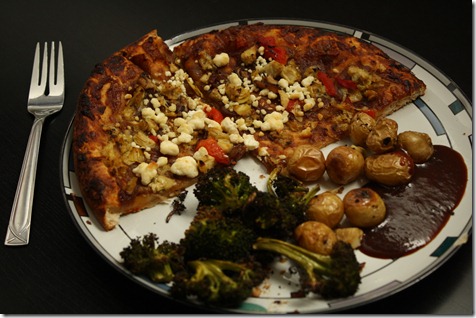 AMAZING.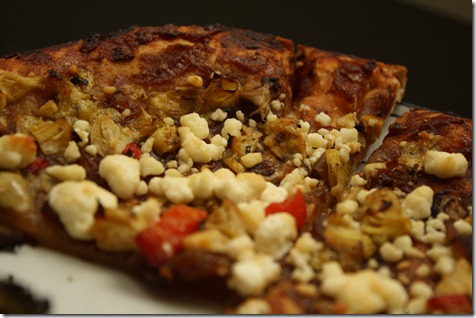 With roasted potatoes and broccoli.  With some BBQ sauce for dippin'!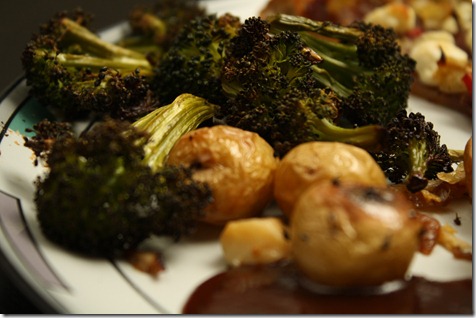 I have some work to do tonight – I have an Operation Beautiful presentation tomorrow at UNC of Charlotte.  So excited!
Have a wonderful evening.
Do you shop at an organic/foodie specialty store like Earth Fare or Whole Foods?  What do you love/hate about it?