Pssst?  Want a chance to win a new pair of New Balance running shoes + a workout top?  Check out this post from Tanya.  All proceeds go to Girls on the Run! 
I had my asana handed to me at Y2Yoga today!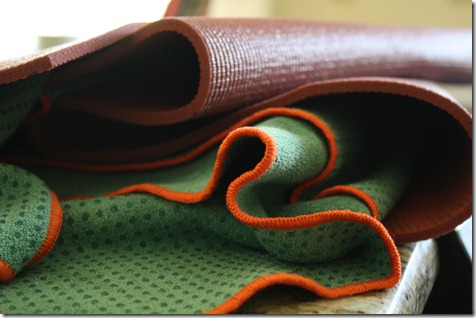 Super Flow (90 minute hot yoga) was super… hard.  As usual.  I am trying really hard to keep my elbows locked against my body during chaturangas instead of letting them fall out to get a better upper body workout… it's so challenging!
But we did tree pose about ten times, so I was happy.  Tree pose is my very favorite pose in all of yoga!
Came home and made an Indian-inspired lunch: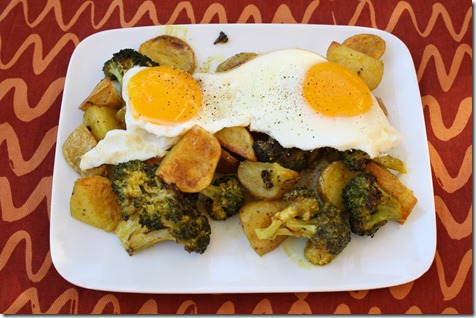 I roasted some small white potatoes with broccoli and then mixed the veggies in some Yellow Curry Sauce from TJ's: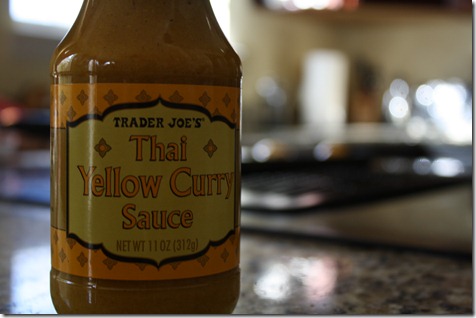 Topped with two dippy eggs.  Dippy eggs + potatoes = heaven.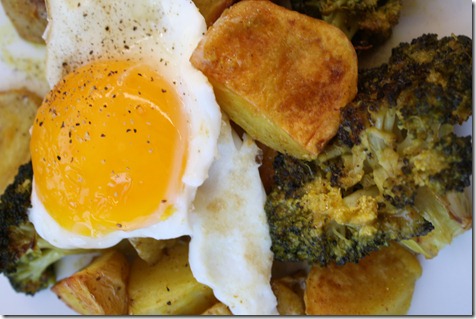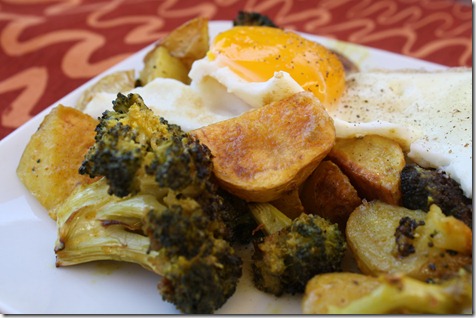 A great lunch, indeed!
I guess because it's the New Year and people are trying to change their habits, I've been getting a lot of e-mails about nosy coworkers and negative nancy friends.  I've also gotten a few emails about motivating other people to get healthy. 
So, here are a few of my "how to deal with other people when making healthy life changes" posts.  As usual, I tried to write thorough posts, but the comments on each of the following post are really a gold mine of good info.  🙂 Enjoy!
Do you encounter resistance in your social circle when trying to make or keep healthy habits?  Or is everyone super supportive?