Wonderful bowl of OATS!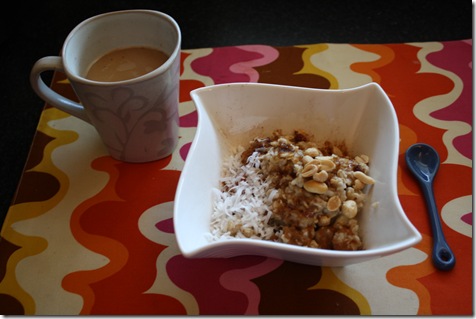 Plus, a much-needed cup of COFFEE!
Oatmeal was a delicious mix of sweet and salty.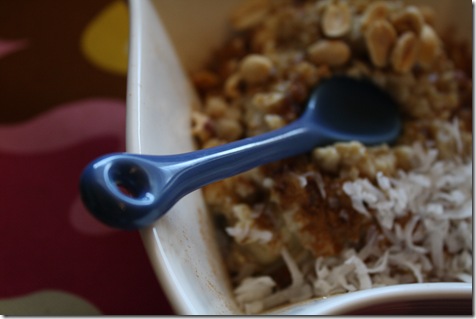 My bowl contained:
1/2 cup oatmeal
1/2 cup rice milk
1/2 cup water
1 sliced banana
Toppings:  coconut, peanuts, cinnamon, brown sugar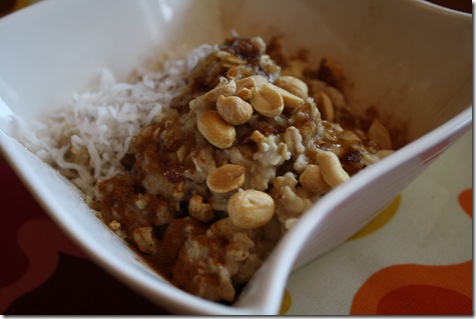 Healthy Families and Friends, cont.
As you might have figured out, I love to write about the dynamics between families and friends, especially when it comes to living a healthy lifestyle.  Here are some previous posts on the subject.
Today's question comes from Adrienne, who married a Fat Talker.  If you read my other blog, Operation Beautiful, you'll know that Fat Talk is negative self-talk and can hurt you emotionally, spiritually, and physically, too.
I've heard men Fat Talk many times (and I get Operation Beautiful notes from men constantly!), but this is the first time I've heard from a wife who wanted her husband to stop the dirty habit.  Read on…
Adrienne wrote, "After just one day of attempting to stop Fat Talk, I've felt SO much better about myself and life in general! I've grown up in a family of major Debbie Downers and have struggled to fight the family mold for SO long.  After almost 25 years of life, Operation Beautiful gave me that final push into the positive person that I've always wanted to be!   
However, my husband is a fat talker… and he definitely picked it up from me. Soon after getting married, I noticed that my Fat Talking was rubbing off on him. I feel terrible about it, and I don't think he has even noticed the change.  Since there is mimicking in our relationship, do you all think my husband transform back to the confident man I knew before now that I've taken this big step forward? Has anyone gone through this before? If it works, I really think this is going to change my marriage in an awesome way. Positive and happy together all/most of the time… what a concept!"
Questions:  Are you a man who Fat Talks, or do you know men who Fat Talk?  How can Adrienne begin to help her Hubby stop the bad habit?  Did you and your spouse become unhealthy and then healthier together?  Share your secrets!