Two very exciting things happened on this lovely, sunny Sunday.
I ran 2.0 miles without foot pain!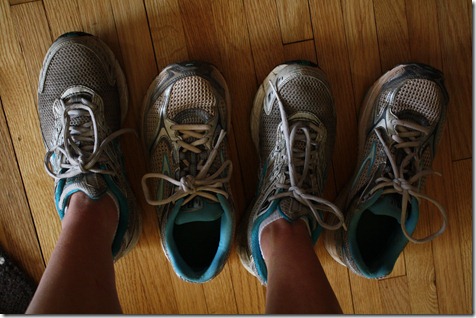 I swapped out my newer Brooks Summon II, which I had been running in when I hurt my foot following my last marathon, for an old pair of Brooks I.  The originals.  The run was so much better!  No post-run pain… so far.
Pre-run breakfast was Puffins and banana: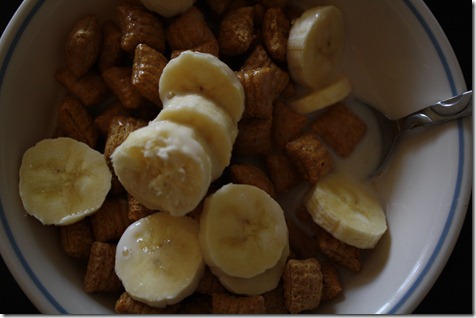 And then we grabbed a quick lunch of hummus sandwich and PB apple:
And actually, I ate the sandwich in the car on the way to… the Puppy Pound!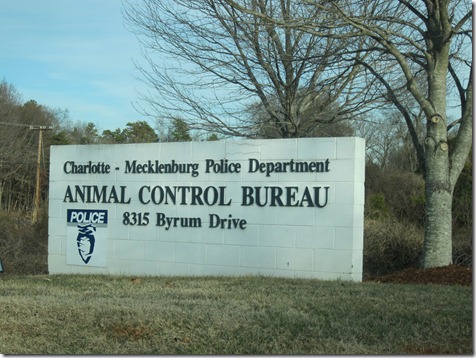 So – we need your advice.
We're thinking about getting a third dog.  We really want a big boy, 50 – 75 pounds who can run with me.  So we drove over to the pound to look at puppies.
We saw a really sweet German Sheperd mix.  Her name was Lilly and her jaw was fractured – they said she had probably been kicked in the face.  As a result, her tongue will permanently stick out.  It didn't seem to phrase her – she was a wildly happy puppy.  🙂
But this little guy…
Oh, he stole our hearts.  Eight weeks old, 'discovered' behind a mechanic's garage with his 4 other brothers and sisters ("Yeah, right," said the vet), and just as cute and fluffy as can be.  He'll be about 50 pounds when he grows up.  He was super sweet and quiet and soft.  He was very submissive and sweet – I think he's the runt.  We're calling him Wayne Rooney.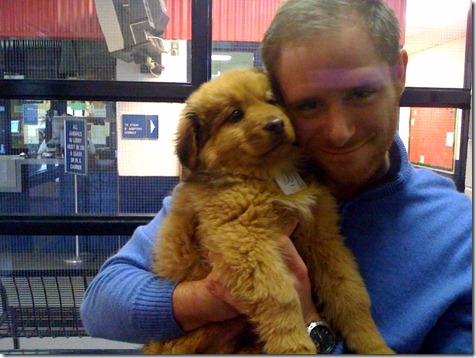 He also smelled like pee pee.
We didn't have our dogs rabies records so we couldn't leave with him.  But we could go back and get him at 11 AM tomorrow…
What do you think?  Is three a crowd?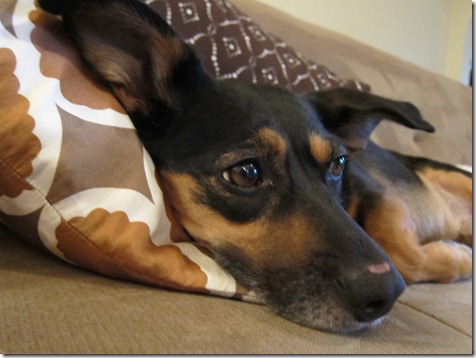 (Source)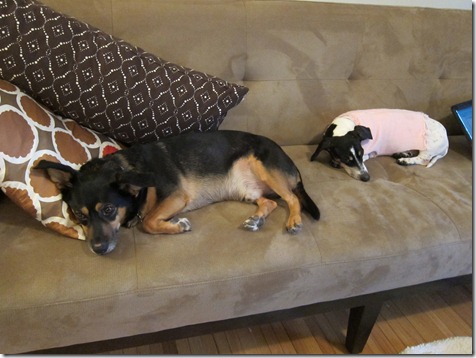 We got Maggie in August 2006 and James in January 2007 from an independent rescue group and the pound in Pittsburgh, respectively.  The dynamic is so comfortable that we're a little nervous about throwing a third (very calm and quiet) puppy into the mix.
We have the money, time, and love to dedicate to a pup!  I just wonder how it's going to feel to be outnumbered. 😉
Thoughts?  Is three a crowd?   Anyone out there with multiple pups who can comment?