All the patients called off today, so the Husband and I decided to take a snow day and go for a long walk in a new neighborhood.  Isn't it pretty?  We've gotten about 5 inches!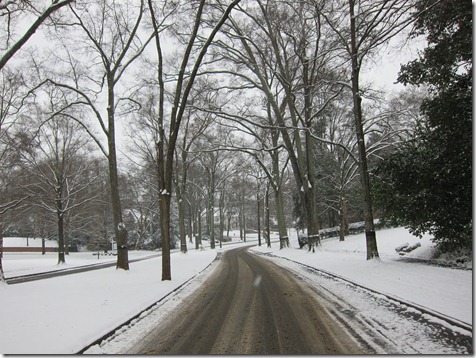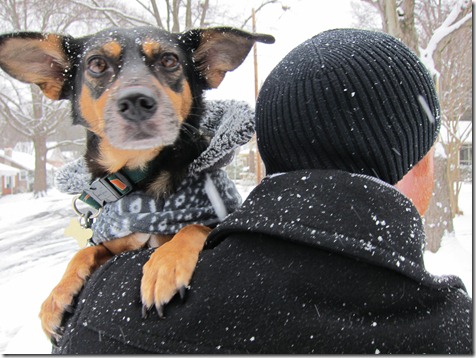 James had to be carried for a little bit.  🙂
And we grabbed Mediterranean take-out for lunch.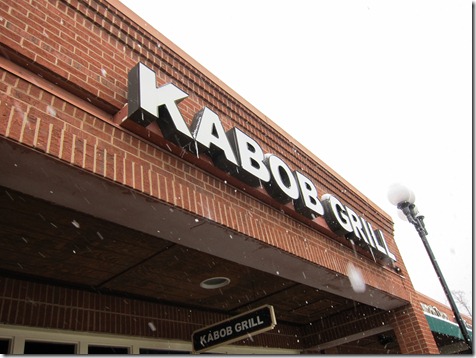 Here was my feast.  I went a little order-crazy at the counter.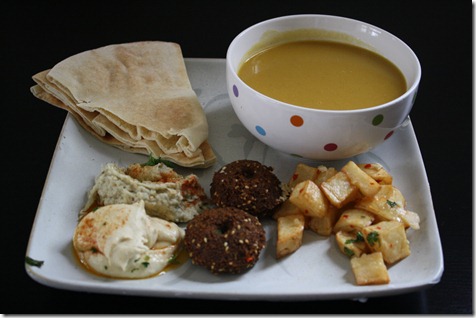 Pita bread, baba ganoush, hommos (how they spread it at the restaurant!), falafel, and potatoes.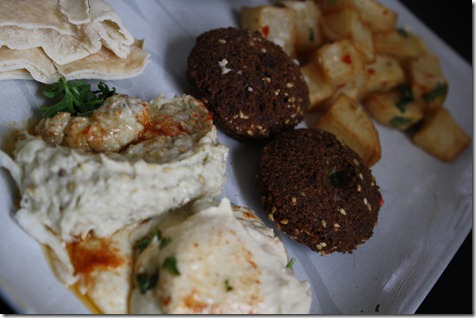 Plus, creamy and dreamy lentil soup.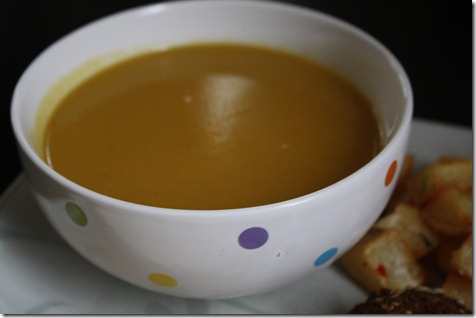 After digestion and a little bit of work, I hopped on the indoor bike trainer and rode for 30 minutes.  I've decided that the only thing I don't like about indoors is that I don't get as much of an upper body workout from being on the trainer.  There's no ab work either because I don't have to steady the bike as I ride!
Reader Mailbag
Emily wrote, "I've always seemed to have a problem with diligence – I'm a serial "starter-stopper".  Always starting something and then mentally talking myself out of sticking with the routine.  Self-fulfilling prophecy at it's finest.  Anyway – a little back-story: I used to be an athlete in high school, so I was in really great shape.  Then I went to college and worked out on and off, never letting myself get too out of shape, but never sticking to anything for longer than a month or 2.  Then I got married, and while I LOVE my hubby, marriage has made me  completely complacent.  When I do, by chance, decide to work out, I get discouraged because I am so out of shape.  I want to be able to run instead of walk, so I just quit all together.  I literally have gotten so lazy and I feel like I am so out of shape (which I am) and on top of that, I haven't been planning ahead to go to the grocery store for meals so we eat out a lot, which is a super bad habit (sidenote: literally eating McDonald's as I type).  I cannot seem to get myself started because the idea of me actually being in-shape seems so far off given my track record and lack of motivation.     I guess what I'm really asking you is how you initially got motivated and how did you not get discouraged when you couldn't do things at first?  And how did you keep yourself on track?"
I thought it would be beneficial to answer this email on the blog because I'm betting its a common issue!  Matter of fact, I suffered from the all-or-nothing attitude in the past.
One of the funny things about being a perfectionist is that it can actually backfire on you BIG time.  You think perfectionists would find it easy to stay dedicated to healthy lifestyle (or killer grad program or busy job or whatnot).  But the trouble with being a perfectionist is sometimes it prevents us from starting new things because of fear of not doing things "right." We get too bogged down by the details or too distracted by minor setbacks.
It's possible to beat perfectionism.  That way, you can actually get stuff done and enjoy the experience, not just the result.  The key is changing your thought process.
Remember after me:  I will embrace being a novice.  Whether you're a newbie or coming back to a healthy lifestyle after some time off, just celebrate your newness to the experience.   I really think you can 'brainwash' yourself to hold certain attitudes.  Fake it under you make it! 
Don't set yourself up to fail:  Lower your fitness expectations.  One great way to take the pressure off would be to sign up for something you KNOW you can do – maybe sign up to walk/run a 5K race with your mom or a friend who also needs to get in shape.  Shooting for big, challenging goals can be intimidating, and it might backfire on you.
Skip workout boredom:  Pre-plan out five weeks and schedule different workouts each week.  Make one week walk/running week, the next week Zumba week, the third week swimming week, etc.
Get someone else involved:  Getting Emily's husband involved would be the perfect cure to her problem.  They could spend time together and keep each other motivated.  He might also be able to help her with the cooking, which sounds like her weak spot. 
Your past doesn't determine your future:  This is the biggest issue.  Shake off all the doubt that haunts you and remember that it's totally possible to change behavior.
Personally, my personal keys to staying motivated include:  signing up for fun races, working out with friends who hold me accountable, not doing challenging races when I'm too busy with work, mixing up my workout, not demanding perfectionism, and enjoying the daily process of working out – its not just the end result that matters!
Here are some great tips from HTP readers on how to bust out of a workout rut.
Can you relate to Emily?  What advice do you have for her?