It snowed and it snowed… all day long.  But now I think my Winter Wonderland is melting and turning into ice.  :(  Very sad.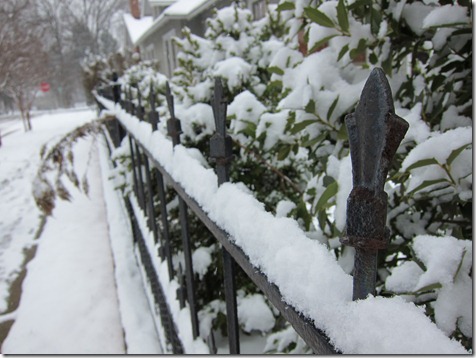 If this dinner looks a lot like yesterday's dinner, that's because it's pretty much the same thing.  Toasty hummus + veg:
The Husband wanted to try Aduki beans, so I had a side of brown rice, aduki beans, and edamame.  He says Aduki beans are good for bacterial and yeast overgrowths in your system (that's the Chinese medicine man coming out).  They were OK – not my favorite bean.  As well as roasted carrots and broc.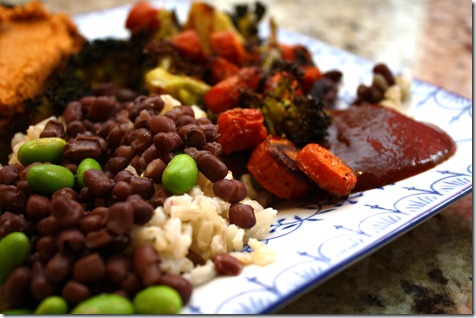 Because it's the National Championship, the Hus and I were actually going to throw a big party – but everyone was scared away by the ice (well, that's what we're telling ourselves… Heh).  So it's just us + the dogs + beer: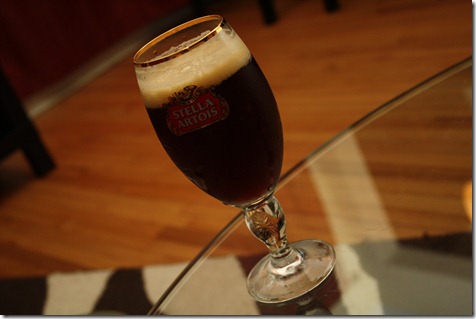 And I ate a few of those Orange Zest White Chocolate Chips… you know what, they were pretty good.  I still think I need to play with the flour a little… Maybe I'll attempt another batch soon!
Help Me Pick My Next Book
Help me choose what to read yet… there are so many things that I'm dying to read; I can't decide.  All descriptions courtesy of Amazon.
THE CHINA STUDY:  Referred to as the "Grand Prix of epidemiology" by The New York Times, this study examines more than 350 variables of health and nutrition with surveys from 6,500 adults in more than 2,500 counties across China and Taiwan, and conclusively demonstrates the link between nutrition and heart disease, diabetes, and cancer. While revealing that proper nutrition can have a dramatic effect on reducing and reversing these ailments as well as curbing obesity, this text calls into question the practices of many of the current dietary programs, such as the Atkins diet, that are widely popular in the West. The politics of nutrition and the impact of special interest groups in the creation and dissemination of public information are also discussed.
BORN TO RUN:  Christopher McDougall sets off to find a tribe of the world's greatest distance runners and learn their secrets, and in the process shows us that everything we thought we knew about running is wrong.  Isolated by the most savage terrain in North America, the reclusive Tarahumara Indians of Mexico's deadly Copper Canyons are custodians of a lost art. For centuries they have practiced techniques that allow them to run hundreds of miles without rest and chase down anything from a deer to an Olympic marathoner while enjoying every mile of it. Their superhuman talent is matched by uncanny health and serenity, leaving the Tarahumara immune to the diseases and strife that plague modern existence. With the help of Caballo Blanco, a mysterious loner who lives among the tribe, the author was able not only to uncover the secrets of the Tarahumara but also to find his own inner ultra-athlete, as he trained for the challenge of a lifetime: a fifty-mile race through the heart of Tarahumara country pitting the tribe against an odd band of Americans, including a star ultramarathoner, a beautiful young surfer, and a barefoot wonder.  With a sharp wit and wild exuberance, McDougall takes us from the high-tech science labs at Harvard to the sun-baked valleys and freezing peaks across North America, where ever-growing numbers of ultrarunners are pushing their bodies to the limit, and, finally, to the climactic race in the Copper Canyons. Born to Run is that rare book that will not only engage your mind but inspire your body when you realize that the secret to happiness is right at your feet, and that you, indeed all of us, were born to run.
168 HOURS:  Vanderkam (Grindhopping) offers a new system of time management: if readers want to make more time to spend with their children, get fit, or write that novel, they must slash nonessential time wasters and minimize tasks that are not core competencies, a business term for what a company does best and must prioritize. She offers solid and even excellent career advice, about both how to make the most of time at a current job and how to manage time to get ahead. And there is something curiously fascinating about her bizarrely brutal approach to time management (There's little point… in spending much time on activities in which you can't excel). But given that the author seems to be targeting a very rarefied echelon of upper-middle-class working moms (like herself), the book might have very limited appeal. More alienating, though, is her insistence on pummeling the life out of life. Vanderkam's vision may yield plenty of time to pursue worthy activities, but it's a life leached of color or spontaneity.
In exchange for your reviews and suggestions, here are four great books that I've read semi-recently and recommend:
What should I read?