Catching up on posts from the holidays?
So – it's that time of the year again!  The time for New Year's Resolutions (NYR).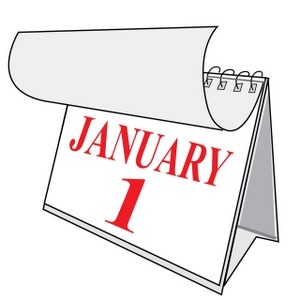 I know that some people hate NYR, but hear me out.   Setting goals (we can call it "goals" instead of resolutions if you want!) is absolutely imperative if you want to move forward in life and achieve your goals.
Repeat after me:  Goals are not achieved by accident.  Goals must be thoughtfully identified and planned for in order to be reached.
The most popular type of NYR are, without a doubt, diet-, fitness-, and weight-related goals.  These resolutions have become a bit of a joke over time – like how the gym is packed from January to February, at which point all the Resolutioners give up and things thin out.   But it is 100% possible to set and actually achieve diet-, fitness-, and weight-related goals – you just have to go about it in a very specific manner.
How do I know?  Well, I used to suck at NYR.  I would set goals every year; however, by February, I would be one of the people totally blowing it.  However, about five years ago, I figured out how to make NYR actually work, and ever since, I've used January 1 as a way to identify life goals and put myself on track to achieve my big dreams, both personal and professional. In fact, I achieved every single goal I set in 2009.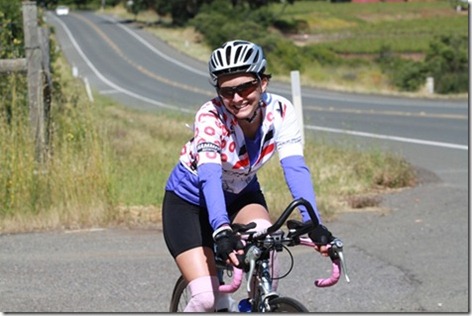 (Side note:  Most of these tips can be applied not only to diet-, fitness-, and weight-related goals, but also to other goals, like saving money or improving your relationships!)
Here are my Do's and Don't's for achieving those NYR:
DON'T:  GO IN WITHOUT A PLAN.  The #1 reason people fail at NYR?  They approach NYR without a plan.  When I set any goal, I literally write out my plan for success.  On a sheet of paper, write your goal at the top.  Underneath the goal, write out each step necessary for success.  If you're trying to reach a goal you've never achieved before, do research by browsing the Internet or talking to friends who have achieved the goal.  For example, if you want to run a marathon, check out training plans to get a realistic idea of how much work is required.  Put your plan somewhere you'll see it regularly, like a cork board above your desk.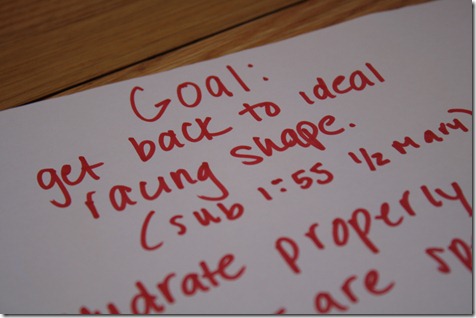 DO:  BE SPECIFIC. "Lose weight" or "Get healthy" are way too vague (more details about the losing weight goal are below).  What does this mean to YOU?  When creating a NYR, try to be as specific as possible with both your overall goal and the steps required for success.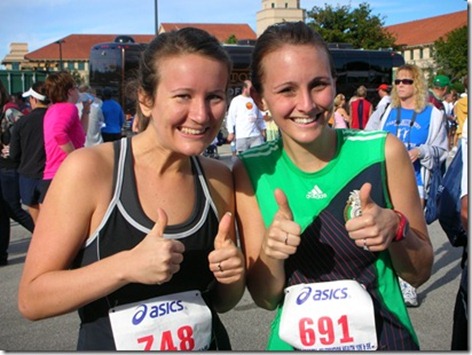 DON'T:  BASE YOUR SUCCESS ON THE SCALE.  For some reason, many healthy living bloggers shy away from talking about weight issues.  Let's break the taboo for a little bit: the truth is that we all experience weight fluctuations, and there is absolutely nothing wrong with wanting to lose weight, as long as you 1) actually have weight to lose/aren't triggered into old or new  eating disorder patterns by losing weight; 2) don't let it consume your life or jeopardize your health; and 3) go about weight loss in a healthy manner.  However, I would recommend not basing success on the number on the scale for several reasons.  One, I find scale use can become obsessive.  Two, your weight changes daily as part of a natural cycle (eat, poop, sweat, drink).  Three, weight doesn't tell you how healthy you are – it just tells you how much you weigh!  You might change your exercise and eating habits, lose a pant size, and look awesome – and the scale might not budge due to muscle gain.  Personally, I would like to tone up in 2011 and lose some weight that I gained in the last six months, but I'm basing my success on the fit of a pair of too-tight wool pants – not the scale.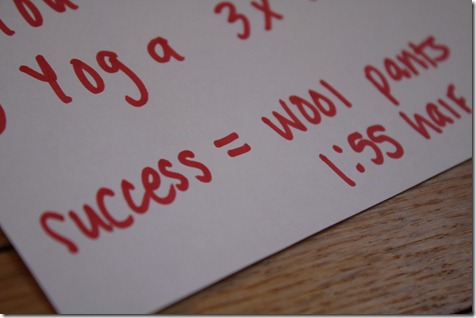 DON'T:  SET A NYR DUE TO A KNEE-JERK EMOTIONAL REACTION.  This is what typically happens during the holidays:  we eat, drink, and make merry for a month and a half, and then we wake up on January 1 with a raging hangover and decide that this. is. the. year!  The problem with this type of knee-jerk reaction to NYR is that our goals are usually unrealistic and restrictive because we set them in a poor mindset.  Wait a few days and create a thoughtful, realistic, and HEALTHY goal instead.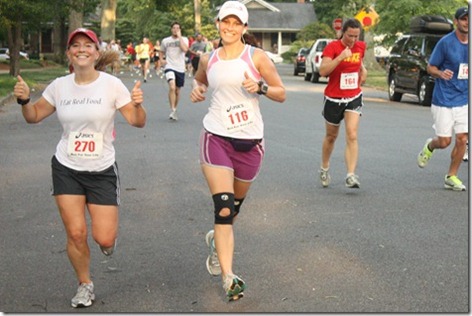 DON'T: MAKE MAJOR LIFE CHANGES SUDDENLY.  Likewise, I always failed at NYR when I decided to completely revamp my life in one day.  If you need to clean up your eating and establish exercise habits, tackle these NYR one at a time (start with whatever one you feel most emotionally ready for).  Give yourself a month with the first goal before moving onto the second one.  Sudden lifestyle shifts are a surefire way to ensure your NYR will be an epic fail.  Slow and steady wins the race!
DO:  ESTABLISH SMALLER GOALS AND MILESTONE REWARDS.  I am the type of person who writes "shower" and "eat" on her To Do list just so I can cross stuff off.  If you're the same way, establish smaller goals so you can feel satisfied on the way to reaching your larger NYR.  If you're gunning for that marathon, sign up for a 10K and Half Marathon, too.  Also, create fun rewards like buying new workout clothes or getting a massage as you reach your mini goals.
DO:  ESTABLISH A HEALTHY WAY TO MEASURE PROGRESS.  Again – the scale is not the way to go.  The number game sucks.  If you want to reach a diet-, fitness-, or weight-related NYR, find a healthy, balanced way to measure progress, such as 1) achieving a certain number of workouts/week; 2) completing a hard yoga class; or 3) trying a new vegetable each month.
DON'T:  SET YOURSELF UP TO FAIL.  Don't set unrealistic goals, like promising you're going to work out 5 times a week if you work 70 hours and currently work out zero days a week.  Aim for three days instead and you're bound to be successful.  Adopting a perfectionist attitude about your life changes is also dangerous.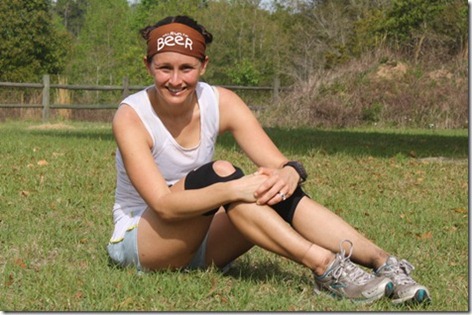 DO:  SET YOURSELF UP TO ACHIEVE.  Build flexibility into your goals.  I know I need to cut back on sweets and alcohol, but is it realistic to say I'm never going to eat dessert or drink again?  Um… no.  So I'm building desserts and dranks into my plan for success.  Also – don't just talk about it – do it.  If you want to join a gym, go sign up.  If you want to run a race, you better register for it.  RIGHT NOW.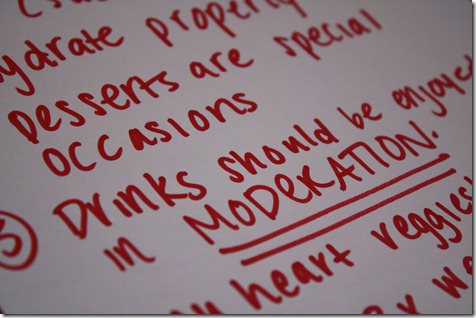 DO:  ANTICIPATE OBSTACLES.  Just like it's important to be flexible, it's also important to anticipate obstacles to your success.  If you want to eat better but know you usually end up ordering in lunch at work, you better make a commitment to go grocery shopping and prep meals for the week each Sunday!  If you want to work out regularly but are easily bored, map out a different workout theme for each month.  Basically, study your previous behaviors and determine why you've failed in the past.  You might not have been specific enough, you might have demanded perfectionism, or you might have entered into your NYR without a plan.  Learn from your mistakes!  Similarly, if you fall off the wagon, just get back on it the next meal or the next day. 
DO:  TELL EVERYONE ABOUT YOUR NYR.  Make it public!  Tell your friends and family (or start a blog and tell everyone on the Internet).  Not only can other people hold you accountable ("So, how's marathon training?") but you might find a buddy who can act as your support system, whether that means swapping healthy recipes or working out together.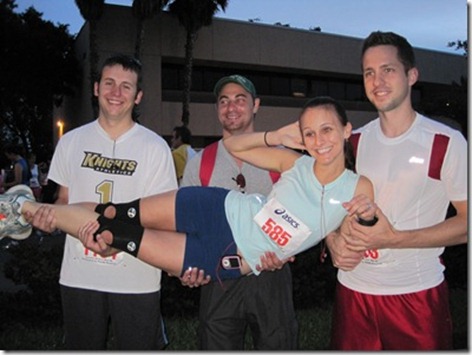 So… I bet you're wondering about my goals for 2011! 🙂 I tend to break them up into personal, professional, and fitness goals.
Personal Goals:
Save enough money to buy a home without needing PMI.
Prepare body, relationship, and bank account for eventual pregnancy.
Learn to speak Chinese with the Husband (so excited about this).
Keep in better touch with my old friends by calling them more often.
Professional Goals:
Write the Operation Beautiful 2 book, which is due February 15.
Write the Healthy Tipping Point book, which is due in September.
Keep freelance writing at least once a month.
Help the Husband grow his acupuncture practice.
Fitness/Health Goals:
Get back into ideal racing shape and run a 1:55 Half Marathon in March.
Race a sprint or Olympic triathlon in the summer.
Do yoga at least three times a week.
Use my indoor bike trainer when watching TV instead of just sitting on my butt (at least twice a week). 
Drink more water and regularly take my supplements.
Have you set your NYR?  What is your goal and your plan for success?  (Pssst – want to win a free life coaching session from Jenn?  Simply leave a comment on this post.  She'll pick three winners on Friday!)