I went to hot yoga today looking like an octopus wrapped me up in a great, big hug.  🙂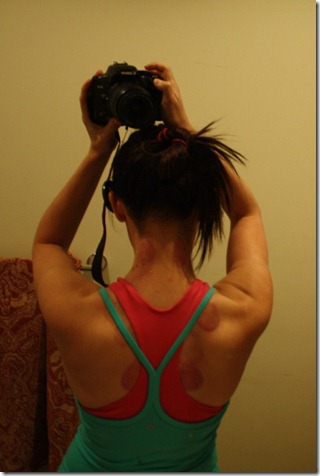 My back was killing me – killing me – so the Husband did some acupuncture and cupping on my back.  It went from being a 7 to a 3, and then I went to hot yoga and it went down to a 2!  Natural pain relief, yo!
(If you have NO idea what cupping is, check out this post.  And yes, people in yoga were probably like, "What the…?")
I was reminiscing earlier about when the Husband and I first met.  See, when I met the Hus, I had never met a boy who:  liked to meditate, took all these healthy supplements, talked about God, cried about road kill, did Tai Chi…  Let me tell you THIS: he didn't even take antibiotics when sick!  I always took antibiotics!  Boys that I had dated before were much more traditional – shall we say?  And really, so was I!  It took some getting used to.  The British accent helped.  🙂
When he told me that he wanted us to move from Pennsylvania to Florida to become a Doctor of Oriental Medicine (and I readily agreed because he had actually transferred from Miami to Pittsburgh so I could finish college with my friends).  I was like, "Now, what exactly is that?"  :)  But once he was in school and could practice on me, I was converted!  It's amazing how much those little needles and cups help to reduce pain levels.  Being married has definitely been an adventure!
Memory trip, over.
Oh wait – how about a cute picture of James on the night we got him?  He was one year old!
Now really… dinner!
A bowl of roasted veggies and a black bean burger all smushed up with ketchup: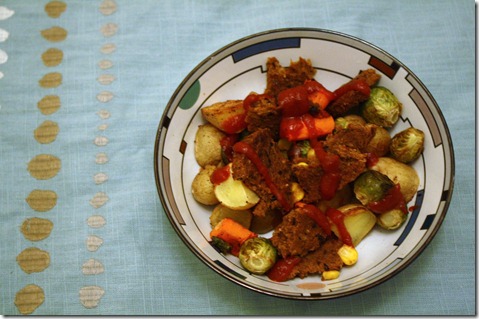 Two cornbread muffins: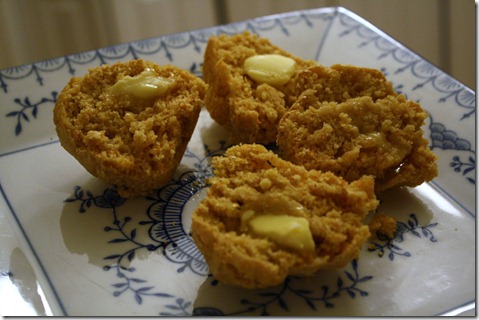 And a few Christmas cookies!  My neighbor brought them over! <3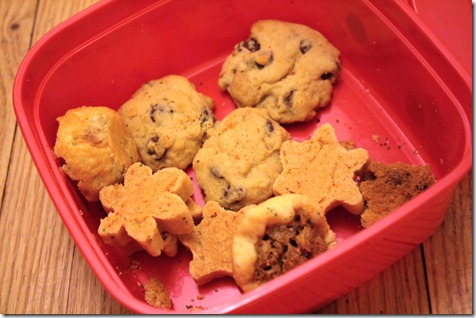 To bed I go… I need to catch some ZZZs.