I am pretty home-y.  I don't mind domestic duties.  But I hate – HATE – unloading and loading the dishwasher.  It is the bane of my existence.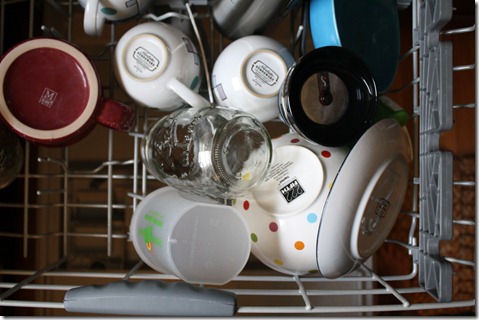 I would rather walk the dogs, scoop poop, take out the trash, and scrub the toilets twenty times over than unload the dishwasher once.
My dishwasher hatred is so severe that once I timed myself to see how long it takes to unload and re-load the dishwasher (approximately 5 minutes).  I always remind myself that's it is only 5 minutes (and I blast music to help distract myself).  I can do anything for 5 minutes, right?  At least that's what I tell myself during a really hard workout! 🙂
In my dream world, I have a live-in maid and she loves to do the dishes.
Lunch didn't create too many dirty dishes.  And it tasted good. 🙂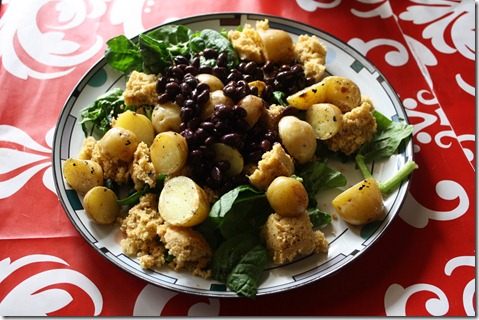 I made a ton of cornbread muffins last night and was trying to figure out a creative way to eat them when this meal came to me.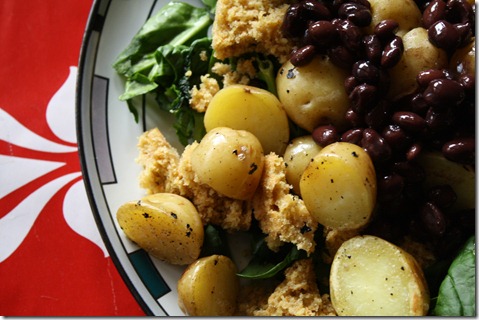 Potatoes are usually time-consuming to prepare, but I used the 15-Minute Breakfast Scramble technique so it only took… well, 15 minutes.  🙂
In the mix:
Spinach
2 crumbled cornbread muffins
Black beans with sauce
Potatoes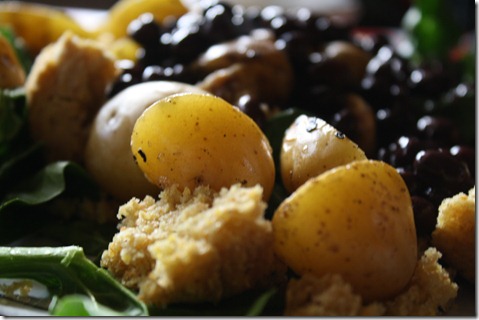 It was an excellent, simple meal (and I only dirtied one wok and one bowl!).  The flavors were unique, which was nice because I've been getting a little bored with meals lately, especially side dishes.
Back to work – I've got a ton of writing to do and errands to run.  Later, I'm meeting Nicole later for a run.
What is your most hated chore?