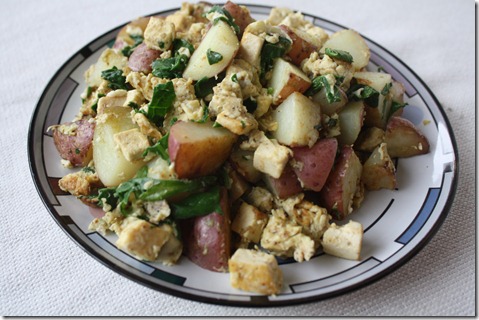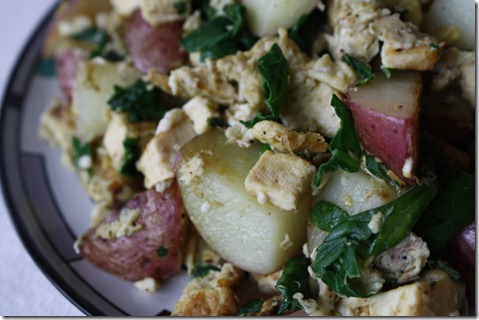 Ingredients (for 1):
2 eggs
1/5 block of extra firm tofu
5 petite red potatoes
1 handful of spinach
Generous amounts of salt and pepper, to taste
1/4 tablespoon chili powder
Olive oil
Cooking spray (if necessary – my wok is really sticky)
Directions:
Slice 1/5 block of tofu lengthwise and wrap in paper towel.  Put under something heavy, like a dish.
Chop potatoes into small pieces, place in microwavable boil, fill with water, and microwave for 5 minutes.
Place 1 tablespoon olive oil in wok and heat to very high.
In small bowl, beat two eggs, salt, chili powder, and pepper.
Chop spinach in small pieces.  Unwrap tofu and chop into small pieces.
Drain potatoes and add to hot wok.  Stir once to thoroughly coat in oil and then let brown on each side, stirring only occasionally.
Scoot potatoes over to one side of the wok and add tofu crumbles to the other.  Thoroughly stir potatoes and tofu crumbles together.
Stir mix again and drop temperature down to medium.  Add eggs with spices.  Add spinach.  Stir thoroughly.
Let cook on medium for another 3 minutes, plate, salt, and serve.