First things first:  a really fun charity raffle for Monday!  This raffle is for the Girls on the Run Solemates program. The Solemates program involves walking, running or biking in any event of your choice and raising funds so little girls can get scholarships to attend GOTR.  I signed up to be a Solemate for the upcoming Thunder Road Marathon (now, of course, I've dropped down to the 5K).  
Today's raffle is hosted by Breville!  Breville has generously donated a Breville Juice Fountain Plus.  I am in LOVE with this prize because fresh-juiced juice is my favorite.  :)  The prize is worth $149.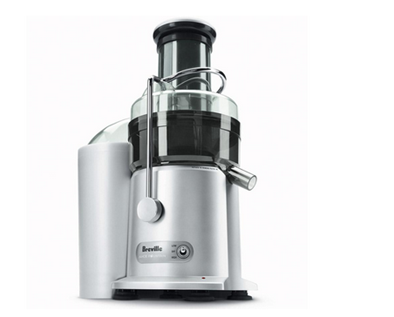 You can enter this raffle for less than the price of a cup of coffee!  🙂
Here's how the raffle works:
$2 gets you ONE raffle ticket.
$4 gets you TWO raffle tickets.
$8 gets you FIVE raffle tickets!  It's a deal!
The contest will run until Wednesday, November 24 at noon. I'll contact the winner at lunchtime.
I will list everyone's name on an Excel spreadsheet (one entry per $2, two entries per $4, and FIVE entries per $8), and the Husband will draw a winner using the Random Number Generator.
Breville will then ship out the juicer to the winner.
NOTE:  You must live in the USA to enter this raffle.
Let's see…
Last night, I took time off to just chill.  The Husband cooked dinner and we stayed up way too late.  But it was nice!
And this morning, I tested out the Vibrams Five Finger KSO.  They are actual Nicole's, but she washed and loaned them to me because I've been talking about buying a pair.  Barefoot running is, of course, a hot topic right now.  I don't know how much barefoot running I want to (or can) do with my knees, but I love the idea of walking around in Vibrams to build foot strength.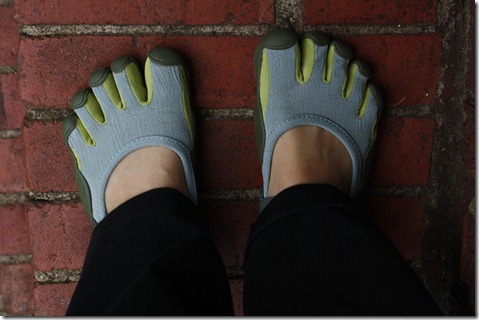 I walked James around the block.  I did a little jogging in the grass, and it felt so cool! I could feel very little twig and rock under my feet, but not in a painful way.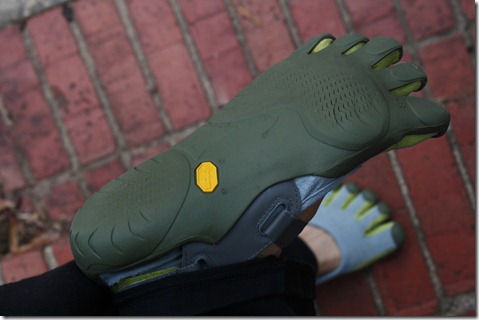 Now, I am at the clinic in these very uncomfortable shoes.  :(  Bah.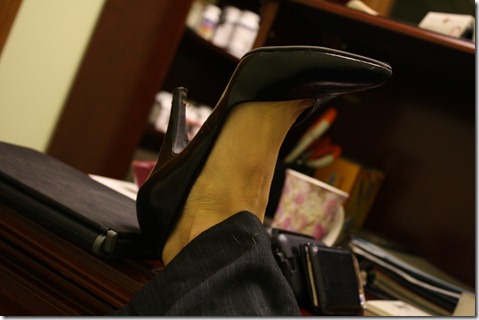 Breakfast was wonderful today!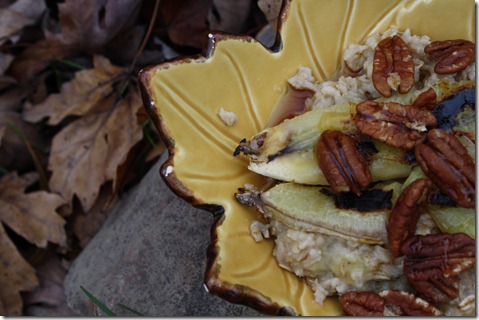 Just a simple bowl of oatmeal.
1/2 cup oatmeal
1/2 cup milk
1/2 cup water
1/2 mashed banana
Toppings: 1/2 grilled banana, pecans, and maple syrup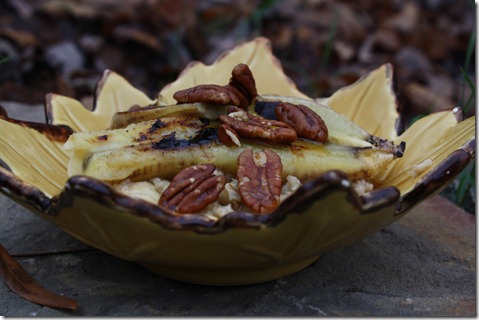 It's going to be a crazy week!