Today has been a very relaxing day.  I have the house to myself (the Husband is playing golf), so I went to a 90-minute hot yoga class, tided the kitchen, and now I'm happily writing from the couch.  I'm not sure where this sudden burst of writing fever is coming from, but I'm going to roll with it.
Lunch was something to get excited about, too.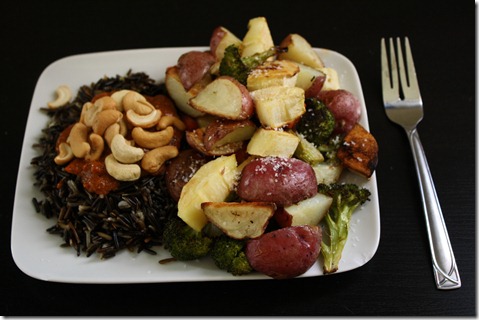 I really love Indian food but every time I try to make a traditional recipe, something goes wrong in the execution.  This dish was great because it was simply an Indian twist on something I make quite a lot – rice and roasted veg.
I boiled black wild rice (which tasted amazing, by the way) and topped it with some canned Korma sauce and raw cashews.  I got the Korma sauce at Target (the in-house brand).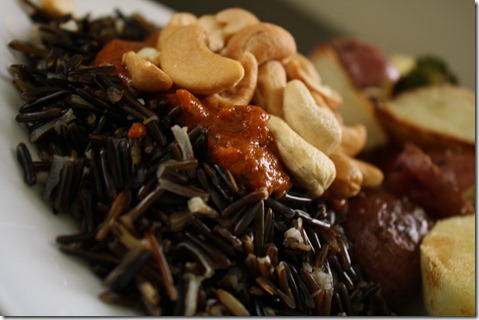 On the side was a HUGE pile of roasted potatoes, broccoli, carrots, and parsnips.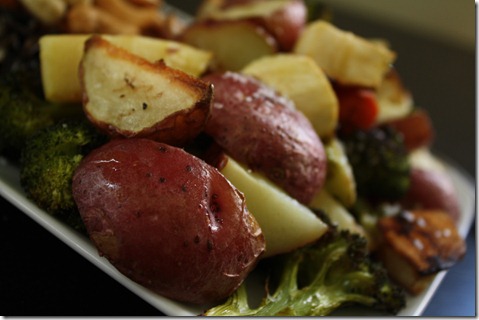 Such awesome, complimentary flavors.  I love potatoes with Indian sauces especially.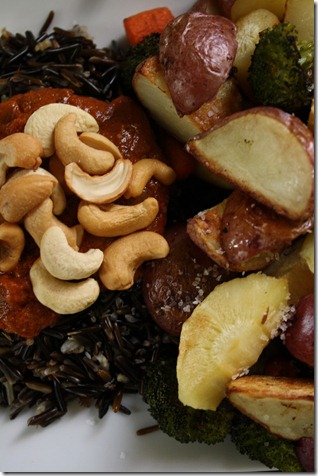 Guess what's in the oven for an afternoon snack?
Dough balls!  This time, I skipped the chocolate chips and sprinkled cinnamon on top.  I've got a pot of hot tea all ready to go!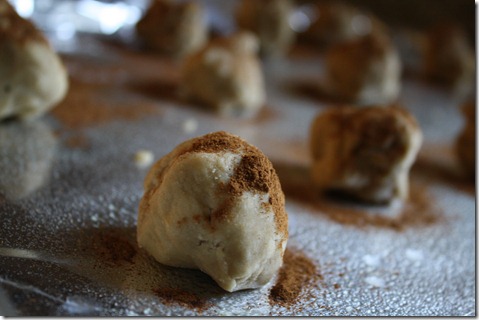 Oh, here's something fun:  The Blogger Calendar is official for sale! Deb organized a bunch of bloggers to do a retro-inspired photoshoot (I channeled my inner Farah Fawcett) in honor of her Dad, who recently passed away from lymphoma.   All proceeds will benefit the hospital that treated him so kindly in his last few months.  From everything I know about Deb's dad (they were booked featured in the Operation Beautiful book), he was a wonderful person and this seems like such a loving way to honor his memory.
And also, I'm thinking a lot about my favorite quote today.  I feel like I've been a little swamped lately and unable to cherish and pay attention to the things that matter.  This quote always sets my priorities straight!  Here it is:  "There is a desire within each of us, in the deep center of ourselves that we call our heart. We were born with it, it is never completely satisfied, and it never dies. We are often unaware of it, but it is always awake. It is the human desire for love. Every person in this earth yearns to love, to be loved, to know love. Our true identity, our reason for being, is to be found in this desire… love is the 'why' of life: why we are functioning at all, what we want to be efficient for… I am convinced it [love] is the fundamental energy of the human spirit, the fuel on which we run, the wellspring of our vitality. And grace, which is the flowing, creative activity of love itself, is what makes all goodness possible.  Love should come first; it should be the beginning of and the reason for everything."