Last night, I baked a huge platter of Baked Apples (and ate a bunch while watching House Hunters, duh).  I am obsessed with Baked Apples.
I was so excited to put my apples on top of oatmeal this morning!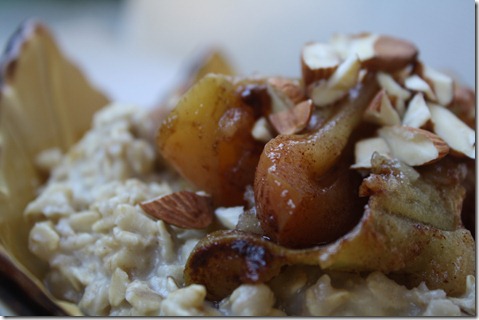 I loved the sour taste of the few green apples against the sweet taste of the banana oats.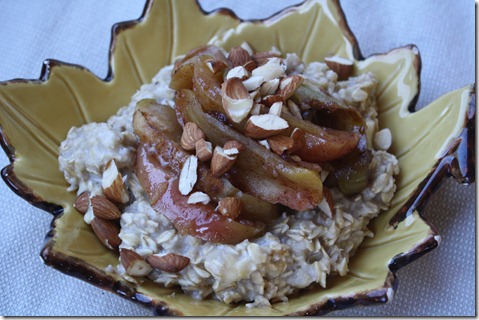 In the mix:
1/2 cup oatmeal
1/2 cup rice milk
1/2 cup water
1/2 banana
Toppings: Baked Apples and Almonds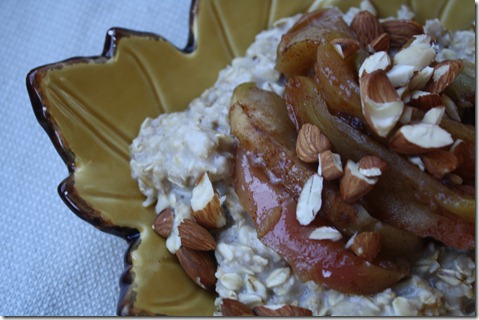 Sleeping Nekkid?
The Husband and I have been having a very serious debate lately.  Previous "very serious debates" in our household have including the Bib Transfer Debate and the Dog Poop Debate, by the way.  So these aren't that serious at all.  🙂
I create a LOT of laundry.  When I do our wash, it's about 2/3 mine and 1/3 Husband.  Not only do I go through a lot of workout clothes, but I insist on wearing a fresh t-shirt and underwear to bed every night.  I think it's really gross to go to bed in the same shirt and underwear I wore during the day (or the night) before.  The Husband says that I create too much laundry this way; therefore, I harm the environment and our budget.  He says that I should sleep nekkid to save money/trees (don't laugh; this is not a ploy!).
(source)
Did you know that men are twice as likely to sleep nekkid?  In fact, 31 percent of men sleep in the nude, but only 14 percent of women do.
I argue that if there is a fire or a burglary, I want to be clothed.  Also, I think sleeping nekkid dirties your sheets faster (if you know what I mean).
So – who's right? If nekkid the way to be?  Or is clothed better?