Deconstructed Grilled Banana Sandwich: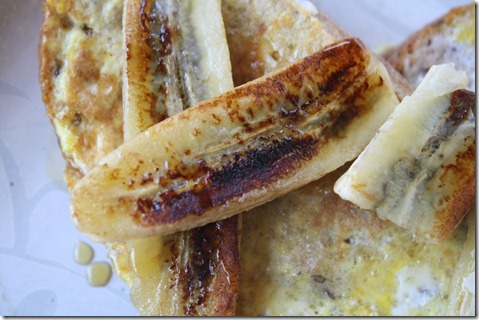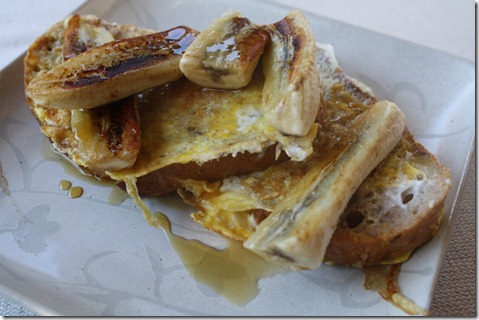 If you have not grilled a banana yet (just slice and place in a hot, greased pan for a few minutes), you are missing out!  So much better than raw.
Not only was breakfast a superb way to kick-off Monday – my coffee was great, too.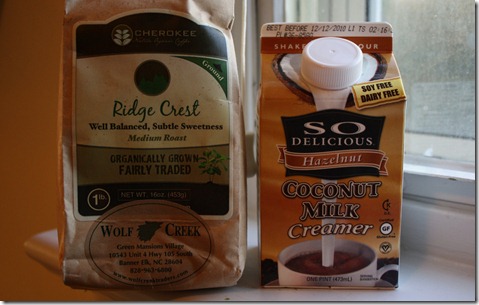 The Husband and I are making the switch to organic, fair trade coffee at home due to 1) pesticide concerns; 2) the environmental impact of conventional coffee farming; and 3) the social impact of fair trade.  It's only a few extra dollars at the store, but I really love my coffee and feel like this little change makes a big difference.    And that So Delicious Hazelnut creamer is soooo delicious.  :)  Normally, I go for Half and Half, but this was just as good!
Arms and Abs Challenge
After two days of yoga this weekend, my arms are terribly sore.   I realized last night that I lost a ton of upper-body strength during the last month or so of marathon training.  And remember how much my abs hurt at the end of the marathon last weekend?  I'm determined to get my strength back… the fun way!
Since 2010 is drawing to a close, I thought a last-minute "End of the Year Resolution" was in order.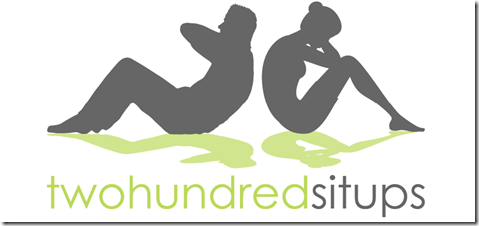 One Hundred Pushups and Two Hundred Sit-ups are two arms and abs strength training plans that last six weeks each.  You do the workout three times a week. At the end of the program, you'll be able to do 100 pushups and 200 sit-ups in a row. 
I've done the pushups plan before and got to about 35 pushups in a row before I fell off the bandwagon. 
Today's workout required that I do 15 pushups and 40 sit-ups.  It was HAAAARD!  But I survived.  🙂
Anyone else up for a 10-minute strength challenge in the mornings?  I hate strength training, but I can handle this!