I was so happy to coach Girls on the Run today!  Seeing those sixteen girls lifts my spirits so much.  I hugged a bunch of them today and said I missed them SO much last Tuesday (I was in Florida for a family emergency). 
Want to know the hardest part of being a coach for Girls on the Run?  Getting those girls to actually RUN! 🙂 It's hard to motivate 8 to 10 year old girls to run without making it a competition (competition with each other is not very GOTR-ish).  But today, I had an idea!
Coach Jen and I brought our race medals and gave one to each girl to wear.  I said, "We wanted to bring our medals in today to show you guys what YOU will get when you run the 5K at the end of the season."  Then I showed them my Disney Marathon shirt and said, "You'll also get a special shirt."
A few of the girls asked if they would only get a medal if they WON the race. And Jen said, "No, no.  This medal is for finishing the race at YOUR pace.  If you try really hard throughout the season and run the best race you can in December, you will earn a medal, too."
Then, the girls asked me if I've ever WON a race.  I said yes, once I won a race.  But I then I said, "You know what?  Once I was the last person out of the lake during a triathlon, which is when you swim, bike, and run.  And getting that medal felt even better than I one I got for the race I won.  Because that race was SOOO hard, and I was so proud of myself for finishing."  Jen told a similar story, too.
I think they liked the idea of getting a special medal and shirt!  And they ran extra fast today after our lesson on tobacco and alcohol!! It was awesome.  🙂
In other news…
A Simple Step-By-Step Guide to Making Baked Tofu
Step 1: Start with extra firm tofu.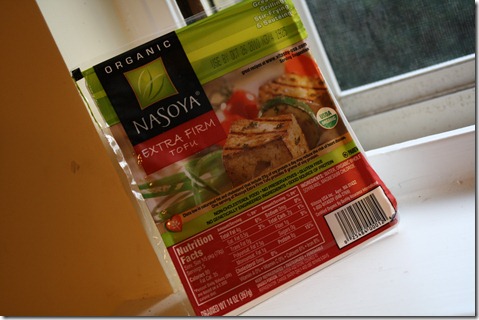 Step 2:  Remove tofu from box and drain.  Wrap entire block of tofu in paper towels (or clean dish clothes) and press in between two plates for 15 minutes or so to remove extra liquid.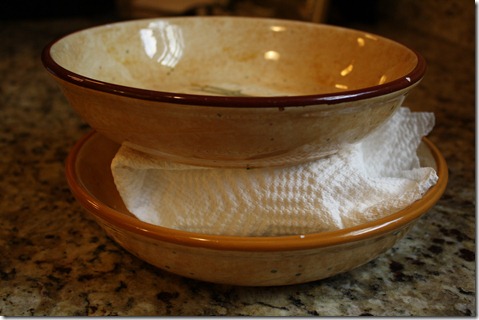 Step 3: Prepare your marinade.  I like the marinade for Perfect Baked Tofu, but this simple mix works well, too:  olive oil, soy sauce, honey, and chili powder.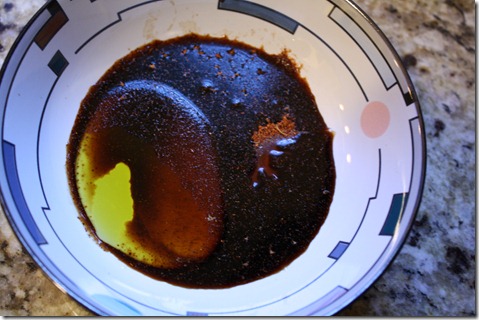 Step 4: Remove tofu from paper towels and chop into small blocks.  Pour marinade over tofu and let stand for 10 minutes while the oven preheats to 400 degrees.  Then, pour tofu into a greased cookie sheet and bake for 40 minutes.
Step 5:  Plate and eat (we usually get two servings out of a block of tofu).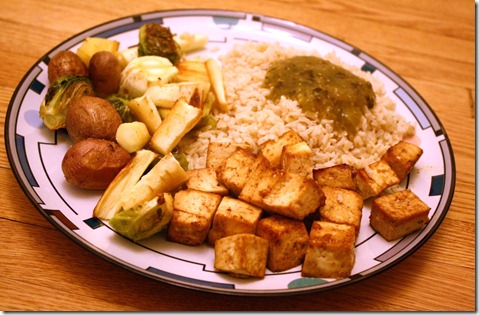 I had mine with brown rice and salsa verde and roasted veggies.  Hit the spot!
Pre-GOTR snack was an almond milk, 2 tablespoons peanut butter, and a banana smoothie.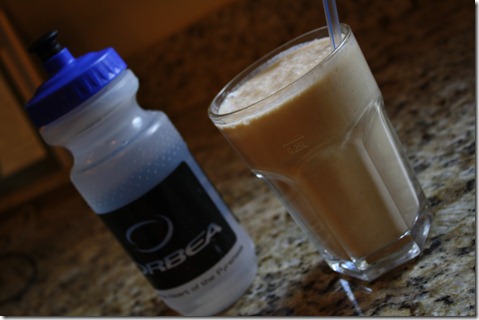 And a leftover scone.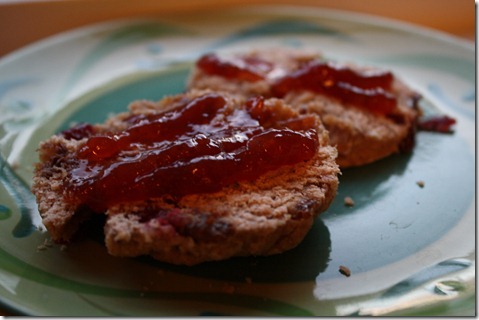 I'm watching a fun new HBO show called "Boardwalk Empire" and eating some chocolate.  It's so good (both the show and the chocolate)!  Gotta love those HBO shows.
Do you display your race medals or bib numbers?  I wish I knew a way to display mine… they are just heaped into a drawer, completely disorganized.