Something SWEET and something SPOOKY for you this morning!
Sweet: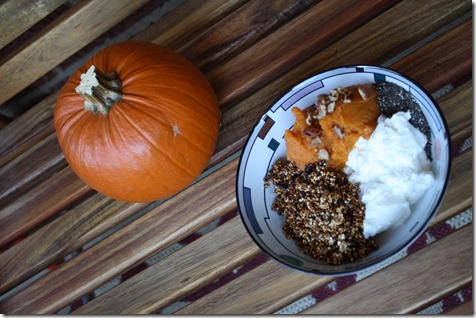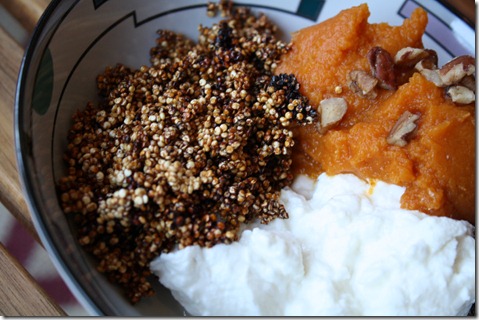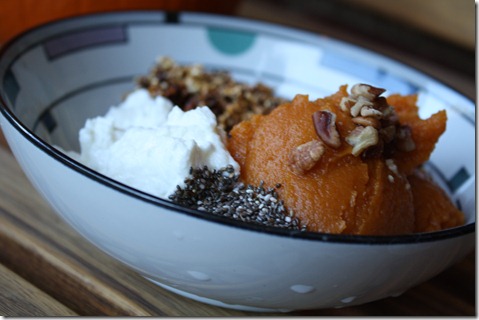 A toasted quinoa bowl!  I love to toast raw (yes, raw) quinoa as an alternative to oats or granola.   Here's how I made today's toasted quinoa.  Also in the mix:  pecans, canned pumpkin, vanilla Greek yogurt, and chia seeds.
Now… something spooky!
My upcoming marathon is on October 30, and I'm debating whether or not I should run in costume.  Part of me thinks, "That would be so much fun!" and the other part thinks, "That would be so much fun… for two miles or so."
But I asked readers and bloggers to send in photographs of their Halloween Costumes from Runners and here are just a few!  This series will continue, so if you have a running costume, e-mail it to me at caitlinjboyle@gmail.com.

 
*   *   *
Gaylemarie wrote, "My sister-in-law and I ran the Disney Princess Race this past year.  We decided to dress up as our favorite princess', Belle and Ariel!  The costumes were SO fun to make and we didn't have any issues!  A short skirt with shorts underneath worked our perfectly!!"
Julia wrote, "Last year my boyfriend and I ran the Healdsburg Half Marathon on Halloween Day in costume. I dressed as a cat (sewed ears on stretchy headband, drew on whiskers and wore a "tail" pinned to my spibelt) and my boyfriend ripped up a shirt, drew  "blood" all over his face, and ran with a dagger and a plastic foot  in his hands, telling whomever passed him "you're next!" or something like that. It was a big hit. Both of our costumes were pretty minimal and really didn't interfere with the running."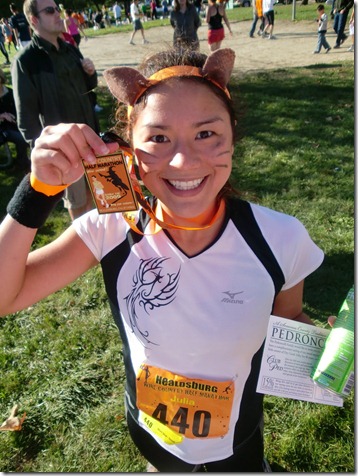 Emily ran a 5K dressed as a bottle of ketchup!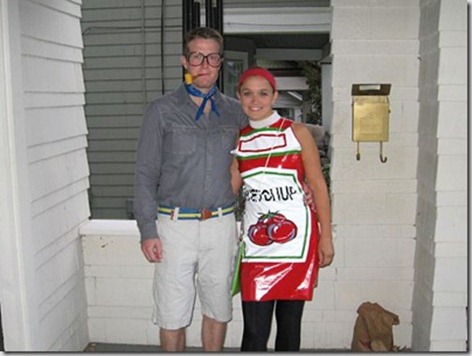 Suzy ran a Jingle in July 5K and dressed up like SANTA!  She also ran a marathon dressed as a Superhero.
Carol did a 5K Walk for charity and dressed in this awesome outfit.  She wrote, "I tend towards the "Go Big or Go Home" motto at times…so I'd like to introduce you all to Dominatrix "Lady Chemo", ready to whip cancer!  Vinyl doesn't breathe well, but I did manage to avoid any serious chafing (thank goodness for Body Glide!)…I did not wear the boots on the walk, changing into my runners, but I still received many compliments on the outfit."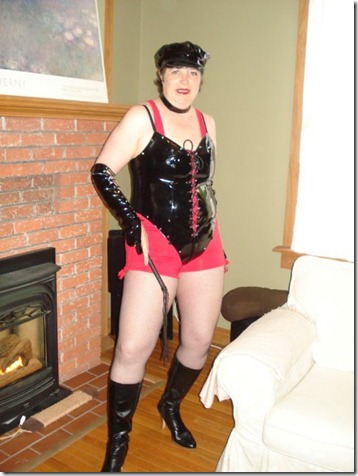 Lauren ran a 5K as Dorothy's House in the Tornado.  She wrote, "As I was headed towards the bagel table, I heard another woman talking to a friend, remarking how the "lady in the house" beat her. A friend just loudly exclaimed, "Aw, man!" as I passed her. I taunted back, "You can't let a house beat you!"  But she didn't catch up."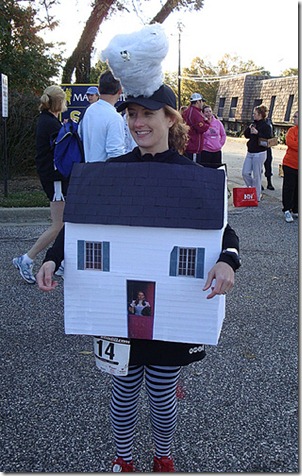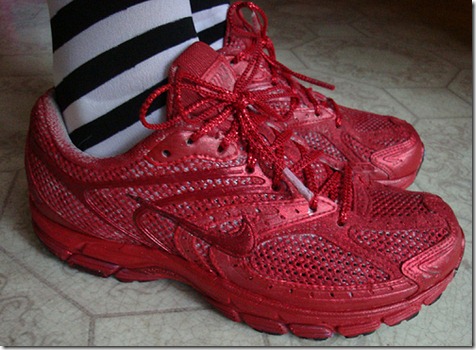 Lauren actually has an entire PAGE of Halloween-related running costumes.  Here's another one of her great ideas!  It won the race's costume contest!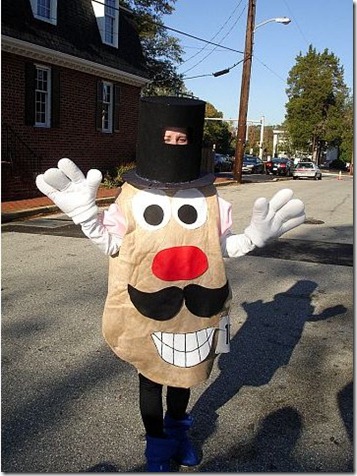 Lori wrote, "I was looking for a costume on the cheap, so I had black running leggings and used a very thin black turtleneck.  I wrapped yellow duct tape around for the bee stripes.  Then I tied pipe cleaners to a head band with little balls glued on the end for antennae.  It cost me about $7 to do this costume.  It was fine to run in and the race was really fun.  I got so many comments as I ran by, like "Go Bumblebee!" and kids would point me out, so I guess it means my costume was recognizable LOL!  My only caution with this costume is to take a deep breath in and hold it while wrapping the tape around your chest, otherwise you won't be able to breathe later!"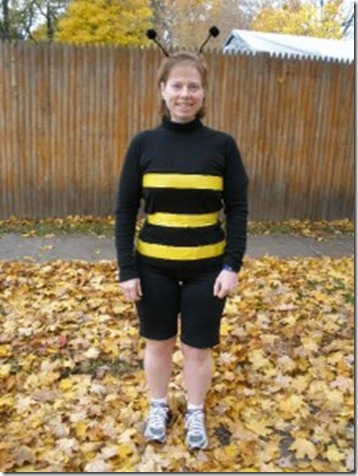 Stacy and her friends ran a 5K dressed as PENGUINS.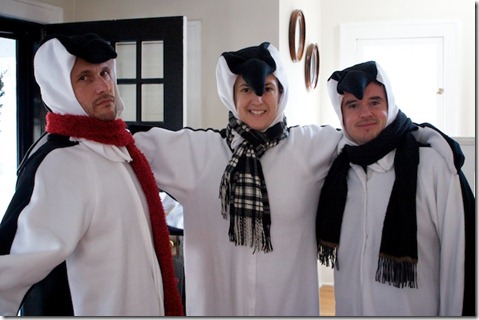 Sarah wrote, "This past May, on Memorial Day Weekend, I ran in the ODDyssey half marathon in Philadelphia. It was a brand new marathon and the ODD part is that runners are encouraged to dress in costume. I ran with my friend, Alex, and we both sported tutus which are REALLY easy to run in, affordable, and cute! Plus, it's funny when people cheer, "Go Tutus!" Among other runners I saw costumes including: an older man in a kilt, a gingerbread man (in full costume) being "chased" by a baker, Minnie Mouse and Daisy Duck (also in full costumes), a group of devils, a group of Lady Gaga girls, Hawaiian girls, and a man who juggled the ENTIRE race. Honestly, my costume had zero malfunctions, and it was so fun to pass the time looking at what other people were wearing!"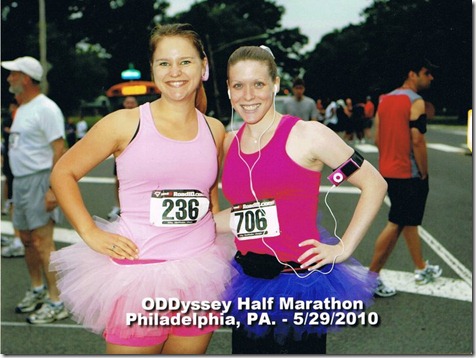 Karen ran the Disney Princess Half as a…. princess! Here's her recap.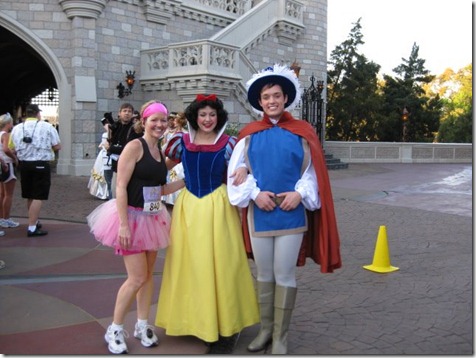 Laura wrote, "A friend of me sent your blog suggesting I should send in a picture of my sister and I running as the Incredibles in this past year's WDW Marathon weekend.  We both ran Goofy's Challenge (half marathon on Saturday and full marathon on Sunday).  For the half marathon we decided to take it easy and run together.  It took us almost an entire year to decide on our costume!"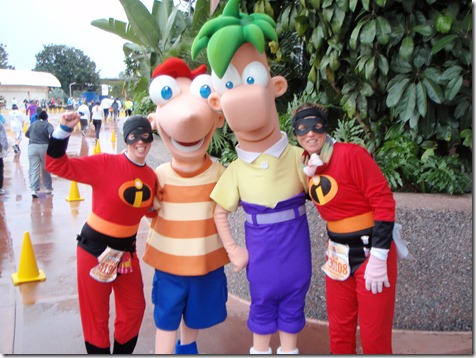 Which costume is your favorite?  Which would you be most afraid to run in?