Please, please VOTE for Operation Beautiful to win the Amway Positivity Project!  If we win, $10,000 goes to Girls on the Run International, a self-esteem building program for 8 – 10 year old girls that has helped over 1 million young ladies (and the program I coach for).  No registration required to vote – just a little click!  🙂
Anywho – How goes it this morning?  I'm wonderful – I actually made it to hot yoga and had a wonderful 1 hour sweat session.  Tapering for Saturday's morning is starting to make me "itch," and yoga was the perfect cure.  I thought about running today, but I'm going to continue to play it safe and take today off again.  Must… rest… legs!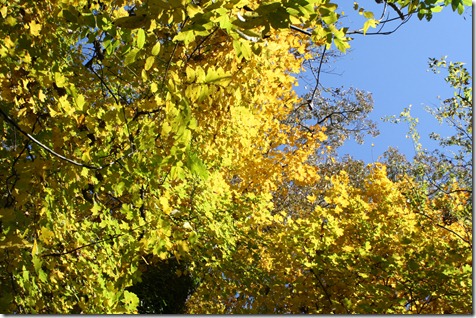 Pre-yoga breakfast: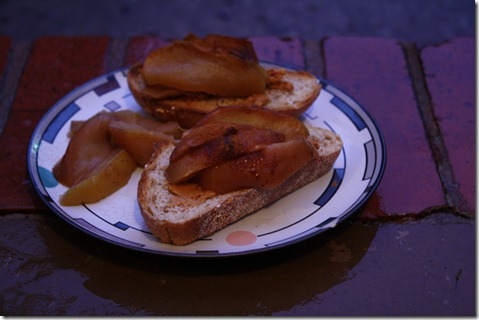 Two pieces of peanut butter toast with Baked Apple on top.  Mmm.
Marathon Medal Display Giveaway!
Allied Steel saw the glowing review of I did yesterday of their medal displays and decided to give two lucky HTP readers their own displays!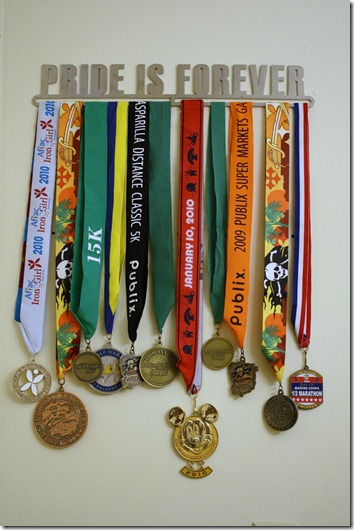 You can choose my Pride is Forever hanger or another one of their cool displays, such as:
To enter this giveaway, simply leave a comment with your favorite mid-workout motivational mantra (mine is: "pain is temporary, quitting is forever").  I'll pick two winners tomorrow morning randomly.