Boring breakfast; fun product review!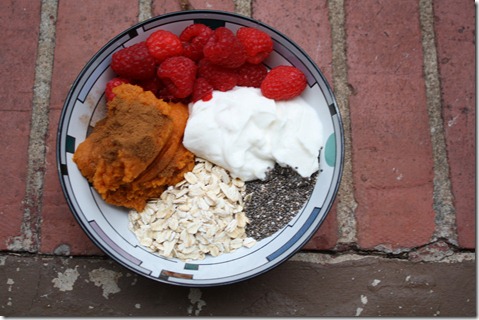 In the mix:
1/2 cup oatmeal
1/2 cup pumpkin
Raspberries
Greek yogurt
Chia seeds
Another yogurt mess might be boring to look it, but it sure tasted yummy.  🙂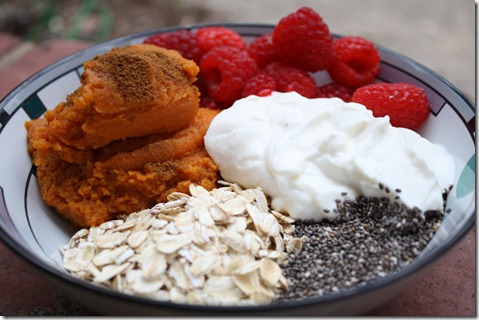 Pride Is Forever
A few weeks ago, I wrote a post about how Jen and I brought our old racing medals to Girls on the Run as a way to motivate the girls to train for their upcoming 5K.
It was fun to look back at all my medals, but I was a little sad that they were relegated to a cardboard box in my attic.  I asked if anyone had suggestions on how I could display the medals in a classy, organized way.
Erin read about my plight and suggested I check out Allied Steel's medal displays.  I was immediately enthralled!  I've never seen medal holders so beautiful and sleek.  Even though it was a bit pricey (and it turns out delivery took 3 weeks to boot; however, it's a small American company so it was worth the wait), I ordered the Pride is Forever medal holder ("pain is temporary, quitting is forever!" is one of my mantras).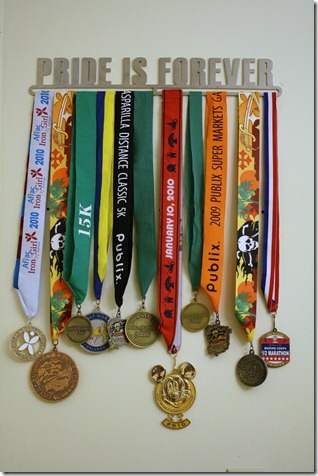 I hung up my medals in the space between our living room and kitchen.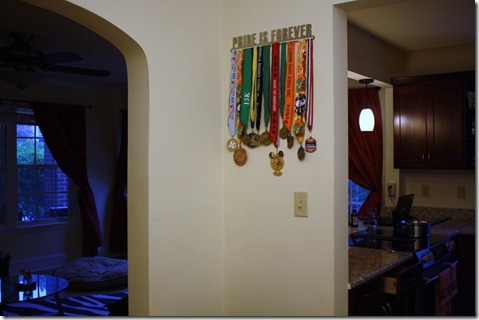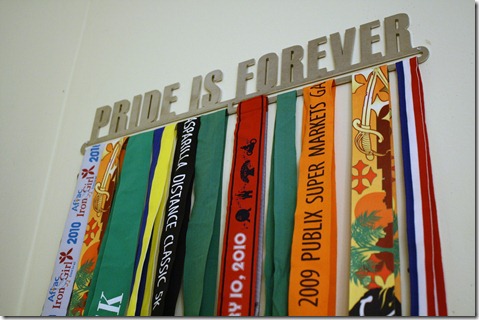 Very high-quality construction.  I like how there's room to grow on the holder, too.   I could squish the ribbons together and probably hang up twice as many medals (baw-hahaha!).  Also, I like how the sleek design hides the gap on the steel where you insert the ribbons.  Very snazzy.  And a fun conversation piece!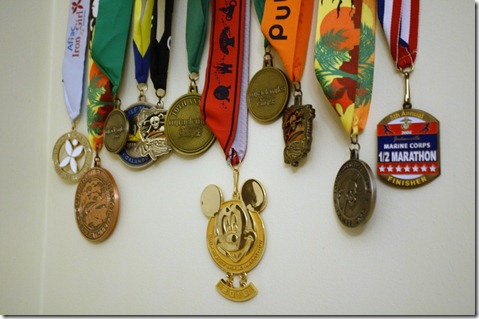 From left to right:
Gasparilla Bud Light challenge (which was doing a 5K, 15K, and Half Marathon all in one weekend; the recaps are below)
Miracle Miles 15K 2007 (pre-blogging)
I wish I had a medal from my Olympic Triathlon!
Other medal holds that I really liked:
All in all – a great product!  I think this would be an excellent holiday present (here's my other gift suggestions) for the active person in your life (or for yourself!).