Cheesy, hearty, flavorful – the Santa Fe Casserole is hands-down my favorite recipe, ever.  And I love the mini version of it even more (because it's more fun to eat and easier to freeze!).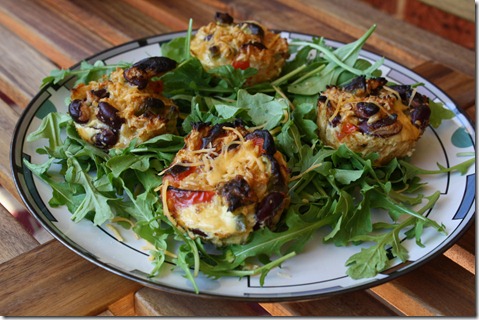 Here's the recipe for the original casserole, which I've been cooking with my mom since I was about nine years old.  To make the mini version, just pour it into cupcake tins instead of a casserole dish.
Ingredients:
1/2 cup red onion, chopped
1 tablespoon garlic
1/2 tablespoon EVOO
Pinch of salt
1/2 tablespoon chili powder
1/2 tablespoon pepper
1 can kidney beans, rinsed and drained
3/4 cup milk
1 and 1/2 cup brown rice, cooked
2 eggs, beaten
1 and 1/2 cup cheddar cheese, shredded
1/2 large green pepper, chopped
Preparation:
Heat oven to 350 degrees and spray a casserole dish with EVOO spray.
In a skillet, cook the onion, garlic, and EVOO on Medium High until tender.  Add the salt and chili powder.
In a large mixing bowl, mix together the pepper, milk, beans, COOKED brown rice, eggs, cheddar cheese, and green pepper.
Pour mixture into casserole dish and sprinkle with extra pepper.
Bake casserole for 25 minutes or until center is firm.
Let cool 5 minutes and serve.
Enjoy!
This time around, I left out the onion and added a red pepper.  Oh, and then I burnt them, but you know what – it kind of added to the flavor. 
Served on a bed of arugula!
Snackage earlier today: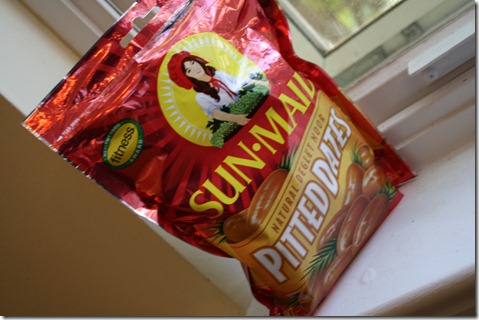 Dates = Nature's Candy.
Back to work I go.
What's your favorite casserole recipe?  Link away, please!  Shameless plugs to your own blogs are welcomed.  🙂