The weeding is done; the family crisis has (mostly) passed; and I practiced yoga on my own, in a guest room, with the lights turned off.  I feel so much better already!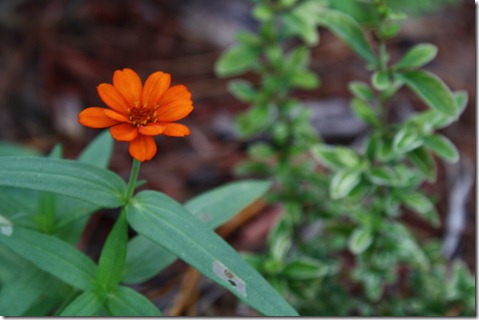 First things first:  I gave the Husband a very good idea of what I might look like in 30 years if I ever become like his mother.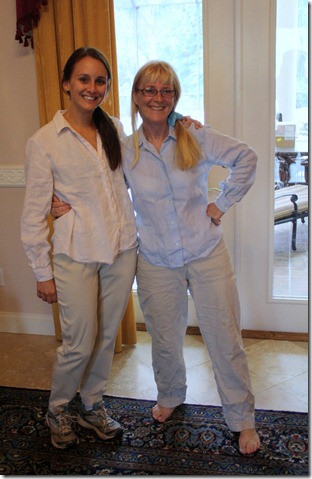 She loaned me gardening clothes since my outfit from yesterday (a tee, shorts, and compression socks to protect my legs) was dirty.  I suddenly felt like a 50-something year old British lady.
I weeded and filled seven (seven!) more garbage bags, finally completing the mammoth task of cleaning up the backyard. 
While I gardened, I listened to Eat, Love, Pray on audiotape.
So – for a really, really long time, I tried not to read this book!  Really, I resisted.  One – I hated the title for some reason.  Two – everyone and their mother seemed to be reading it, and although I nearly always jump on the book bandwagon (if millions of people think it's worth reading, they are usually right on some level), it made me want to avoid it for some reason.  Then I heard from a few people that the Italy and Bali sections ("Eat" and "Love") were the most interesting, and the middle was boring and slow.  So that turned me off too.
But then I had to get in a car and drive 8 hours by myself to Florida, so I downloaded it.  AND IT IS SO GOOD.  Really.  And you know what? I think the India ("Pray") section is the most fascinating!  I do not know WHY people hate this section of the book.  It's so interesting, and lately I'm digging discussions about worldly views on spirituality. 
And I do recognize that some critics might hate on the book because it's "navel gazing," but to be honest, that kind of stuff doesn't bother me.  I do, after all, write a food blog. 😉 If that's not navel gazing, I don't know what is (at least I admit it)!  And I like to know what other people think about themselves.
I have about 30 minutes left on the audiobook, and I can't wait to see what happens. 
So, my book, Maggie, and James helped me weed the garden.  The chore went by very quickly today!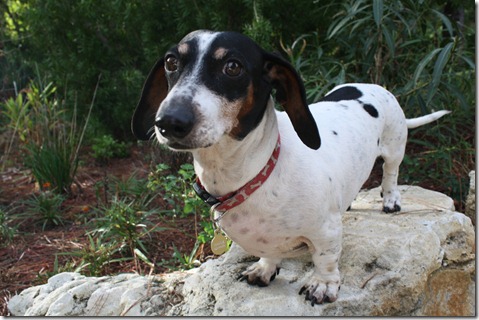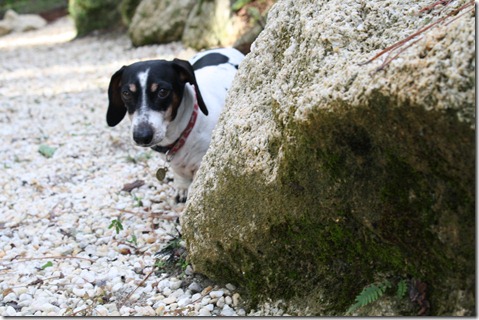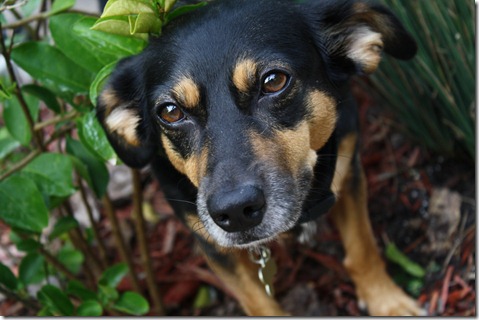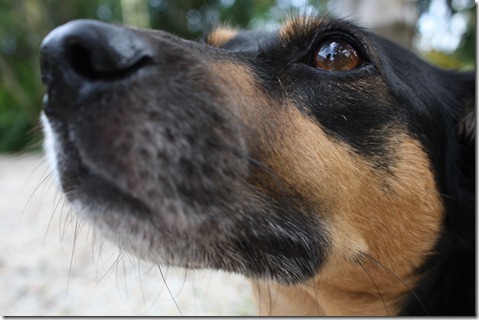 Snacked on some almonds: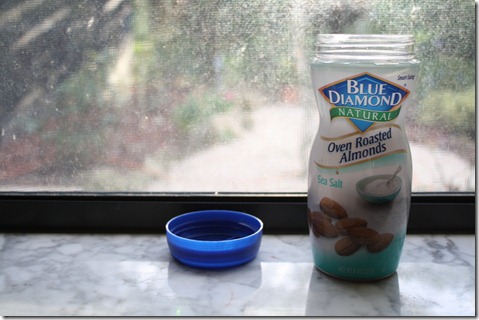 And dinner was simple but nice: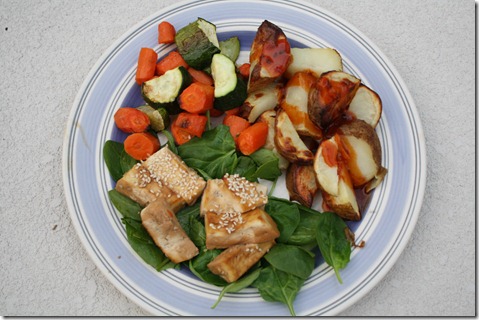 To make today's tofu, I pressed the water from an extra-firm block and then chopped it up: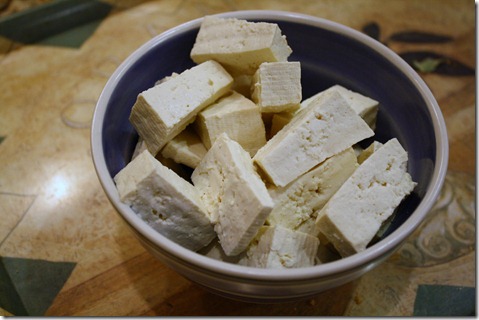 I added maple syrup and soy sauce, and then I dusted the tofu with some sesame seeds: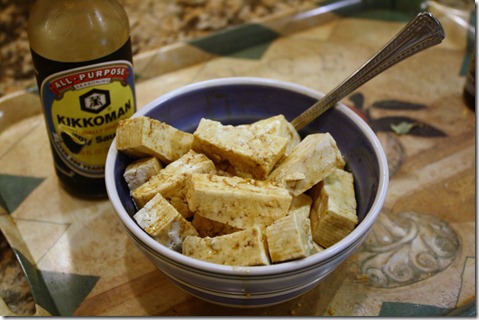 And then I spread it out on a roasting pan in a little foil pocket with some veggies.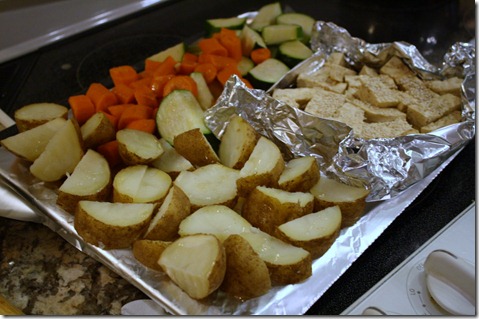 Cooked everything at high heat (400 degrees) for about 20 minutes (I pre-cooked the potatoes in the microwave).
In addition to the tofu, I had some spinach, zuchinni, carrots, and roasted potatoes with some Chinese-flavored sauce from the back of my in-laws' fridge.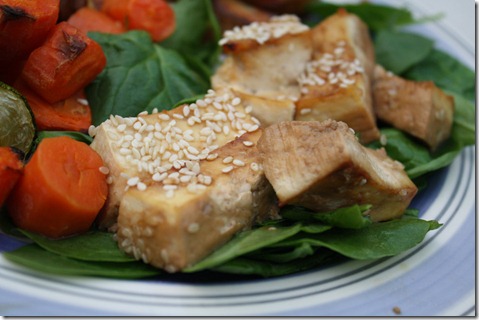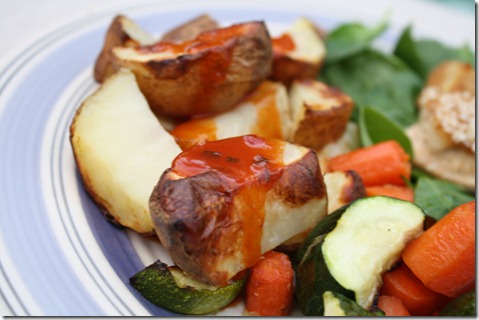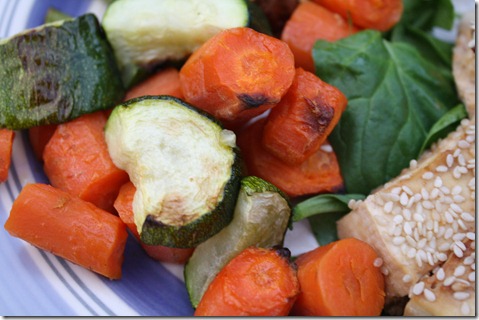 Blogging behind the scenes – tonight's dinner was photographed by the pool. 🙂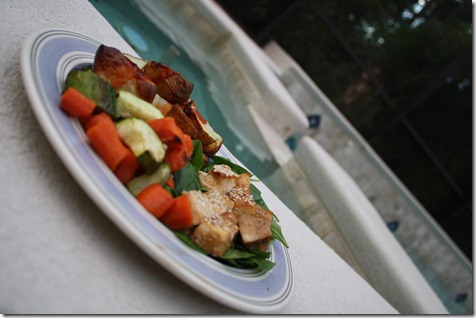 And chocolate for dessert (about a serving and a half).  Would you expect anything less?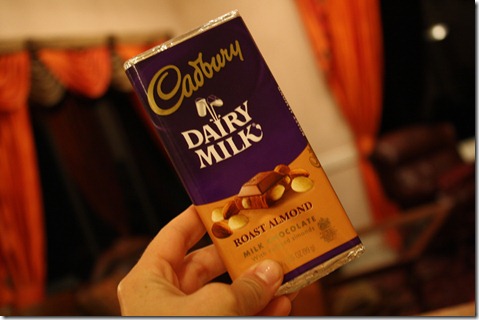 After dinner, I reviewed your suggestions on at-home yoga workouts. Everyone had great ideas (definitely check out the recommendations), but one in particular stood to me because it required no planning or downloading.  Heather suggested:
1. Start with a short meditation
2. Breathing exercise of your choice
3. Side bends and a gentle twist
4. Warm up with a sun salutation
5. Choose 3-4 of your favorite standing balancing postures(that you know you can do safely and correctly, holding for 30-60 seconds) and after each posture do one sun salutation.
6. Choose 3-4 seated postures and do them at your own pace (holding for 30-60 seconds)
7. Final sun salutation
8. Savasana/corpse pose
I locked myself in a guest room, turned off the lights, and yoga-ed my way to relaxation.  It was so nice!  I haven't done yoga in a week, and I'm now accustomed to doing it 3 – 4 times a week!  I didn't realize how much I (or my hamstrings) missed it until today.   Bliss.  🙂
We go back to North Carolina tomorrow!!!