Up and at 'em!  I rose a little bit early today so I could get some work done before the Husband and I sneak off to AM yoga!
Breakfast: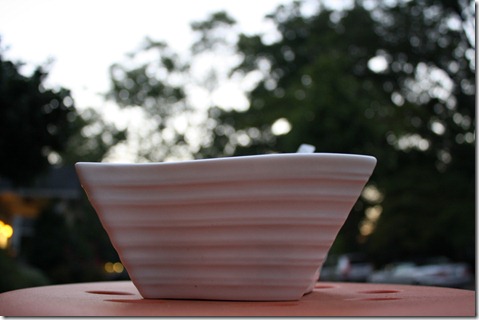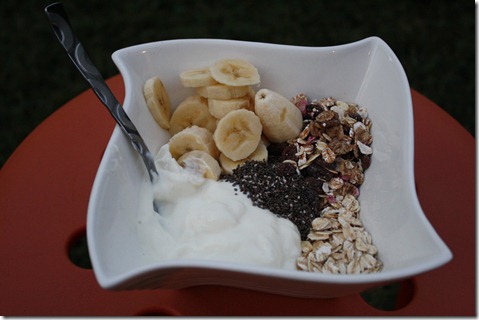 In the mix:
Greek yogurt
Ch-ch-ch-chia seeds
Banana
Dorset cereal
Raw oatmeal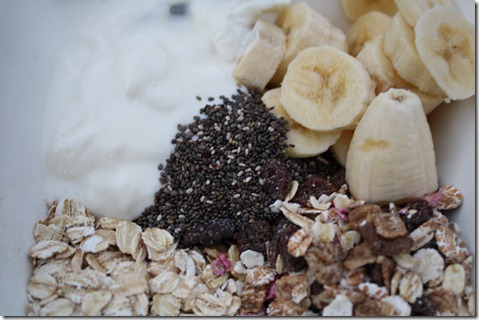 And… we're off!
David's Livestrong Challenge
If you've been reading the blog for a while, you might remember that I fell in love with cycling during a running hiatus.  I did several 60-mile races before deciding to do a Century with my Dad.  We trained and fundraised for the  LIVESTRONG Echelon Gran Fondo (a 100-mile Century in Napa Valley). We completed (barely!!!) the Century in April, raising more than $3,000 for cancer research in the process.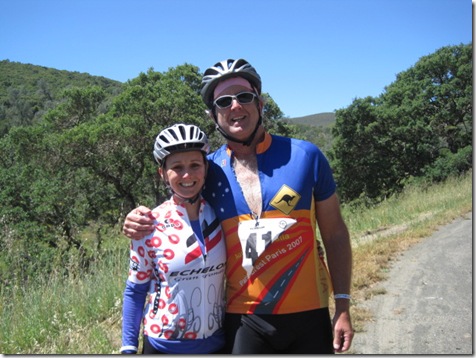 So, I clearly have a soft spot in my heart for 1) cycling with or in honor of your parents and 2) the LIVESTRONG foundation (as well as other cancer-fighting groups; I did my marathon with Team in Training). 
That's why I wanted to share David's story with you!  Read on.
David wrote, "My Mother passed away August 6th, 2010 due to metastatic breast cancer. Mom was a fighter; she had been battling cancer for over 11 years and refused to give up. There wasn't a challenge that Mom would back down from; if fact, I feel like I have a lot to live up to because she was able to complete so much in her short 62 years with us. 
My Mom and I were always extremely close and open with one another; however, this became more difficult as the cancer progressed and Mom's prognosis worsened. Neither Mom nor I wanted to talk about what was going on or what was going to happen. We still talked about life and even when she knew that things were not going well she constantly encouraged me to take care of my loved ones and myself. The doctors told us that Mom was going to eventually pass from this terrible disease but we would have at least another year with her. Before a month was over, I received the call that I was dreading. 
Two days after Mom passed, a friend's mother asked me if she could ride in the LIVESTRONG challenge in Austin in Mom's memory. I had never ridden a road bike before but had always wanted to get into it, so without thinking I said, "Only if I ride with you". That Sunday I went out and bought a bike and began my training.  
Mom would have insisted that instead of whining and complaining about the hand I was dealt that I go out there and do something productive; something beneficial for others.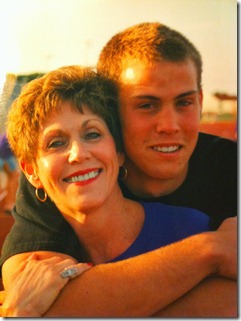 The more I read about the LIVESTRONG challenge, the more I was impressed and wanted to help anyway that I could. The main objective for this organization is to raise money to help with cancer awareness and prevention. My longtime friend Josh, practically my brother, started up Team NKP and signed us up to ride the 65 mi ride through the Texas Hill Country.  
I am writing all of this because my Wife wanted to do all that she could to help me get the word out about fundraising for this event. As a cancer survivor herself, she is well aware of the impact that cancer can have and how important prevention and early detection can be. As a team we have established a goal of raising a minimum of $10,000 by the event. We have also set a goal of getting 5 people to ride with us and help us with our fundraising. TEAM NKP is named in honor of my Mother, Nita Kay Peebles, and any and all help is much appreciated.
If you are able to be in the Austin area the event is scheduled for October 22-24th with the ride being on that Sunday at 8am and a 5k run/walk on Saturday. 
For more information about my ride please visit TEAM NKP's Fundraising Site. More information about the LIVESTRONG challenge can be found at http://www.livestrong.org.
LIVESTRONG and RIDE ON!