Remember how the Husband poured coffee down my laptop and ruined it earlier this month?  And then I poured coffee down the front of my netbook and partially fried it, too – just two days later?
Guess what I did today?  SPILLED WATER ALL OVER MY NEW LAPTOP!  YES! Can you believe it?!  I can't.  The screen is kind of screwed up now but thankfully it works.  And yes – I'm implementing a sippy cup policy for my desk.
Prior to the disaster, I had a lovely lunch:
Two boiled eggs, corn relish, and roasted small yellow potatoes on a bed of greens.  Yum, yum.
And then my mood was instantly lightened by having coffee with the awesome Molly Barker (the founder and vision keeper of Girls on the Run).   This woman has so much freaking charisma; it's ridiculous.  And – I know this sounds weird – I feel like she's my secret big sister or something!  My long-lost life mentor? Me thinks so!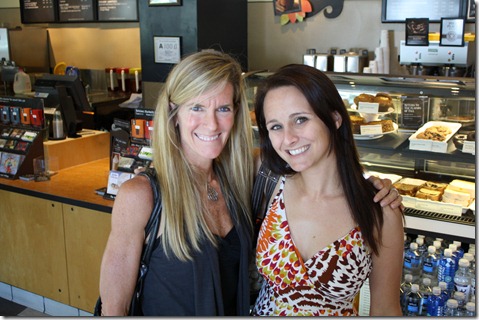 AND – to make the meeting even better – I had a Pumpkin Spice Latte. 🙂 (Which, I will have you know, came out of my entertainment budget for the month!)
I walked back from our coffee date feeling significantly lighter and in a better mood.  Suddenly the computer didn't seem like such a big deal.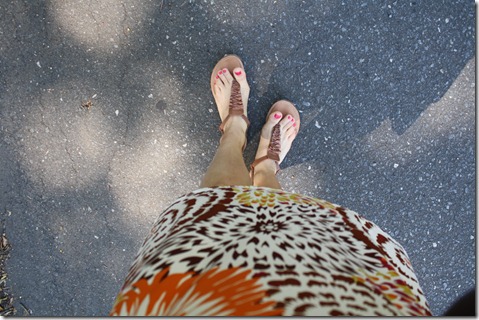 Snackie (chips and hummus):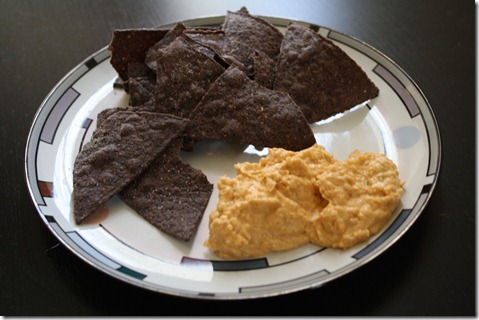 Around 7, my new neighbor friend (Ashley) came over with her doggie, and the three of us went on a run together.  We covered 7.0 miles in 1:15, and I felt GREAT the entire time.  I definitely have turned a major corner with marathon training!  My speedwork + yoga sessions are definitely paying dividends when I get out there for longer runs.
Dinner: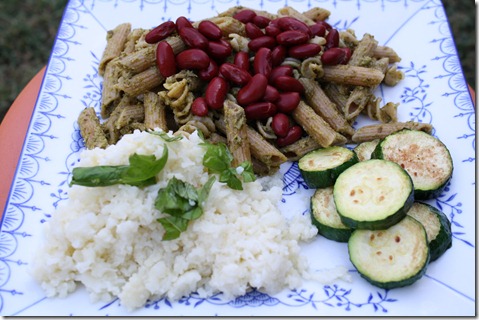 That might look like mashed potatoes, but it's actually mashed cauliflower!  I remember this recipe from way back in The South Beach Diet days.  :)  It's still a winner (I just steam and mash cauliflower with some Earth Balance).
Whole wheat pasta with pesto and kidney beans:
And grilled zucchini: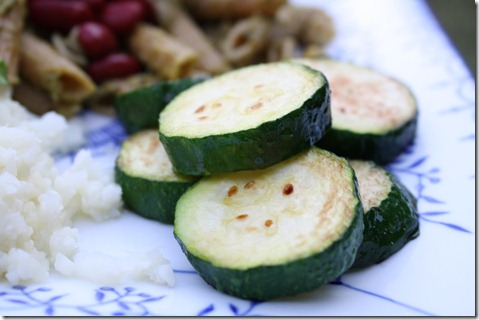 Side note:  America's Got Talent is the most ridiculous show ever.