My big end-of-summer 5K is this Saturday, and I'm gunning to set a Personal Record (my PR Is 23:46).  I really wanted to have fresh legs for the race, so I was planning to have my last run be on Wednesday.
But yesterday I received my new sneakers in the mail and was surprised to see they were the updated version of my usual Brooks Summon, Summon 2.    Whoops – Guess I ordered the wrong pair!  I've been such a space cadet lately – I also ordered the wrong knee sleeves!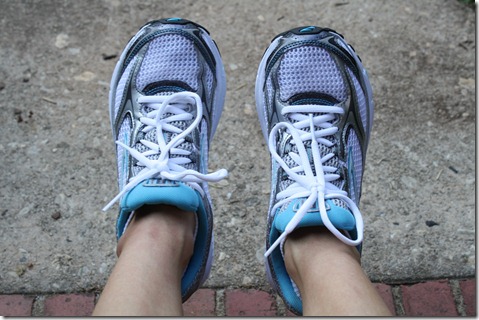 I was left with quite the conundrum.  Do I run the 5K in a new style of sneakers?  Do I test them out beforehand and risk sore legs?  Do I suck up the blisters and run in my old shoes?!
I decided the best option would be to go a on short and slow 2.0 miler this morning.  My old shoes are totally shot so running in the Summon pair wasn't really an option.  But… I am happy to report that I really like the updated Summon 2!  The toe box seems a little wider, which is nice because my feet tend to swell as I run.  Here's to hoping they stand up to longer distances, too!
Pre-run snack was 1/2 a banana and PB: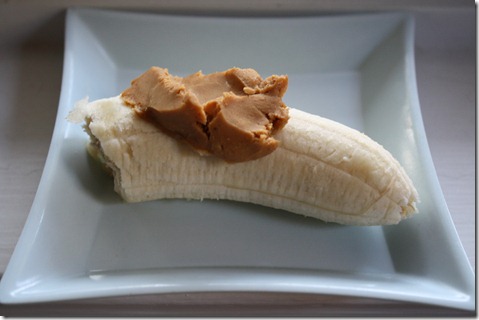 And after, I had an oatmeal mess: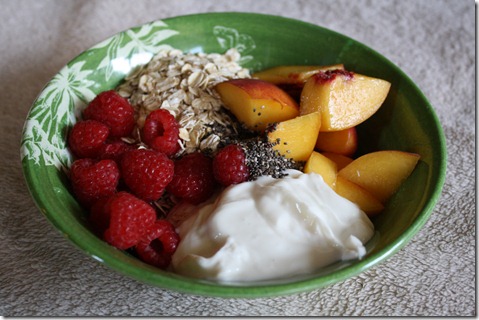 In the mix:
1/2 cup raw oatmeal
Honey Greek yogurt
A peach
Raspberries
Chia seeds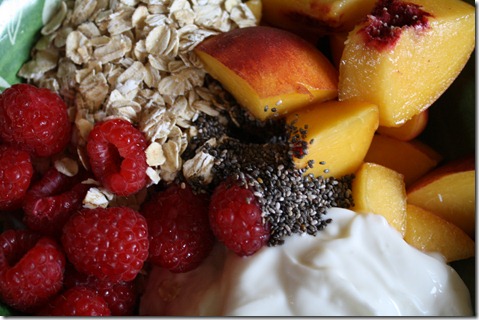 While running, I was thinking a lot about the upcoming race.  I really believe in the power of visualization.  The course is one I run on regularly, so I could definitely imagine myself tearing down the corner and crossing the finish line in time for a new PR.
I'm excited for this race, but my least favorite distance is a 5K! 
So far, I've run 28 races, including running races of all distances (except an ultramarathon – ahh!).  I'm not a huge fan of 5Ks because I feel so much pressure to go fast and the entire 3.1 miles is one, long painful sprint.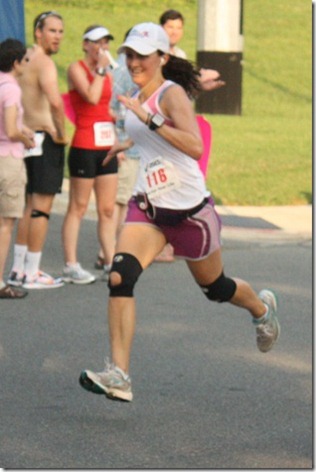 My first race was actually a 10K!  I remember thinking that I was going to "go big or go home."  :)  I like 10Ks because there is less pressure for me to sprint, sprint, sprint, but I still feel like I end up maintaining a very uncomfortable pace for 6.2 miles.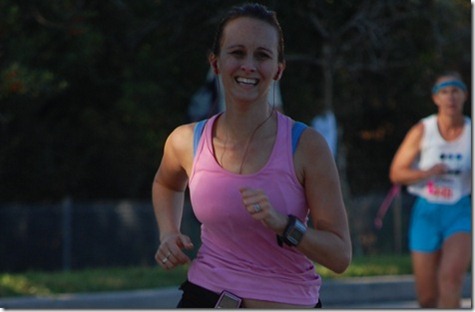 My FAVORITE distance is 15K.  I think it's long enough so I can go slower (I love moderately paced runs), but the 9.3 distance is obviously very challenging.  I feel like I'm getting my "money's worth" when I enter a 15K.  I really love 15Ks and wish they were more popular!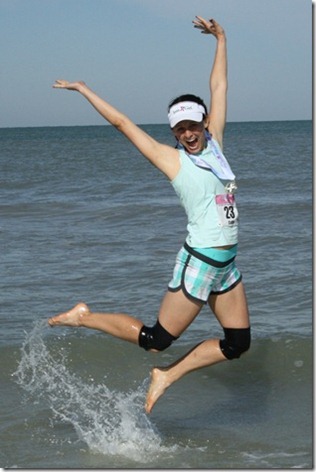 Half marathons are fun, too – but it's starting to get a little TOO long for me to LOVE it.  :)  Halves are really hard!  And of course, I've done one marathon and it wasn't the BEST experience.  Hopefully, marathon #2 will be more enjoyable.
If you've run a variety of distances, what is your favorite distance to run?  What was the first race distance you completed?