Up dog, down dog.  Don't you feel better now?  Because I sure do!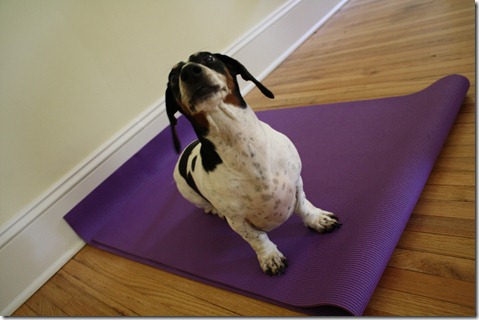 Finally bit the bullet and went to hot yoga today (not crazy-cardio hot yoga but relaxing hot yoga).  With marathon training in full swing, I NEED yoga in my life!  My legs have been aching more, and my back is begging for release.  Yoga calms my body, and it quiets my mind.
Thus… I've committed myself to a little personal yoga challenge (to practice regularly).  I'm not going to make it this grand blog challenge because honestly… it's too much pressure that way.  Plus, I don't want to be a bad group leader if I fall off the wagon.  🙂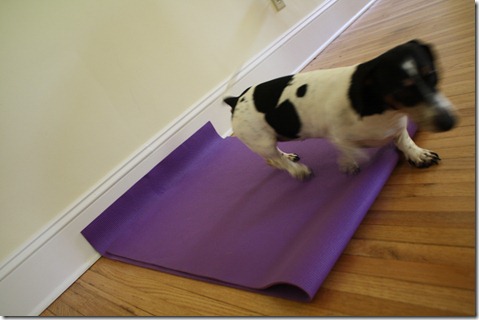 Life is complicated.  Yoga is simple.
Yoga was at an odd hour (12:30) so I ate lunch a little early.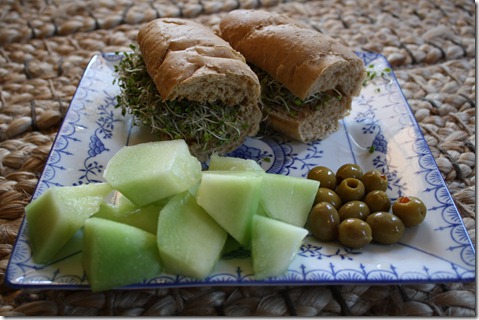 The star of the show was a whole wheat hoagie with Moroccan hummus and sprouts.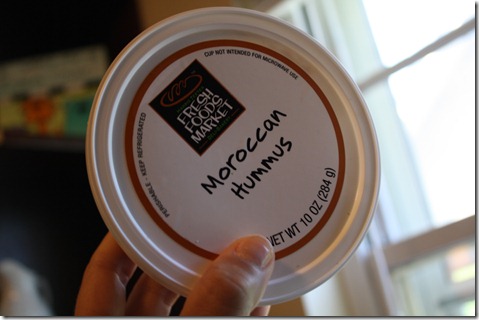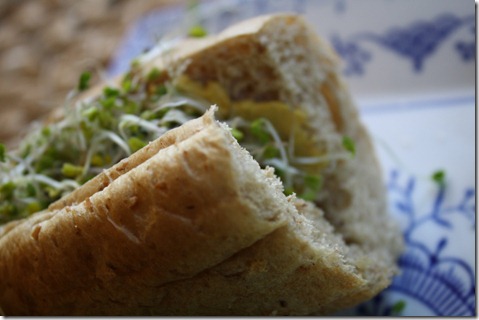 Plus melon + olives.  I've been craving olives like nobody's business lately.  Salt replacements, maybe?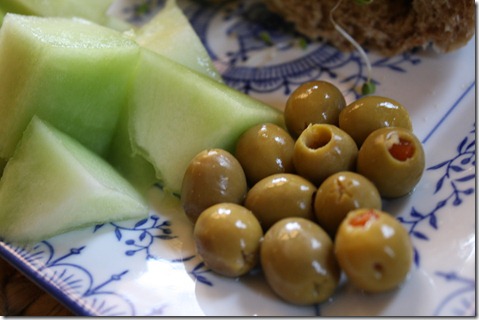 Post-yoga snack was a classic Green Monster (1 cup almond milk, 2 cups raw spinach, 1/2 a banana).  Yes, these really taste good.  I promise.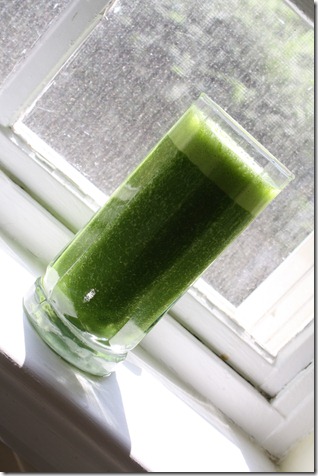 And for dinner, I had to Google "how to boil eggs."  I Twittered for some advice about the process and was immediately inundated with all these tips and tricks.  I just threw caution to the wind and it all worked out:  boil water, add eggs, remove after 15 minutes or so.  Drop in ice water and then peel.  Tada!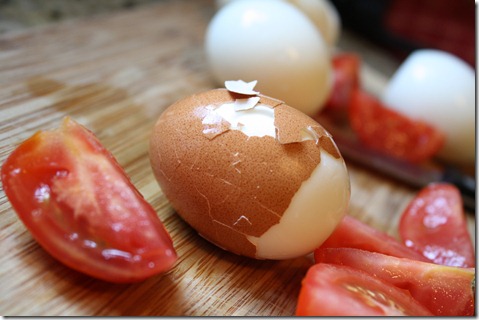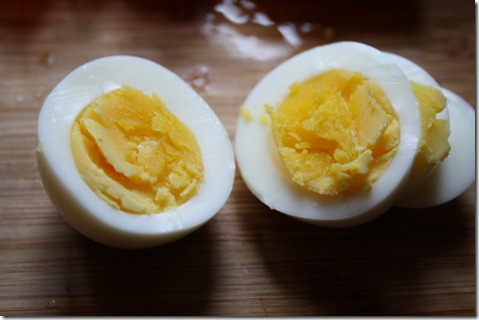 Finished product: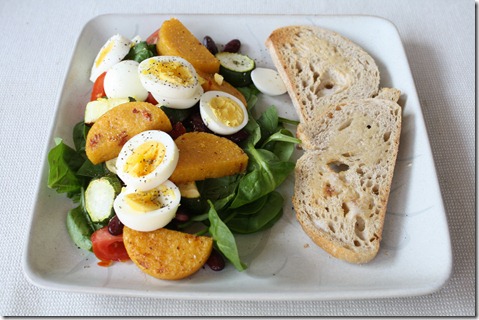 I had a spinach salad with polenta crotons, kidney beans, roasted zucchini, tomatoes, and two hard boiled eggs.
Polenta crotons are easy, too.  Buy the pre-made tubes (in the refrigerated section usually), slice, and roast at 375 for twenty minutes or so.  Can't screw it up!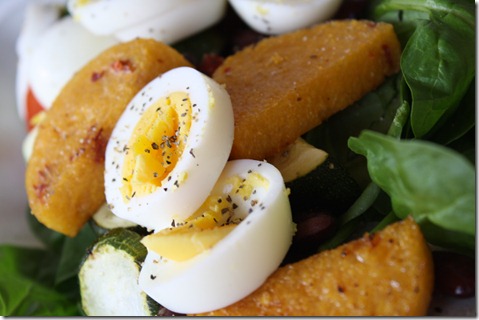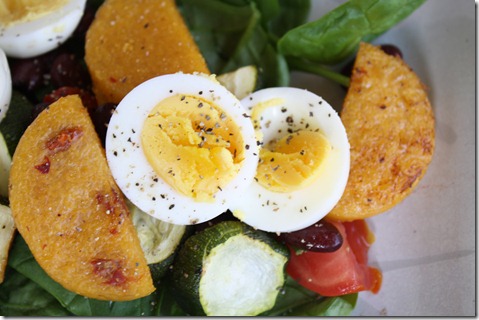 With toast on the side: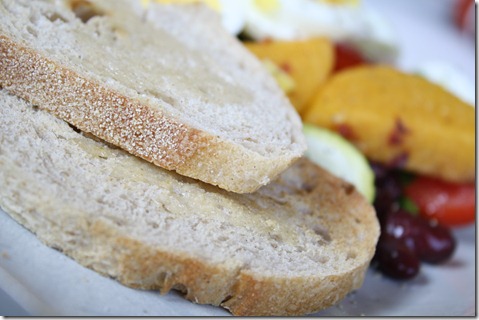 And for dessert, the Hus and I went to a Charlotte blogger meet-up at TCBY for some Fro-Yo in Emily and Casey's honor.  They are moving to DC, and everyone is very sad to see them go!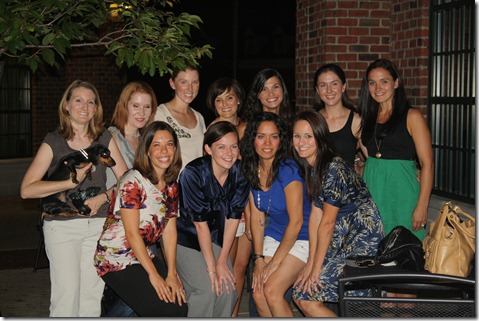 My cup of chocolate, vanilla, and candy toppings.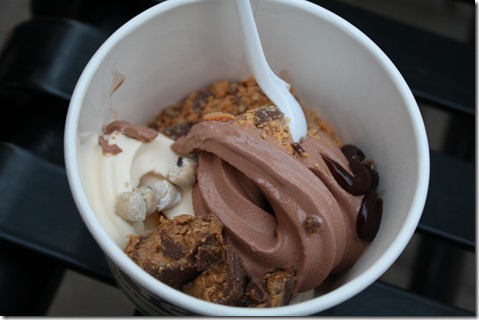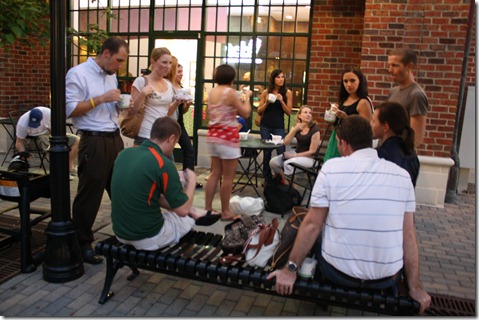 Yoforia is still much, much better – just my opinion!  🙂
Are you challenging yourself to reach a new healthy goal right now?  Do you prefer to announce all your goals to your friends and family or keep it quiet?