Another EXCELLENT yoga class at Y2 Yoga.  Today's class was so, so lovely.  The flow of the class was so thorough and balanced.  I hate it when I leave yoga feeling off – like one leg didn't get stretched as much as the other. 
The best part of this studio?  At the end, the teacher walks around and puts a lavender-scented cold towel on your forehead during savasana.  I wait for that towel ALL through class.  It is such a nice way to end hot yoga.  And it smells amazing.
Oh, and… pre-yoga, I went to a Girls on the Run meeting with Jen.  She's the head coach, and I'm the assistant coach.  The season started on Tuesday, and I'm so excited to meet our 16 girls!  I'm a little nervous, too – I want the girls to have fun (and like me, I'll admit it).
Dinner: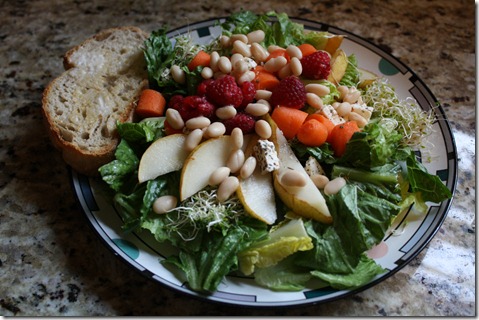 A really lovely salad with broccoli sprouts, 1/2 a pear, navy beans, feta, carrots, and raspberries:
And some organic whole wheat bread with Earth Balance: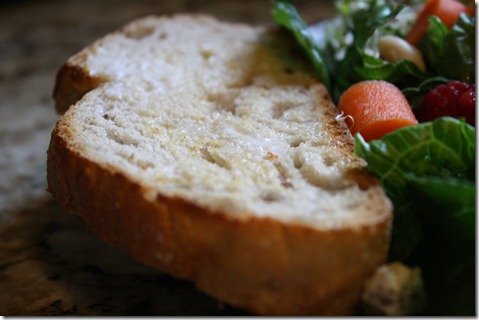 Post-yoga snack:
Time for some EXCELLENT TV – namely the season finales of Hung and Entourage!  Grey's Anatomy, Private Practice, and The Office come back soon, too. 🙂 🙂
Another edition of HTP Swaps and Additions coming at you tomorrow AM. Stay tuned!