Ashtanga surprised me!  And guess what… I think I surprised the instructor.
I managed to get into Embryo pose!  It involves putting your legs into Lotus, threading your arms through your legs, and bringing you hands to your face. 
(Source)
As I always do when trying anything new, I introduced myself to the instructor and told her that I had never done Ashtanga yoga before but was familiar with yoga in general.  She came up to me several times throughout class to give advice and stretch me into position, which was so nice.  But then… I totally started to "get" Ashtanga!  It's basically holding a lot of stretchy poses and not as cardio based (although there were TONS of up-down dog series in the 90 minute class).  I couldn't do them all, obviously, but I was pleasantly surprised with how much I could do.  So was my teacher!  Guess you never know until you try!
Post-yoga lunch: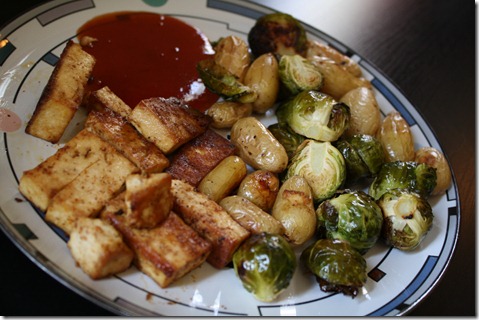 Lovin' my Perfect Baked Tofu recipe today!  Especially because I used a gourmet dark honey that the Husband picked up at Marshalls a few weeks back.
If you're scared of tofu, make my Perfect Baked Tofu recipe.  It's so simple and you really can't go wrong.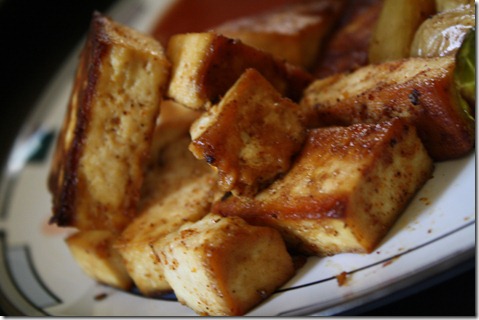 With roasted potatoes, Brussel sprouts, and Bone Suckin' Sauce on the side: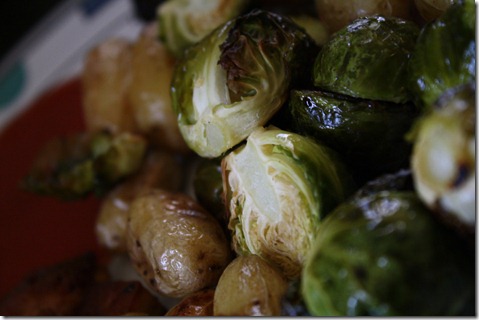 Hope you Saturday is going well!  :)  I'm just enjoying the beautiful weather and relaxing on my patio.  Perfection…