Stand-out breakfast!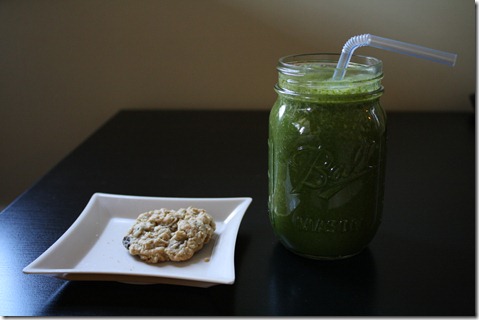 Who needs milk and cookies when you can have a CAFFEINATED Green Monster and cookies?
Oh Green Monster – you look scary but you are quite wonderful and tasty.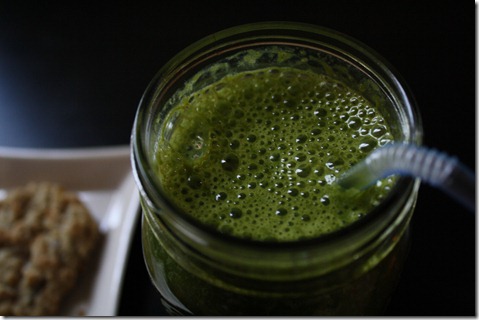 In the mix:
1 cup almond milk (vanilla)
1 banana
1/2 tablespoon brown rice powder
1/2 tablespoon flax
2 cups organic spinach
1 packet Starbucks Via
Smoothie of champions!  I loved the addition of instant coffee.  It took way less time to make breakfast AND it tasted really good!
With one of those homemade oatmeal cookies that my neighbor brought by (so nice of her!):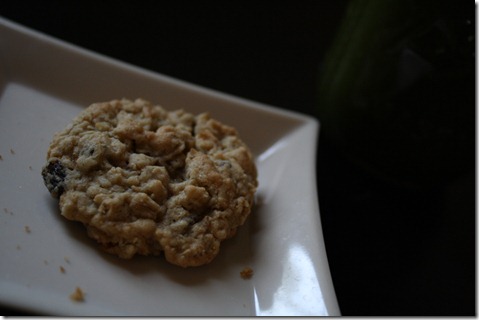 I am off to an Ashtanga Yoga class.  I'm a little nervous because 1) the class is 90 minutes long (ohmigod) and 2) I've never practiced Ashtanga.
"Ashtanga (also spelled Astanga) means "eight limbs" in Sanskrit, which refers to the eight limbs of yoga laid out in the Yoga Sutras of Patanjali. The Ashtanga method of asana practice was interpreted by Krishnamacharya and Sri K. Pattabhi Jois from an ancient text called the Yoga Korunta, which described a unique system of hatha yoga developed by Vamana Rishi." (Read more at the Source)
The only catch to me going to this advanced class is I promised the Husband I would also go to an introductory class with him in the evening (he doesn't want to go alone).  So that means I'm going to have quite the day of yoga!  Never a bad thing. 🙂
I "learned" yoga with the Baron Baptiste style of hot yoga, which I thought was a great, solid foundation for yoga.  I tried Bikram, but it wasn't for me at all.  What styles have you practiced?