Previous marathon training long runs:
Today, I woke up with one goal in mind:  bang out 13.1 miles for marathon training.  Unfortunately, when I dragged my booty out of bed and looked outside, it was absolutely monsooning.  I checked weather.com, which assured me the rain would stop soon, so I decided to hold off a bit.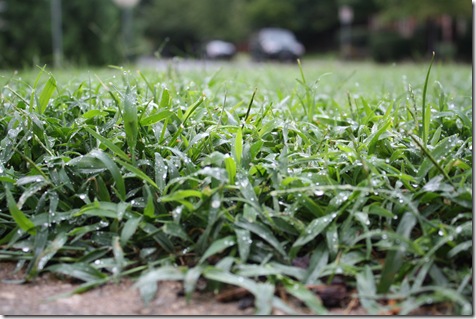 Breakfast: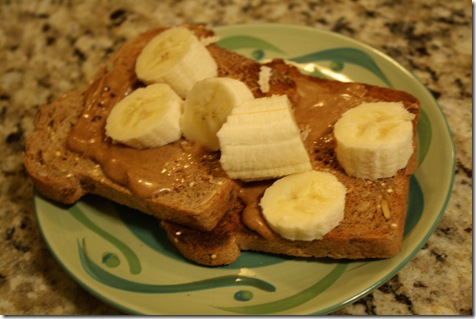 Pretty standard pre-long run fare:  peanut butter and 1/2 a banana on toast.  Everyone has a different pre-run meal that works for them, and I absolutely cannot go wrong with this combo.
Once the rain stopped around 8 AM, I headed out.
One major mistake that I think I've been making during training is going out TOO FAST.  When my music is bumpin' and I'm feeling good about the distance, I tend to leave with house with a bang, averaging 9:30/miles.  But truthfully, that is way too fast for me for long runs.  I read the other day on Runner's World that your long runs should probably be 30 seconds to 1:30 slower than your anticipated race pace.  Slower long runs = more time on your feet.
I don't want to set a "goal" for my upcoming marathon (I think it creates unnecessary pressure for a distance that is already pressure enough… if I finish smiling, I'll be thrilled), but it wouldn't hurt to run 10:30.   So today I tried to maintain a 10:30 to 11:30/mile with walking breaks, which I took about once a mile.
Around Mile 5, I stopped by my house to refill my water bottle and eat some small oranges.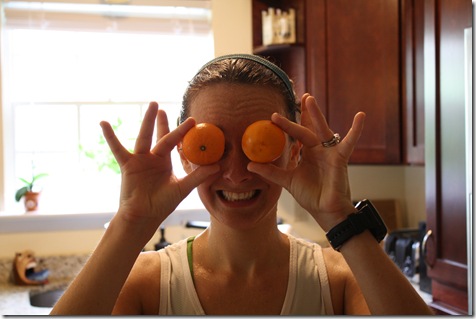 Ugh – the acidity did NOT sit well in my stomach.  I think I can handle an orange slice or two, but not two whole pieces of fruit.
I also changed my sports bra and shirt because I was absolutely dripping wet with humidity and beginning to chafe all over the place (ah, chafing… one aspect of marathon training that I did NOT miss – I've tried everything and nothing works for me). 
The last few minutes were pretty mentally and physically rough.  I started to play little games like, "Just run to that lamp post" or "Envision you're crossing a finish line!" 
I also blasted my "power song" (The Killer's 'All The Things That I've Done'), which always reminds me of my exhilarating but terrifying Olympic triathlon (recap) because I used the song in my video recap of the event:
All I could think was, "If I can get through that triathlon from hell, I can get through this silly training run!"
And then… suddenly, I was done!
Distance: 13.1 miles
Duration: 2:20 (in comparison, I can run a Half Marathon race is 1:58)
Mile 1: 10:12
Mile 2: 9:53
Mile 3: 10:52
Mile 4: 10:48
Mile 5: 10:20
Mile 6: 10:24
Mile 7: 11:05
Mile 8: 11:25
Mile 9: 11:04
Mile 10: 10:58
Mile 11: 11:05
Mile 12: 11:29
Mile 13: 10:18
Mile 13 – 13.1: 56 seconds; 9:38 pace
Came home and inhaled a Green Monster: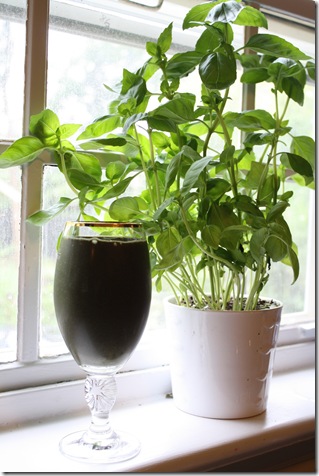 In the mix: 1 cup almond breeze, 1/2 a banana, 15 cherries, Nesquik, 2 tablespoons brown rice protein powder, and 2 cups of raw spinach.
And then a little later, I made a great big roasted veggie salad: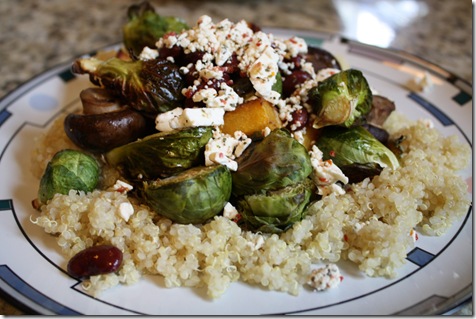 In the mix: 1 cup quinoa, roasted Brussel sprouts, kidney beans, butternut squash, and feta cheese.  'Twas delish!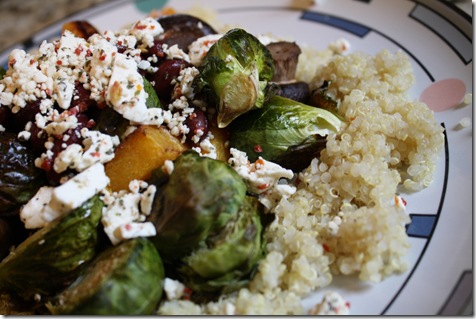 I actually ate this delicious dinner while talking on Skype to my old high school friend, Ali!  We fell out of touch but are re-connecting electronically. So fun!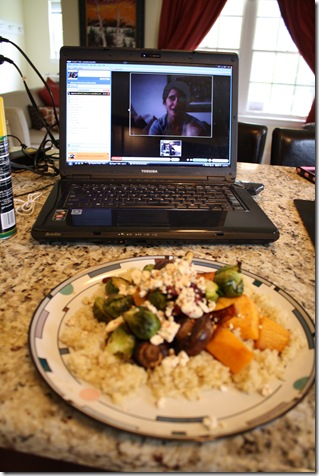 And then I pulled a great big disappearing act on you because I had to go SELL MY CAR!  Which was quite the process, but I'm pleased with the outcome.  Our decision to sell our car was based in part on your responses to this post, so I really appreciate your advice!
Ate an AllieBar at the mechanics!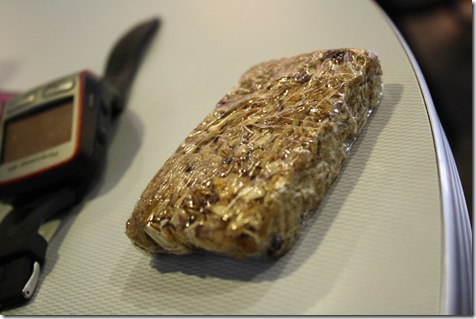 And then came home and had 1/2 cup oatmeal, Greek yogurt, blueberries, and chia seeds.  I am quite hangry after running all that distance!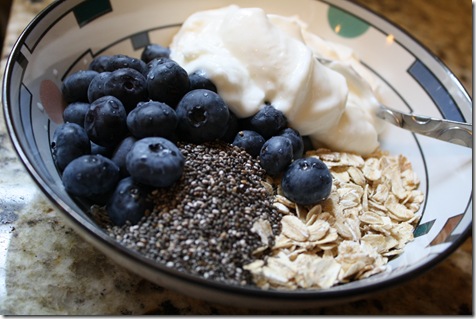 I have quite the hot date planned for tonight!  Very excited.
What mind games do you play during long and hard workouts?  Do you recall past triumphs?  Tell me about it, I love to hear about your successes!!