It's a chilly and dreary day here in Charlotte – I LOVE IT.  After weeks of 90+ degree weather, this sub-70 day is welcomed with open arms.
Breakfast on my very cool patio: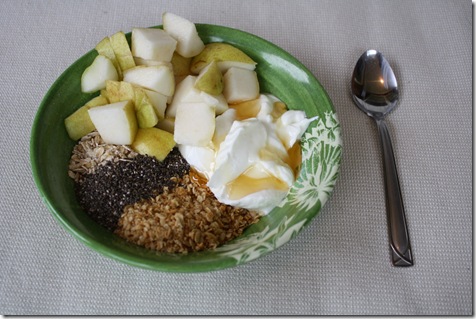 A yogurt mess bowl, which contained:
1/4 cup oatmeal
1/4 cup granola
1 tablespoon chia seeds
1 cup Stonyfield Farm Oikos yogurt <—an awesome Healthy Living Summit sponsor.
Drizzle of honey
Sliced pear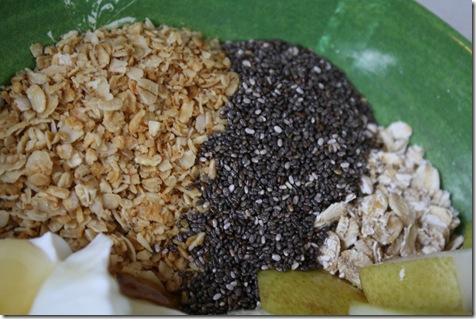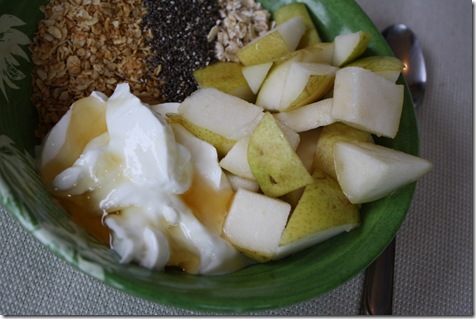 Design and Decorating, Part III
My goal to get 8 hours of sleep and wake up at 6 AM was an epic fail (I'm desperately trying to get back on a normal schedule).  Instead, I went to bed at 10:30 (already half an hour in the hole) and stayed up for an hour and a half, staring at the ceiling.  This was despite the fact that I was exhausted and DESEPERATELY wanted to fall asleep.
At least my bedroom isn't the problem.  It's cozy, it's relaxing, and I'm almost done decorating.  Here it is!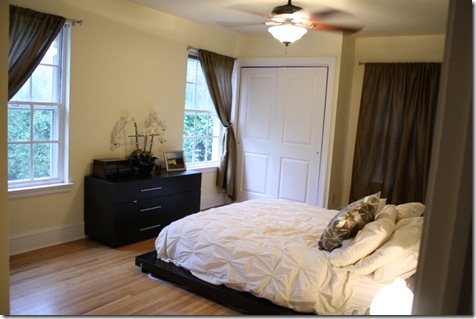 We bought a very low, dark wood bed from West Elm (the "Terra" style).  I really love the low bed.  It makes rolling in and out so much easier.  :)  I wanted to create contrast between the dark furniture, so I opted for a natural pin-tuck duvet with matching shams and pillows.  Not wanting to get too matchy-matchy, we also have two white pillows and white sheets.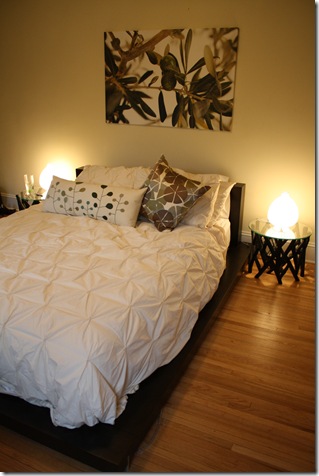 That's an IKEA painting above the bed!
I love the simple accent pillows (all bedding is also from West Elm).  I think mixing different textures (one is linen and the other is smooth) and sizes is important.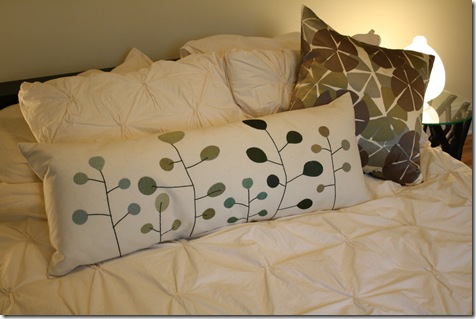 The bed is my favorite part of the room, but I also love these twig and glass side tables (West Elm) with small paper lanterns.  The twig sidetables are a departure from the clean lines of the bed and dresser, but I think that the room needed something different to keep it from getting too boring.  These table look so organic – like I walked into a forest and chopped it down myself… love them.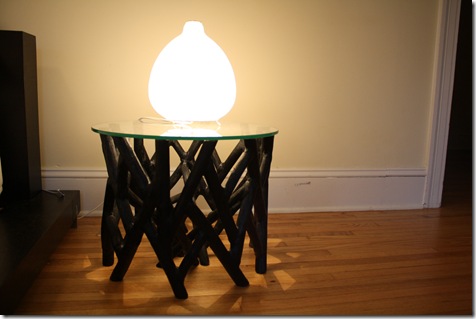 Opposite of the bed is a 6-drawer dresser, which we got on discount from West Elm because it was a floor model (always ask about this!).  I love the asymmetrical drawers.  I think the top of the dresser is a little cluttered, though.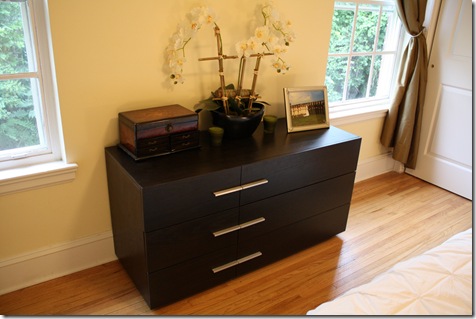 And the thing that really finished the room was lush, floor-length curtains from Target.  All of the curtains in our house (so far) are from Target – they are super affordable.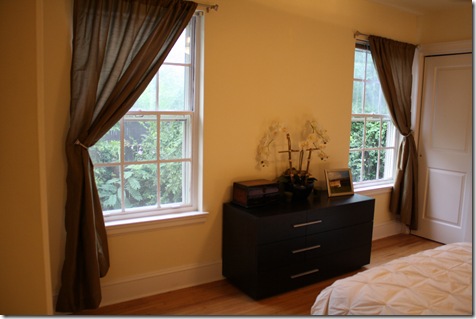 The curtain below is actually a trick: There is a skinny, ill-positioned window on the wall.  The fact that the window wasn't centered drove me crazy, so I got a long curtain rod + two curtains and made the window appear bigger than it really was.  Problem solved.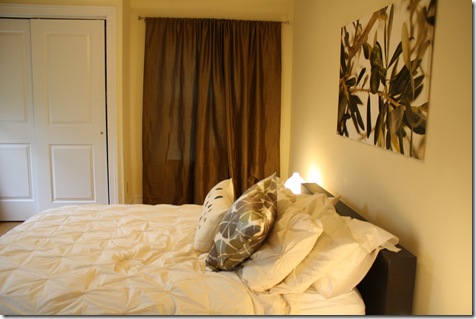 The only thing the bedroom is missing is a soft, squishy rug.  Since I basically gave West Elm my first born child, we'll be getting "West Elm bucks" back in the mail soon, and I plan to use them to partially finance a rug.  I'm loving this sweater rug, but I'm not committed yet:
Missed the other Design and Decorating Posts?
Is your bedroom a sanctuary or does it leave something to be desired?  How would you change it if you could?