I haven't killed my flowers yet!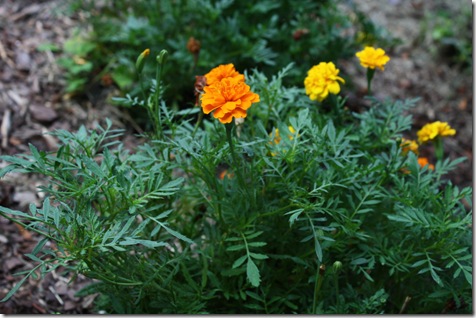 *Gold star*
I love this part of the summer – hot when you wake up, hot when you go to sleep.  That makes for excellent strawberries!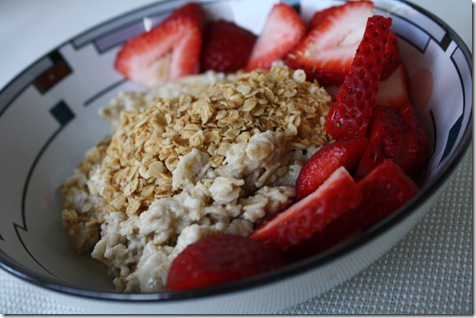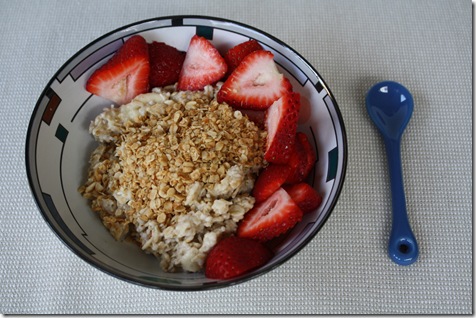 My breakfast bowl of oatmeal contained:
1/2 cup oatmeal
1/2 cup rice milk
1/2 cup water
1/2 sliced banana
Toppings:  Opera Girl Cooks Double Coconut Granola and fresh strawberries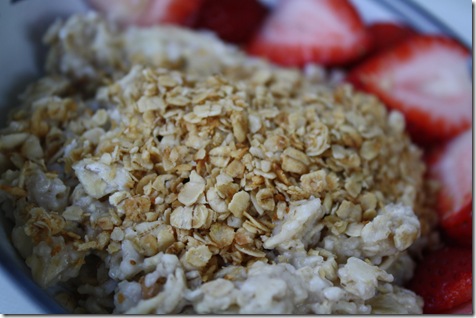 Opera Girl, I give you a standing ovation! This batch of granola was wonderul!  Here's the recipe.
Follow up to Teenager Troubles
Last week I posted a reader e-mail question from Anonymous Mom, a healthy and active woman who was struggling with what to say to her overweight daughter who suffered from low self-esteem.  To read her full e-mail (and the awesome suggestions from readers on what she should do to help her daughter), check out this post.
Anonymous Mom was so grateful for your help!  She wrote me a follow-up e-mail to explain some questions raised in the comments section:
I have gone through all the comments and am so thankful for everyone's suggestions. I especially loved the direct email from Heidi – that had me in tears.  I believe my daughter knows I love her unconditionally. However, I must admit that even though I never let her know it, I am secretly trying to "fix" the problems. Many people have mentioned the chicken before the egg scenario and this is where I always get caught up in. Is she depressed because she is overweight or is she overweight because she is depressed? It is a vicious cycle. When she cries, all I want to do is take her pain away. 
Just so everyone will know…
There is no medical reason for her weight issues. However, she is in danger of becoming a diabetic and already has high cholesterol.
We have tried everything under the sun, from swimming, karate, dancing, family gym memberships, you name it. If she wanted to try it, we have always supported her.
The professional counseling has been used by me when I have been at my wits end but I have never been able to get her to agree to go.
I walk on egg shells all the time. I never want her to feel that I don't love her just the way she is but I want to be able to support her and help her develop healthy habits.
I post Operation Beautiful notes for her all time and put notes in her lunch box. But even with this, I am careful to try and not do it too much in fear that she will think she isn't good enough the way she is.
So in summation, I am so grateful for the comments from everyone. This is going to be my action plan:
Just be there for her and listen and love her.
Continue to serve as a good example and encourage her to help in grocery shopping and food preparation.
We have three dogs so instead of me going out for a run and setting a good example, I'm going to get my run in the morning and then in the evening, I'm going to invite her to go on a walk with me and the dogs. I think I've been so focused on setting the example that I have forgotten to invite her to be active. I'm also going to ask both my girls to run a 5K with me. (And maybe see about tennis…that's one thing we've never tried.) 
Somehow get her to agree to go to a counselor.
Anonymous Mom is definitely a good mom!  🙂
To read other posts about how healthy living impacts families, friendships, and relationships, check out:
And… I'm off! Conference calls up the wazoo today!