Why I am always running late?!
I had to inhale this delicious lunch because I'm totally going to be late.  I'm picking up Megan and we're going on an Girlfriend Getaway date.  Super excited!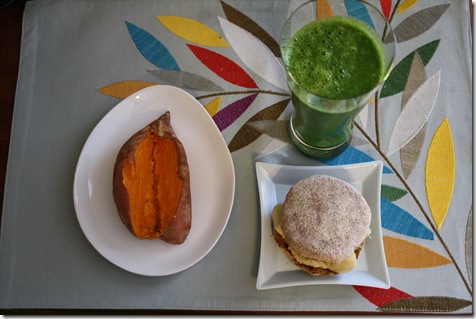 I made a whole wheat English muffin sammie with hummus and jarred artichokes.  I love how artichokes mimic the texture of meat (in a good way).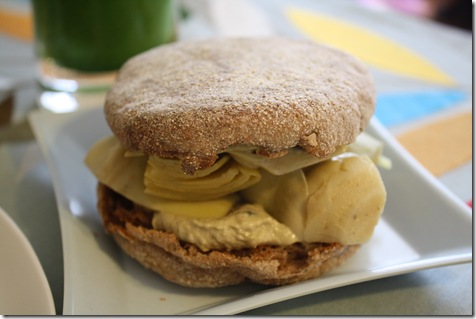 And a microwaved sweet potato: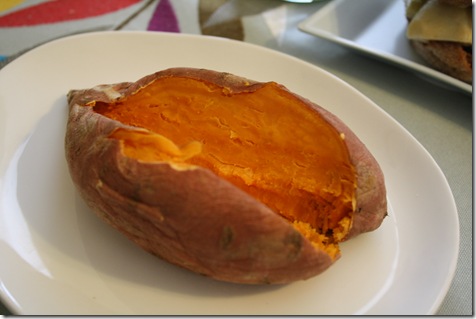 And of course, my Green Monster.  I'm LOVING the energy these GM's are giving me lately.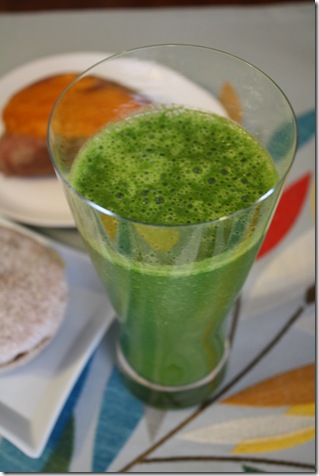 My GM contained 1 cup almond milk, 1/2 a banana, and 2 cups of raw spinach.  And no, you cannot taste the spinach.  I  promise!
Kid-Friendly Food
Megan made my mini quiches for her family the other night.   She wrote, "Just wanted to let you know that I tried your idea/recipe for little quiches tonight and they were a big hit!  I put broccoli in some, mushrooms in some and left a few with egg and cheese only (for the picky ones).  We had them with tomatoes, bread and little sausage patties- breakfast for dinner!  My husband and I have 4 kids with #5 on the way, so finding something to satisfy everyone is a challenge.  We did it tonight, though."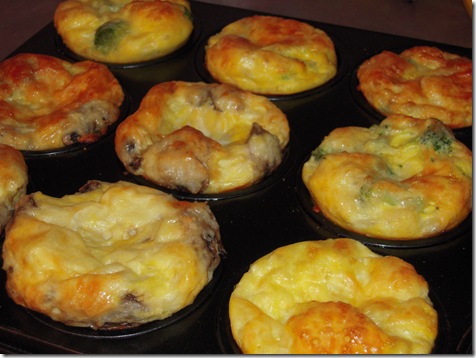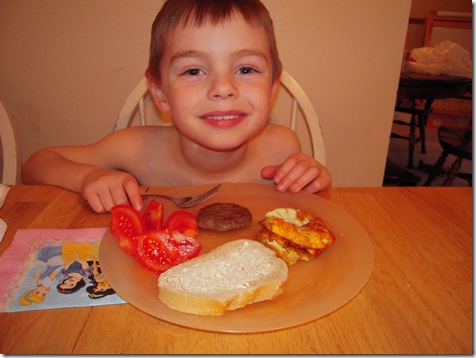 How cute is that?  I love kids.
Follow Up on Loving a Smoker Topic
Yesterday's post on loving a smoker sure produced interesting comments!  I love the discussion!
I also linked to a previous post I did from "A Worried Fiancée," who was concerned about her overweight husband's eating and lifestyle choices.  You can read the original post and the accompanying comments here – I highly recommend it!
A Worried Fiancée wrote me an email after seeing the smoker post to say:
I've often thought about giving you (and your readers, if they're interested) an update on my fiancé but haven't because I was kind of waiting until I could say something like, "He now runs 10 miles at a time and has lost 50 pounds." which has not happened yet!  However, he has been making small changes in 2010 that I'm proud of him for doing so.  He's cut out a lot of fast food (I think!), he definitely drinks less alcohol and he's on Week 3 of the Couch to 5K plan.  He's recently committed to going to the gym three days a week which I think is a great start.  We've also talked about running a 5K together in the next couple months.  
Some of the comments on the post really hit the nail on the head.  I had already tried to influence him through my actions (I'm a runner and eat pretty healthy), not keep junk in the house, etc, but I think that he needed to want to do it for himself before he really started to make changes.  So, we'll see how it goes.  Hopefully one day I will send get to send you an email saying he's lost all the weight and is in super shape!
A Worried Fiancée's remarks got me thinking about how we can influence the people we love to make better choices.  So, I want to know:  Have you influenced anyone in your life to be healthier? Did someone influence you?