So much to say! :)  First things first:  Owning a real, live basil plant is awesome.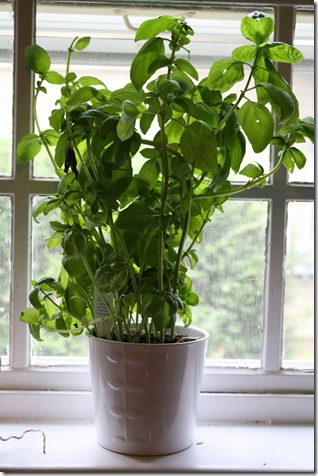 I highly recommend that you buy a basil plant for a window in your kitchen.  I haven't killed it yet, which speaks volumes on how easy it is to tend.  :)  Plus, it's so much fun to snag a few leaves and add them to dishes that would otherwise lack a little something-something.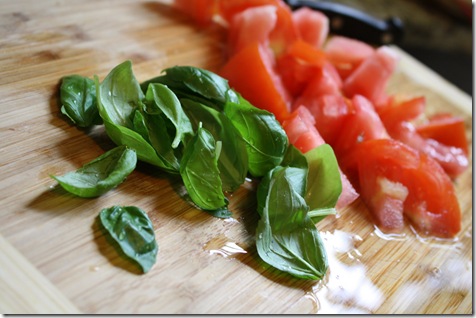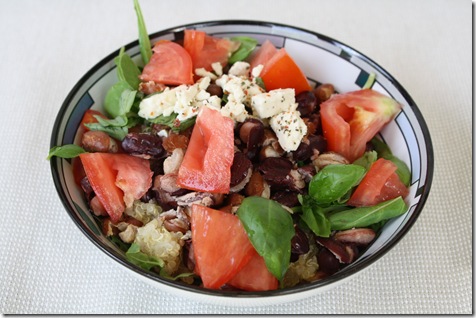 I had an excellent Quinoa Salad for lunch today.  I love putting hot grains on top of a bed of arugula or spinach because the greens wilt and become so supple.
In the mix:
Arugula
Quinoa
Tomato
Fresh basil
Athenos feta (tomato + basil flavor)
Roasted kidney and pinto beans <—Roasting the beans is easy.  Drain the can, rinse away the extra sodium, pat dry, and throw in the oven at 375 for about 10 minutes.  Perfection!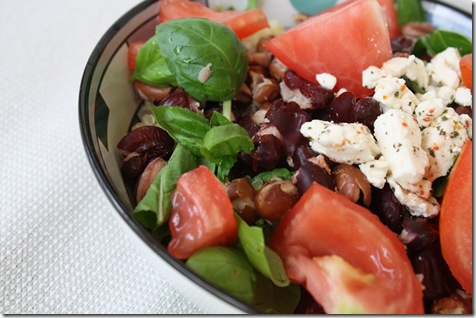 In other news…
The Operation Beautiful book drops in four short days (more info here).  I'm amazed, nervous, excited, GRATEFUL, freaking out, and really happy.  I plan to write more next week about the process of going from reader –> blogger –> author.  It's been quite a wild ride!
I've got tons of special things planned for next week, but I want to tell you about two right now!
First up:  The Operation Beautiful Virtual Book Tour (VBT)!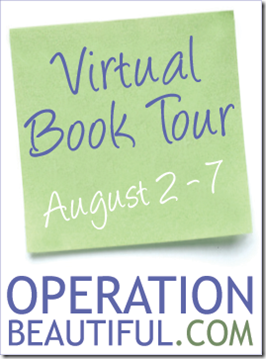 The VBT kicks off next Monday and runs until Saturday.  For the VBT, I've asked a few bloggers to address a topic related to body image and self-esteem.  Each will also give away a copy of the book!  I hope you check out these excellent blogs next week to see what a former personal trainer, blogger for a major health website, vegan mommy, stay-at-home-mom in her 20's, runner/professional baker, and Grammy-nominated rock band has to say about Operation Beautiful!
Additionally, I want to hear from YOU!  Next week I'll also be running a larger effort that includes readers + the entire blog community.  During Change the Way You See, Not the Way You Look week, I encourage all bloggers + readers to think and write about body image issues.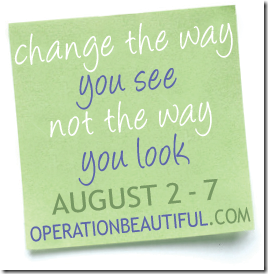 If you're a blogger, write a new blog post about whatever subject specifically appeals to you (finding a happy weight? getting fit? learning to love your body? and other ideas here), copy and paste the "Change the Way You See" logo into the blog post (like a photo, as I did above), and then press publish and email me the link.  I'll put that exact link on the blog so other people can read your perspective, too…  I'll link to it on Healthy Tipping Point and OB so new readers can find your blog!
If you don't have a blog but want to participate, you can join the discussion by writing a post and e-mailing it to me.  I'll put it on a special section of the Operation Beautiful site and credit it to YOU!  🙂
I'm accepting other blogger + reader submissions NOW!  Send them in!
(Mucho thanks to Gina for helping me with the VBT and OB Week logos – aren't they great? She does excellent design work.)
On that note… I've got one last Athenos feta giveaway for you!
One reader will win the following: ATHENOS Feta coupon; ATHENOS Feta "Shape Up Your Salad" recipe booklet; ATHENOS Feta water bottle; Life Time Fitness 1-month membership; Fit & Fresh salad container; and a Built NY lunch bag.  To enter, simply answer the following question in the comments section.  I'll pick a winner on Sunday.
Your body does amazing things, like kiss, run, dance, sing.  What ability are you most grateful for and why?