Occasionally, I throw together weird sauces and spices to see if it will work.  Sometimes it does (case in point:  Noodle Dish with Simple Almond Sauce)… and sometimes it's just weird.
So, this dish started off as my desire to do something with baby bok choy and tahini sauce (sesame seed sauce), neither of which I've ever used before. 
I've cooked with bok choy and found it to be tough, so I was looking for something more supple.
I'm-Not-Sure Tahini Sauce  (makes three servings)
Ingredients:
4 tablespoons Tahini sauce
3 tablespoons maple syrup
1 tablespoon peanut butter
Dash vegetable oil
Dash water
1 tablespoon chopped garlic
Pinch of chili powder
Dash of hot sauce
Dash of ground ginger
Directions:
Combine everything on stovetop.
Heat for 1 minute.
Pour over veggie and pasta mix.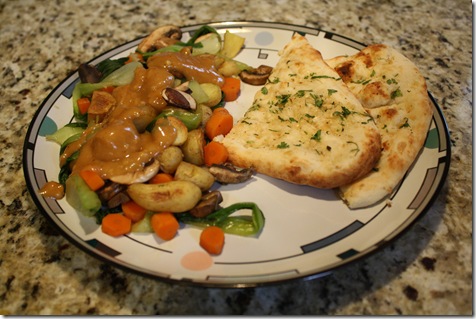 Now, although the sauce was off (any ideas what I did wrong?  I think I used too much PB), the veggies were fabulous!
I lightly boiled the baby bok choy and carrots, added pre-roasted tiny potatoes, and tossed in sliced mushrooms at the very last minute.  The timing of the veggies are very important, me thinks!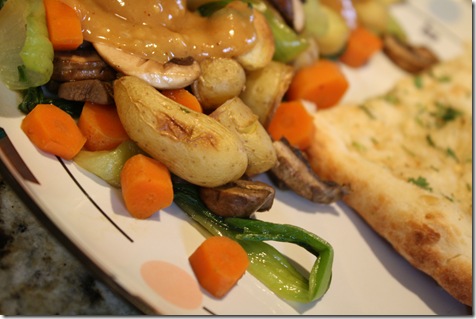 Plus, a piece of garlic naan bread (pre-made):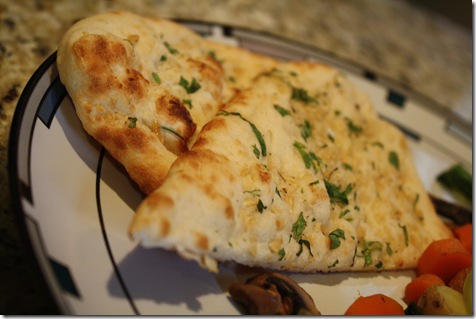 This was plenty enough food for me, but I "bulked up" the Husband's dinner by added whole wheat pasta.  He seemed to really like it!  But he'll eat anything.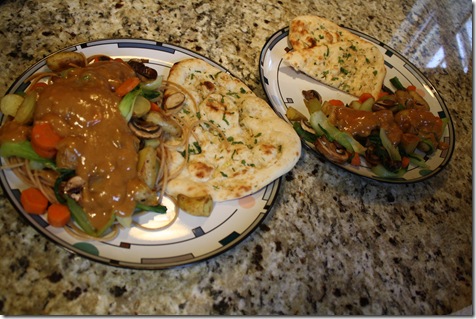 In other news…
Today I discovered what it's like to share  a desk with my Husband.
It was fun and cute.  It was also distracting.  I've never shared my office with anyone, not since the day I graduated from college and started working at a small three-person branch office (yes, THREE people including myself!).  Then I worked from home… alone.  For four years!  Alone!  The Husband is in the process of launching his acupuncture practice so we'll be spending a lot of 8-hour days together.  :)  It's kind of nice.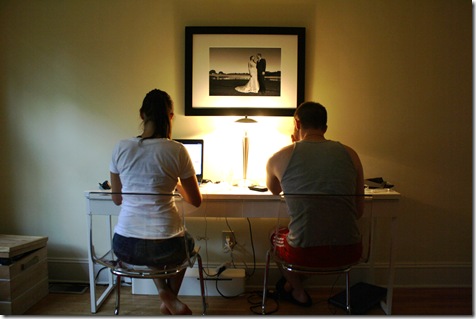 Mid-afternoon snack was cereal with hemp milk and a banana.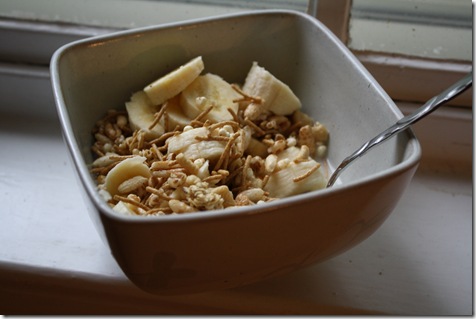 And after dinner, my hand kept creeping into the chips bag!  These baked corn chips are SO good.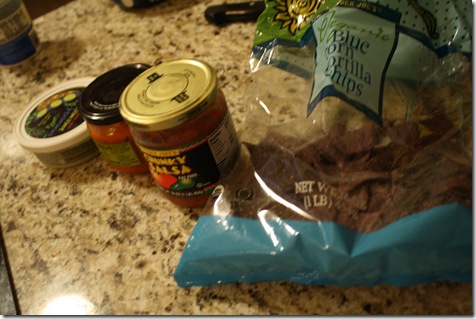 And that, my friends, is all.
Two questions for you:
1) Do you do most of your work alone?  Or are you part of a big group who are always interacting?
2) What the heck did I do wrong with my sauce?