There are some crazy storms going on in Charlotte right now – I feel like I'm in Orlando again!
Luckily, I squeezed in a 4.5 mile run this morning before the rain began.  Reading over your suggestions for busting through an exercise hump really helped motivate me!  I've summarized my favorites at the end of this post.  The Husband ran the last two miles with me, which also helped break up the run and make it a little more fun.
Distance: 4.5 miles
Duration: 46:48
Mile 1: 10:03
Mile 2: 9:59
Mile 3: 10:18
Mile 4: 10:51
Mile 4 – 4.5: 5:37
Came home, bit into a Pink Lady apple, and smeared some Barney Butter in my bite mark!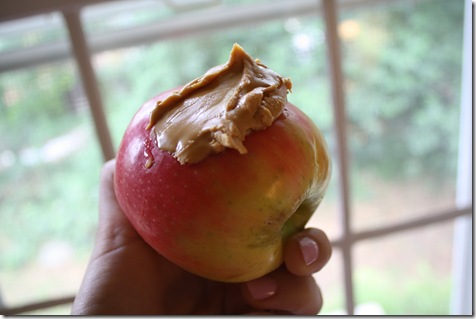 Portable snack.  🙂
Lunch was a great Athenos feta-inspired dish.  I was craving a light, fresh, tangy summer salad.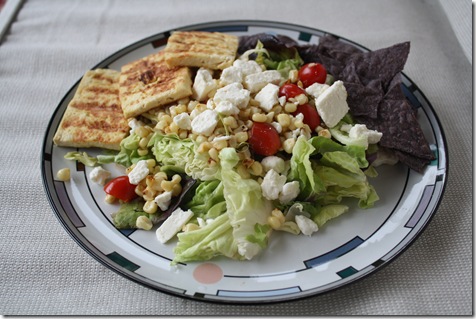 To make the corn and tomato topping, I shucked two ears of corn (which made two salads) and removed the corn with a knife.  Then I grilled the pieces on my George Foreman for a few minutes (until it started to brown).  In a small bowl, I mixed the cooked corn, sliced tomatoes, and the juice of 1/2 lime with some pepper. 
All poured on top of butter lettuce + topped with plain Athenos feta.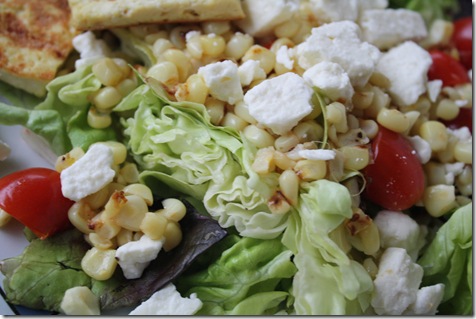 With thinly sliced grilled tofu: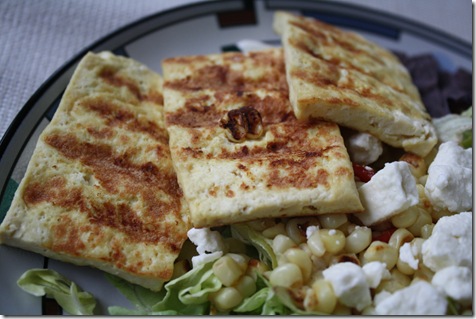 And blue corn chips: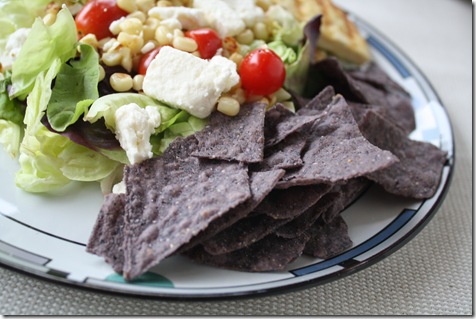 PS – I modified this for the Husband by swapping the feta for sunflower seeds!
Your Tips for Getting Over an Exercise Hump
My personal favorites this post (there are more than 520 other suggestions, too!):
Skinny Sushi wrote: "I change my workout schedule/routine every month. Last month it was a month-o-Jillian, this month it's NYC Ballet & Pilates, and next month I think I'll try P90X. It keeps me from getting bored and helps me figure out what areas need work. And Jillian KILLED me for the whole month. KILLED."
Stacy wrote: "To get over fitness humps, I make sure to schedule the difficult workouts to be shared with someone. That way, they hold me accountable (and vice versa), and I have someone to talk to so that I'm not focused on how much it hurts!"
Katherine wrote, "I try not to compare myself too much… I don't like to compare myself to other people's fitness levels and similarly I don't like to compare myself to what my fitness level was say 3 months ago. Do the best you can do today and keep looking forward to your goal for tomorrow."
Katie in DC wrote, "I'm all about encouraging myself with mini goals: one second faster, one minute longer, one extra block. Soon enough the mind games are unnecessary and I'm over the hump."
Katie at Healthy Heddleston wrote, "Knowing that I want to be healthy and live a long life not only for myself, but for my family and future children. If I don't take care of my body how am I supposed to take care of my family?  Therefore, I strive to be physically active everyday and try new things when my routine gets dull."
Cellabella wrote, "When I'm in a fitness hump, I take it as a sign that my body and mind needs a break and change of scenery. I normally lighten up on the amount and intensity of my activity and try to do something different – yoga classes, play soccer with my dog, swim in the pool. I remind myself that exercise should be enjoyable, it should add to my life and make me happy, not frustrated!"
Marie wrote, "When I hit a fitness hump, I remind myself of the people I know who are physically unable to do the things I do–spin, step, and lift weights–due to their physical handicaps. I remind myself that I need to be grateful that I can do these things. It also helps to think "I get to go to the gym!!" Rather than "I have to go to the gym." Corny, I know, but effective."