My first official marathon training long run is DONE!  I haven't run 8.0 miles in… months?  Since April or so? But it was all good because I ran bites and pieces of the distance with these lovely ladies: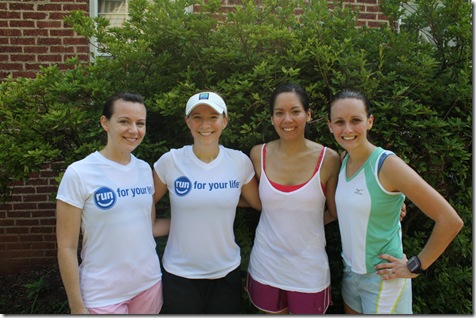 Michelle, Kath, Diana, and me (the sweatiest one, always).
I'm doing Thunder Road Marathon on December 11, which means I need to start revving up my long runs NOW.  One issue I had with my first marathon is that I often felt overwhelmed when looking at my training plan – when you stare at weeks and weeks of constant running, it's pretty intimidating.  As a result, I'm only pre-planning my long runs and will plan my everyday runs on a weekly or bi-weekly basis.  You can see my planned long runs on my current workout log.  I've also reduced my taper from 3 weeks to 1.5 weeks and am going to try to do more really long runs as a result.
Before setting out, I ate and digested breakfast: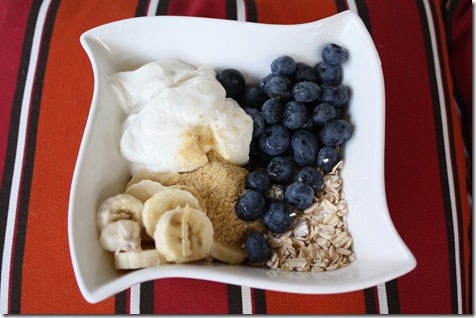 Greek yogurt, 1/2 a banana, flax, 1/2 cup raw oatmeal, and blueberries.  It was perfect.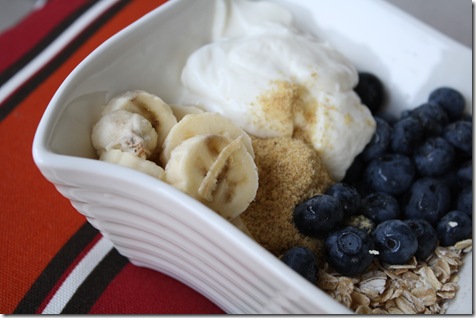 After loafing around a bit, I started out on my own.  I did the first 2.0 miles solo, then ran back to my house to grab Kath for another 3.0 miles, and then we went back AGAIN to grab Michelle, Diana, and the Husband.  In total, I did 8.0 miles, but it felt like so much less because of all the different people joining me.
Distance: 8.0 miles
Duration: 1:26
Mile 1: 9:52 <—Solo
Mile 2: 9:33 <—Solo
Mile 3: 9:35 <— with Kath
Mile 4: 10:07 <— with Kath
Mile 5: 9:40 <— with Kath
Mile 6: 12:28 <— with the big group
Mile 7: 12:53 <— with the big group
Mile 8: 12:38 <— with the big group
Our pace dropped for Mile 5.0 for 8.0 because we implemented the walk/run method.  Diana, who is a Zumba Queen, is interested in getting into running.  We loosely followed a 2-minute run, 1-minute walk format per the Couch to 5K Plan, and I think she had a lot of fun!  I was impressed she could go for three miles on her first go, but I guess that's a testament to how effective Zumba is!
Oh, when I looped back at Mile 2.0 to grab Kath, I refilled my water bottle with some Heed for electrolytes + calories. It made me feel SO good.  I could feel the energy in my bloodstream almost immediately.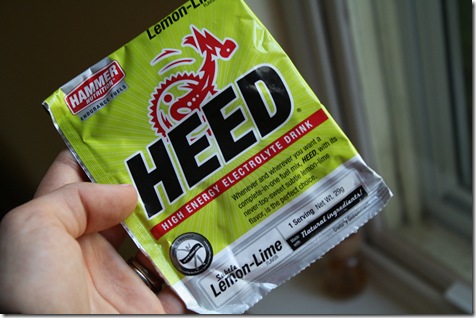 And when I came back, I had a piece of Challah bread with strawberry jam to hold me over until brunch.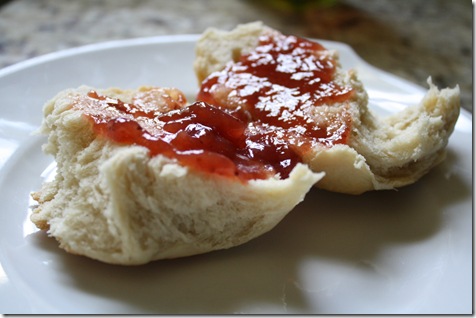 And… I'm off!  I hope you have a wonderful Sunday.
The winner of the Athenos giveaway is Valerie!  She said her favorite dish to bring to a dinner party is: "A bean or lentil salad. I'm vegan, and would never expect the host to whip up something special just for me. So it doubles as a protein filled main dish for me, and a tasty side dish for everyone else!"
Do you prefer to run or workout solo or with friends?