After doing my first No More Trouble Zones workout last night, I woke up today feeling sore on every inch of  my body.  Mostly, I felt it in my triceps, biceps, abs, and back of my thighs.
Many people commented that they found it "scary" that I thought NMTZ was so hard.  I know I do a lot of cardio, but my strength training is non-existent.  I could probably hop on a bike right now and bang out 60 miles, but ask me to do 40 minutes with Jillian Michaels, and I'm practically in tears.  I'm a strength training newbie! :)  Would you believe me if I said I was more sore today than I was the day following my 100-mile bike race?
However, the show must go on!  I had an important goal this morning: complete a 3.0-mile "countdown" run, which is when I progressively get faster.  Since I'm creating my own training plan for the Speedy 5K/NMTZ Challenge, I needed to figure out if I'll be able to do speedwork the day after NMTZ.
It was sure hot outside!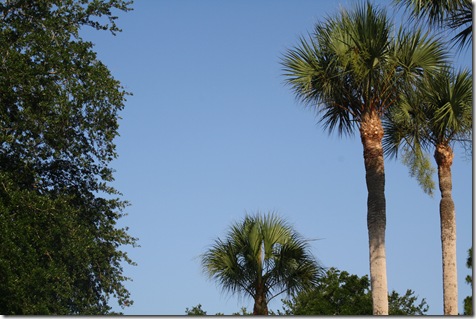 I worked really hard during the 3.0 miles, pushing myself to go faster and faster despite my sore legs.  My arms hurt just holding up my water bottle!
Statistics:
Distance: 3.0 miles
Duration: 27:44
Mile 1: 9:44
Mile 2: 9:20
Mile 3: 8:42
I wanted to collapse in the grass at the end!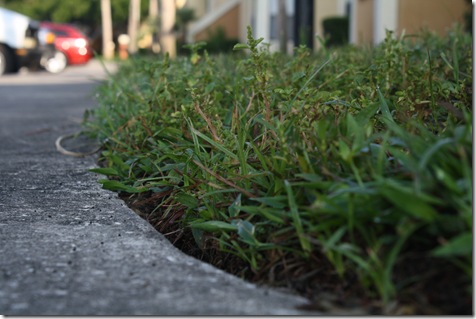 Verdict?  Doing back-to-back NMTZ and speedwork will NOT work, especially during the first few weeks of the program.
When creating my own training plan, here's what I always consider:
"Official" training plans. I love Hal Hidgon the most.
My past experiences.  When I created my marathon training plan, many people said I "couldn't" run a marathon only running four days a week.  I knew that running five days would be too much and that it would be fine based on my own athletic history.
My schedule.  My number one mantra is DON'T SET YOURSELF UP TO FAIL.  If you're super busy at work, don't create a schedule that has you doing 2-hour workouts during the week.
My susceptibility to injury.  As it's fairly well-documented on the blog, I am the self-proclaimed "Queen of Injuries," and I rule over a little kingdom called "Shitty Knees."  I strive to eliminate "junk miles" from my training plans and be smart about when I do speedwork.
What I'll find FUN.  Training plans should be enjoyable!  I try to schedule in other races or activities to mix it up.
When I'll need a "stepback week."  I build it one stepback week per month where my mileage and activity levels drop down.  This gives my body – and mind – a break from constantly increasing activity.
I'm thinking I'm going to do 3 days of NMTZ a week, as well as 3 days of running.  However, I won't be able to 6 days of workouts because, as mentioned above, doing back-to-back days of NMTZ and runs will set me up for injury, exhaustion, and burnout.  So, I'm considering a plan that will have me pull two 2-days with speedwork and then NMTZ, one day of NMTZ, and one day of running.  I'll probably cross train on the fifth day, and use the other two days as active rest.
Stay tuned for the official plan on MONDAY!
Before my run, I had 1/2 a banana and a coffee: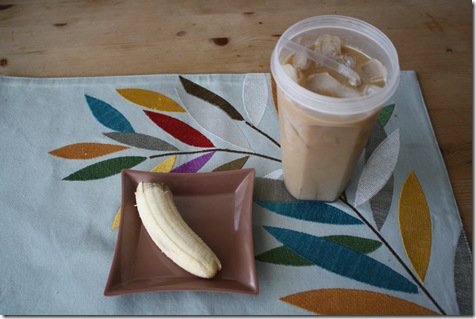 And afterwards, I filled up on some vegetarian protein in the form of organic Greek yogurt from Stonyfield Farm: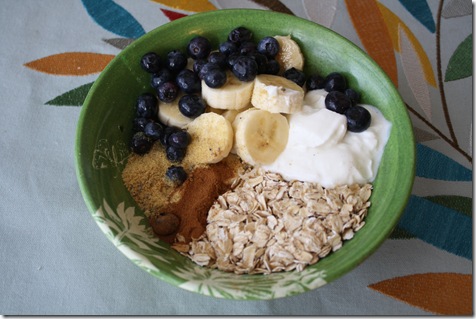 I had: 1/2 a cup of Greek yogurt, 1/2 a cup of raw oatmeal, 1 tablespoon flax, cinnamon, 1 banana, and blueberries.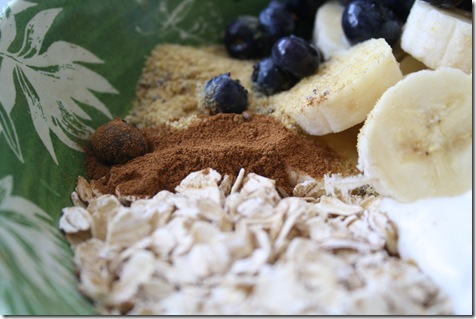 Refreshment!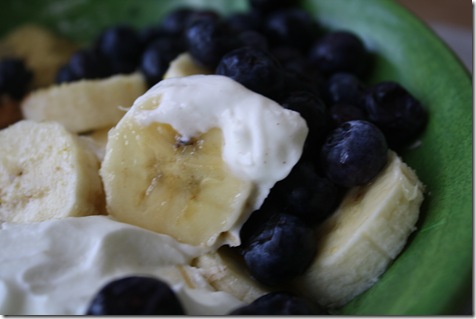 Guess who I'm picking up from the airport in a few hours?
My Ma!
(Hey, who's that cute baby?!)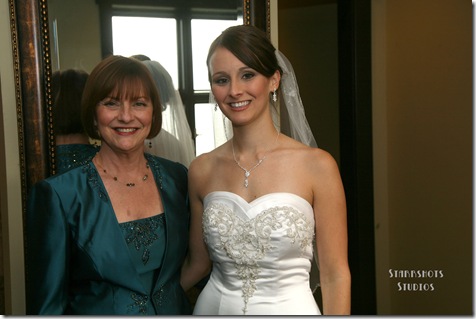 Excited!!
What do you consider when developing a training plan?