I'm trying to hit up all the good Orlando restaurants before we leave for Charlotte!  After picking up my Mom from the airport, I dragged her around town on a bunch of errands (like collecting boxes from liquor stores!) and then treated her to Ethos, a vegan restaurant in downtown Orlando.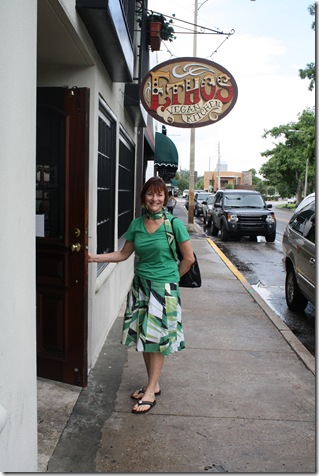 I ordered the best thing on the menu – the Curried Tofu wrap!  It's spicy, it's sweet, and it's super filling.  What more could a vegetarian hope for?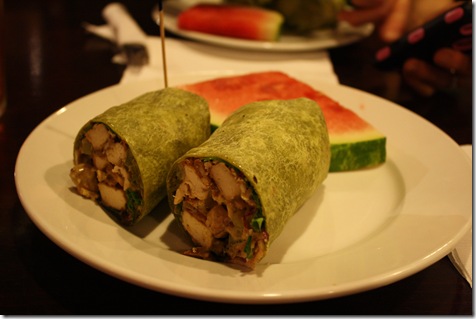 There's all sort of goodies inside, like mixed greens, raisins, and walnuts (well, mine doesn't have walnuts because I'm allergic).
With a slice of watermelon on the side!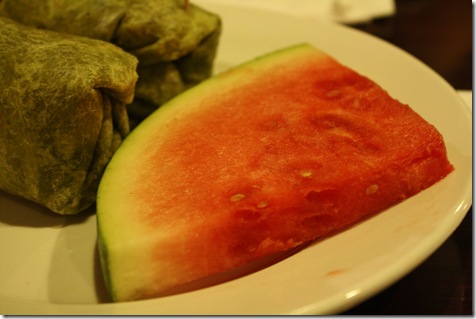 Ma and I got the same thing!  She almost ordered the soy cheese pizza, but after my disastrous experience with soy cheese earlier this month (my stomach was clenching for DAYS), I steered her towards the Curry Tofu wrap.  I know, I know… not all soy cheese is bad.  But I'm SCARRED!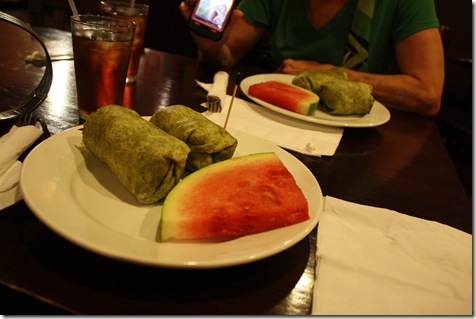 In other news…
My Husband is graduating from acupuncture graduate school tomorrow (that's why my mom is here).  I am so proud of my Doctor of Oriental Medicine!  (In case you're wondering, yes – his degree really is in Oriental Medicine and that's not an offensive term.  Oriental is only offensive when you use it to describe a person.  It's for medicine + rugs only!).
Since I'm into old photographs today, here are some of the GRADUATE!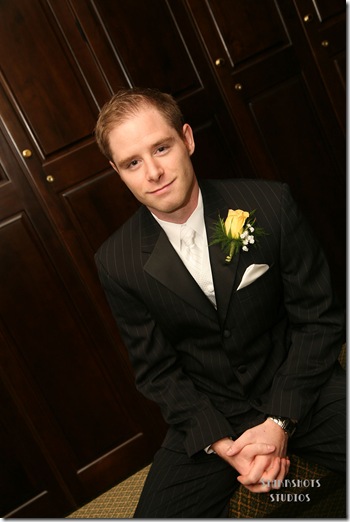 My, my! How things have changed! 🙂