I woke up this morning with three urges:
To go back to sleep.
To write (oh, happy day – I live for the days I have the urge to write).
To eat pecan pancakes.
Pecan pancakes for breakfast it is!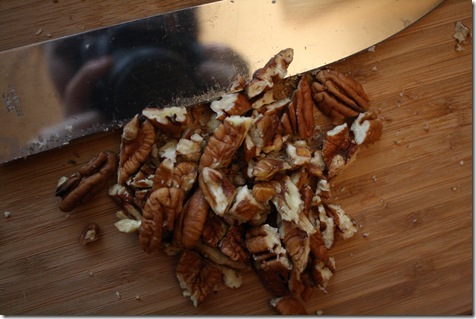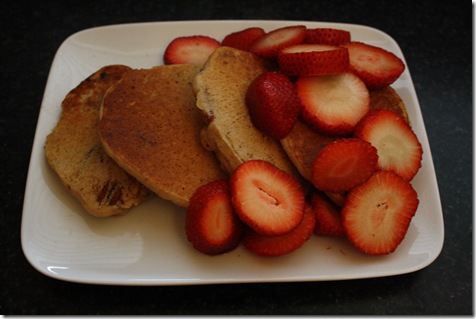 I am pretty loyal to Hodgson Mills pancake mixes, but Kodiak Mix sent me a sample to try.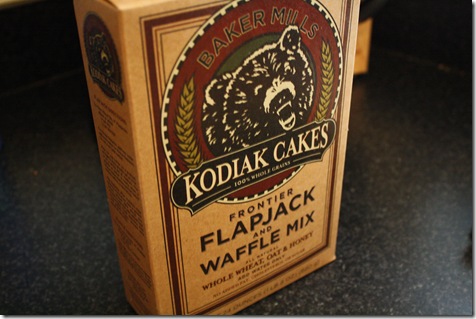 The secret to perfectly browned pancakes?  Don't heat the griddle before you put the pancakes on.  Just put them on cold and then slowly cook the first side.  Patience is key!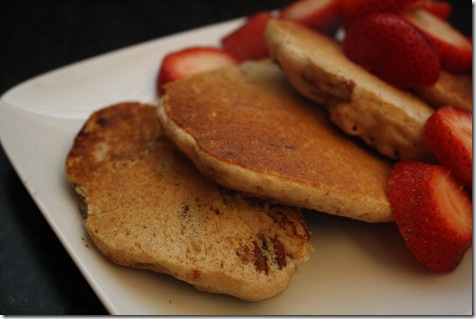 With strawberries maple syrup on top…. Mmmm.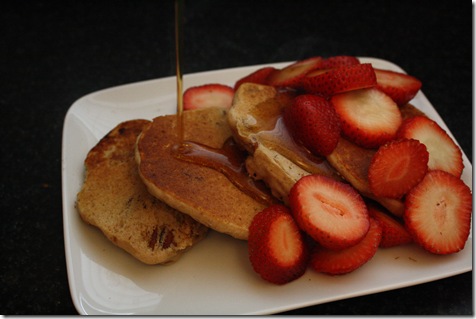 I really liked the Kodiak mix.  It had a great flavor and made deliciously fluffy pancakes.  However, I can't buy Kodiak mix in my regular grocery store, so I guess I'll be sticking with Hodgson's… which is pretty a-maz-ing, too!
Prepare to Get Inspired…
As you know, I'm a huger supporter of fitness events that raise $$$ for cancer research (my college friend has had leukemia twice and just went into remission again).   I ran the Disney Marathon in her honor and raised more than $3,000 for the Leukemia and Lymphoma Society, and my upcoming Century Bike Race is for The Livestrong Foundation (and together we raised $3,300!).
Fellow blogger Katherine is an inspiration! She's signed up for a 3-day, 60-mile walk to raise money for cancer research!  We've teamed up to offer LIMITED EDITION Operation Beautiful shirts, the proceeds of which go to the Susan G. Komen Foundation.
Here's what Katherine had to say:
This year I wanted to accomplish something. Something important.  Something bigger than myself.  On Friday, April 23rd I took on an incredible challenge and signed up to walk sixty miles in three days!  I am 40 years-old, never been an athlete, what was I thinking?  Why am I walking? I am walking because I am a woman and as simple as it sounds – because I can.  Not only is there the huge challenged of walking sixty miles, but there is the challenge of raising $2,300 to walk.  I have joined a great group of women "Hugs 4 Jugs" and will be walking in San Diego November 19-21, 2010.  To share my store I started a personal blog documenting my journey and to keep friends and family updated – www.katherine3day.blogspot.com  Please stop by and follow my progress!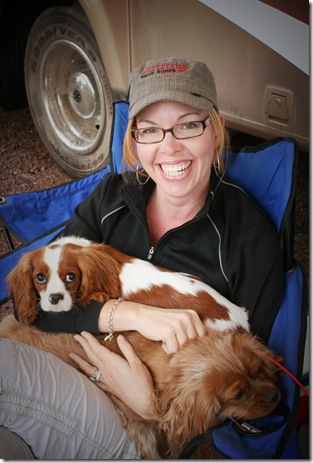 I live in sunny and HOT Arizona with my wonderful husband and two kids (Meghan and Matt).  I am also a huge Cavalier lover and enjoy outdoor time with my pups Avery and Mazie.  I had the awesome opportunity to design scrapbook product and author a couple "how to" books over the past couple of years, but traveling became hard with a family and decided to leave the scrapbook world in 2007.  With turning 40 last year I took great interest in my health by working out more, training to run a 5K and cutting meat out of my diet. I have lost close to 30 lbs. over the last couple of years and still find maintenance a daily struggle, but through the internet I have found so many wonderful websites to keep me inspired.  I share recipes, my workout adventures and more on my fitness blog – www.fitredhead.blogspot.com
In order to walk in the 3-Day walk I need to raise $2,300 to help fight breast cancer.  Caitlin has been gracious enough to support my fundraising efforts by creating a t-shirt design for Operation Beautiful.  There are many different designs available along with several different styles of shirts and accessories for purchase.  All proceeds will go directly to my fundraising donations for the Susan G. Koman for the Cure walk.  With your help I will walk sixty miles in three days! 
Please visit Katherine's online shop to purchase an Operation Beautiful shirt!
As always, thank you for supporting the fight against cancer in any way you choose to do so! I appreciate everyone who has donated to my races, Katherine's efforts, or other athletes who are using their muscles to fight cancer. 
Side Question:  What's your favorite charity and why?