It's been quite a busy day.  I think I need a nap!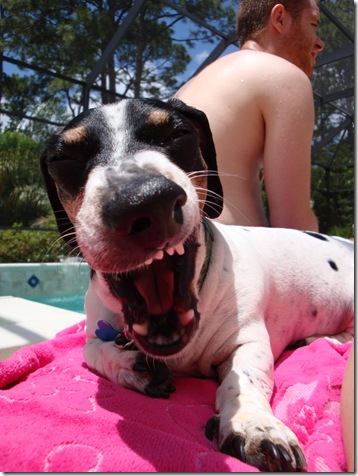 So far, we've spent the day sunbathing, swimming, eating, and strolling on the beach.  The Husband said he's having a perfect birthday!
The pool was a little chilly when the Husband initially jumped in…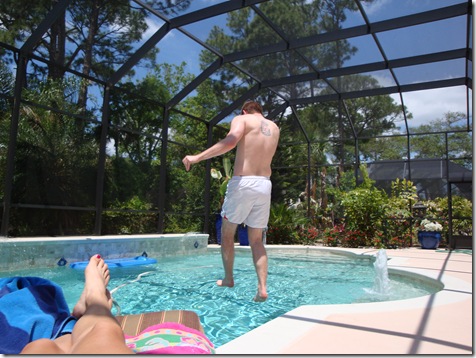 So Maggie and I just laid on the towel for a while (but eventually we both got in, too.  Maggie loves the pool!).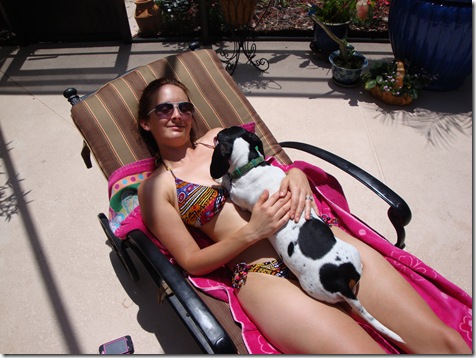 I have a dachshund tan line on my stomach!  🙂
For lunch, we went to our favorite beachside cafe, the Java Joint.  Java Joint is right next to the coast so we always walk on the beach after eating.  The Husband actually proposed to me on this very beach three years ago this June!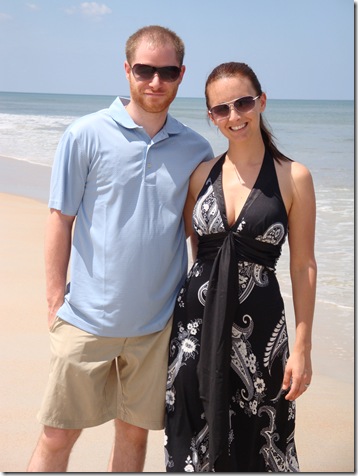 At Java Joint, I got the veggie burger sans cheese with a side salad.  The Husband is suddenly turning against dairy (not eggs, though) and it's inspiring me to cut out unnecessary dairy, too (my doctor recommended I reduce my intake).  It's so much easier to make healthier choices in general when someone else is doing it, too.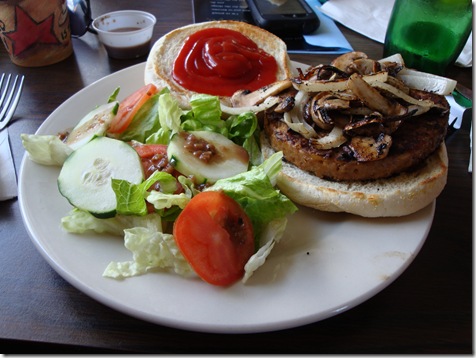 I love how the Java Joint adds fresh grilled mushrooms and onions to the top of their burgers.  So favorful and delicious!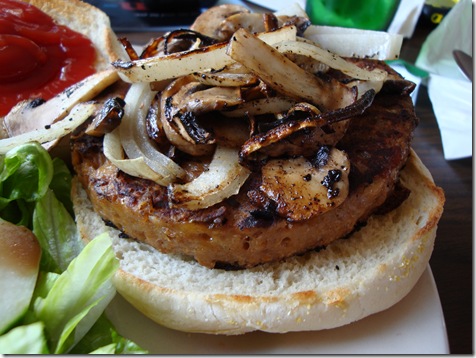 The Husband was a pretty serious meat-eater before we both went vegetarian, and I never thought he'd be the one heading in the vegan direction first.  It's interesting to see the process unfold in front of me!  Guess I'll need to learn how to make more vegan meals ASAP!
I've written about the influence we can have on others before:
Recently, I've gotten so many emails from people who struggle with bosses, friends, or significant others who disapprove or disagree with their healthy choices and 'push' junk food or make fun of exercise (and you know… this wisdom is usually dispensed by armchair quarterbacks – people who sit on the couch all day and admonish you for exercise.  They say, "Running ruins your knees!" as they munch on junk food).
I always feel that people who try to sabotage your healthy habits are just projecting their own feelings onto you.  When people do it to me (and it happens all the time, especially about being a vegetarian), I just smile sweetly, make a joke, and change the subject.  It's not about me, it's really about THEM.
Have you ever had someone push junk food on you or try to sabotage your healthy habits?  How did you handle it?