Hello!  This afternoon has consisted of errands and eating.  🙂
I grabbed another slice of veggie pizza on the way out: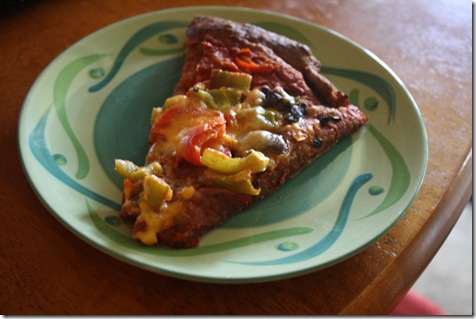 And when we got home, I made us a quick dinner.  The Husband has been complaining that he's bored out of his mind with our normal groceries, so we picked up some new stuff, including a lovely black and green olive spread.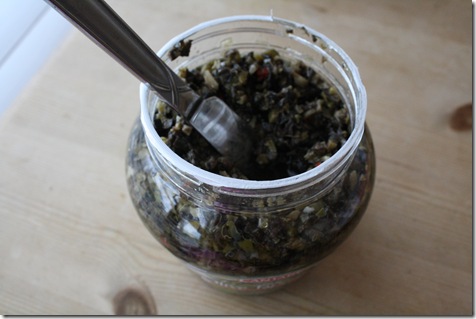 I paired it with hummus and arugula.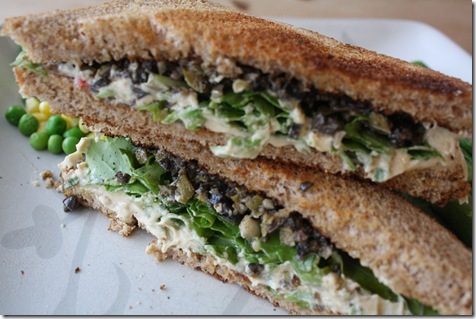 With corn, peas, and steamed asparagus on the side: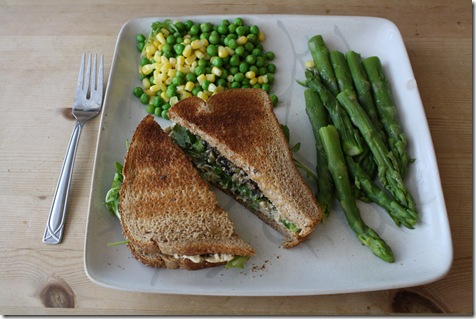 Tonight, we're going out with the Husband's college friend, so I'll probably have another snack, but I'm going to try to keep it healthy and abstain from the booze because I have a EARLY wake-up call.
How to be the World's Best Spectator
As mentioned, tomorrow I am going to watch Ashley do her first Half Ironman.  I love being a spectator!  It's so much fun.  But there's a good way to be a spectator, and a bad way to be a spectator.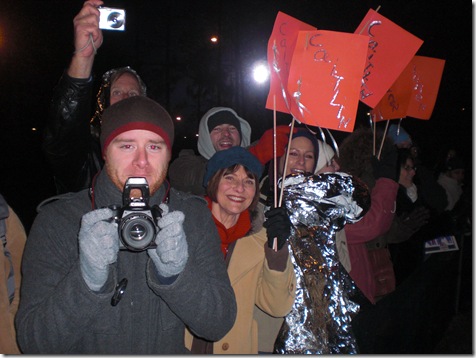 (My family during my marathon.)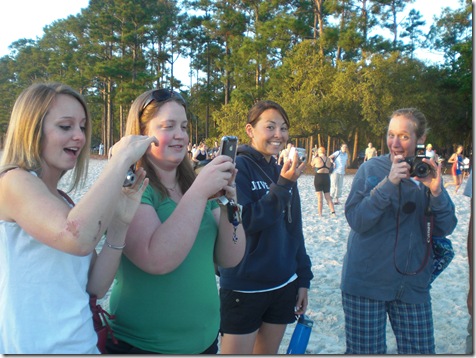 (The time I was a spectator at Meghann's triathlon.)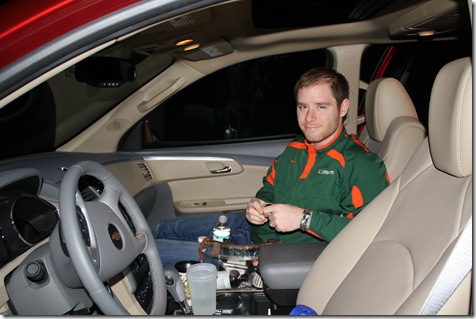 (The Husband spectating at one of my races.)
Here's how to be an awesome spectator:
Remember, the day is all about the racer.  If you agreed to be a spectator, you have agreed to bend to the wishes and whims of the racer.  They trained for this for 2 to 6 months.  They rule the day.
Never, ever say, "Ohmigod, you're making me get up HOW early!?"  Racers have to get up really early – not because they want to, but because that's when the race starts.  If you can't stand to get up early without complaining, meet them at the finish line.  It's better than making the racer feel really guilty for hauling you out of bed.
Don't depend on the racer to figure out where to stand and watch.  They have other things to worry about.  There's usually a course map or spectator information on the race website.
Wear BRIGHT COLORS, bring little flags, or tie a balloon around your wrist.  This will make it really easy for the racer to spot you.  If you want to win major points, make a fun sign!
Bring a camera and take TONS of pictures of your racer.  You can never have too many pictures of a race! 🙂
If it's a long event, bring your own entertainment and snacks.  You might want to bring a book and a tailgating chair.  Tomorrow, I'm bringing my own running clothes so I can go on a long run while Ashley is completing the 100K bike ride.
Don't run into the race course to run with your friend.  Enough said.
Stay positive!  The best thing on race morning is a spectator who wants to be there and is excited for you.  :)