Long rides are definitely getting easier!  And not a moment too soon – my 100-mile ride for the Livestrong Foundation is May 23!  Yippeeee!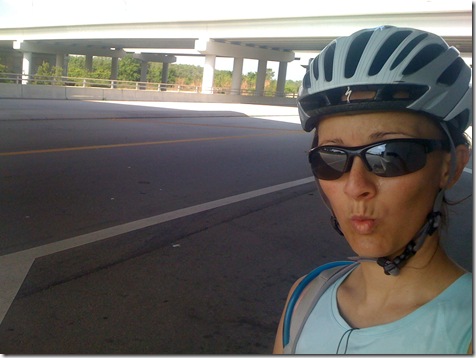 I finished 56 miles in 4:06.  I wanted to ride farther and longer, but I had to make it home for a 1 PM conference call.  I was relieved to get out of the heat anyway – it's 90+ degrees out there!
The few changes I made to this ride were all around successful!
I brought more food: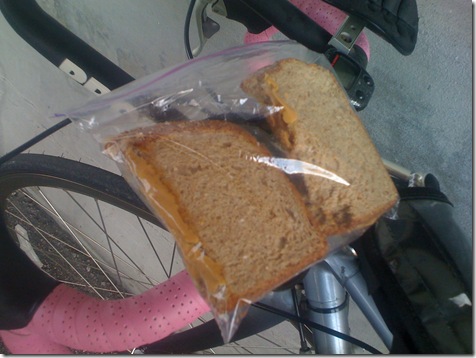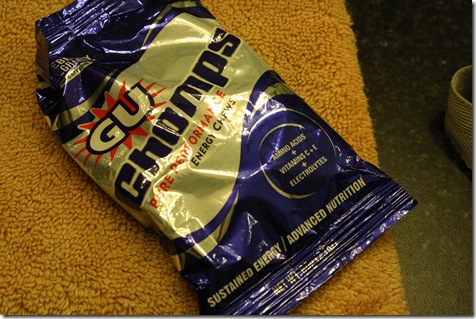 As well as more liquid calories + electrolytes in the form of Gatorade.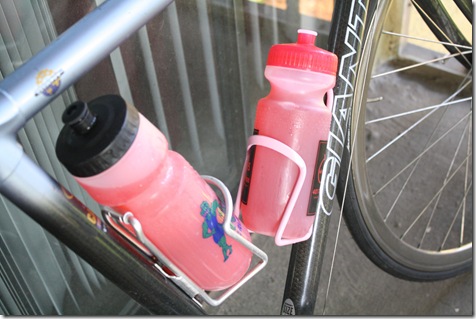 All that energy definitely kept me more than satisfied on the bike.  I stopped at Mile 20, 30, and 40 to eat the Goo and peanut butter sandwich, and I drank the Gatorade after I finished the water in my CamelBak.  I must admit the Gatorade worked wonders!  My sweat wasn't as salty as normal!
The ride itself was pretty uneventful and boring, but that's what you get when you circle the same 12-mile loop 4 or 5 times.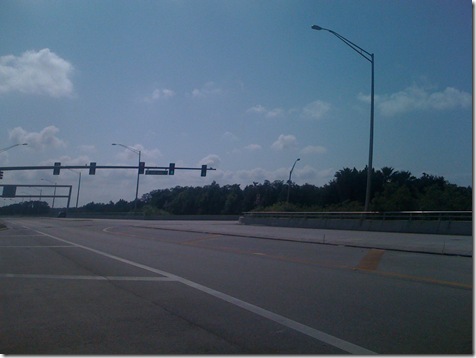 As mentioned, I took a few untimed rest breaks under the shade of the highway.  I definitely have learned that it's important to get off the bike and stretch every now and then… although I hate starting back up because my legs go all numb and tingly!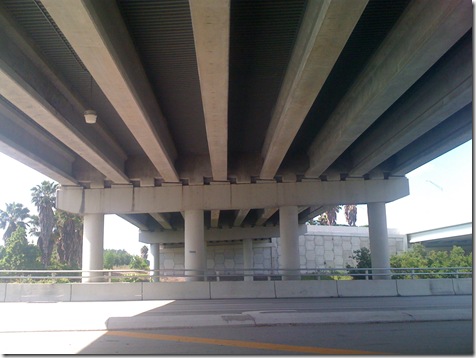 I'm still experiencing slight knee pain when I get over 40 miles.  I read some research on Bicycling.com that suggested that knee pain in the front means your seat is too low, which is a definite possibility because my bike is very small.  But I can't raise the seat up any higher because the stem isn't long enough.  Any other ideas?
Final statistics:
Distance: 56.0 miles
Duration: 4:06:18
Average MPH: 13.4 mph
Calories Burned: Approximately 2,100 (and about 900 consumed on the bike)
Came home and laid on my floor for a while with James.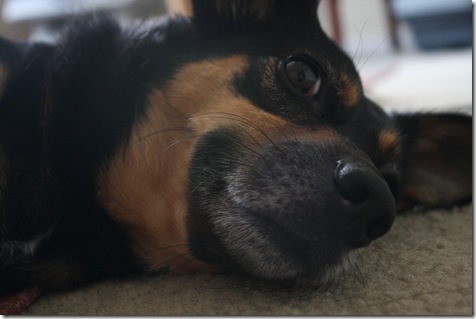 Refueling has been kind of difficult.  I'm experiencing the dreaded post-cardio nausea that I sometimes get after long endurance workouts.  It gets worse if I don't eat anything at all, so I'm trying to go slow.
Green Monster + protein (1 cup almond breeze, 1 banana, 1 scoop brown rice protein powder, and 2 cups spinach):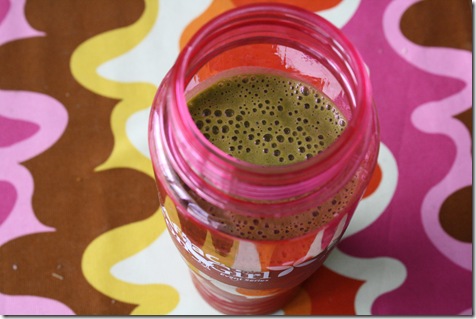 Roasted small potato + cauliflower drizzled with a balsamic reduction: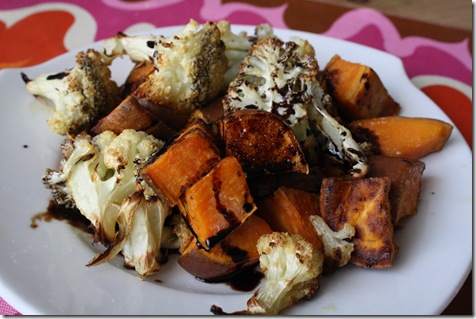 Off to get some work done since I played all morning long!
PS – Really fun to read all the blog plugs from this morning!  Can't wait to check everyone out later.
What's your favorite way to fuel before a workout and refuel afterwards?  Do you ever suffer from post-workout nausea, too?  What is it triggered by?  I usually get it in hot, hot, hot weather!