Whenever I make pancakes during the week, I take the extra batter and make waffles, which I then freeze for a lazy morning.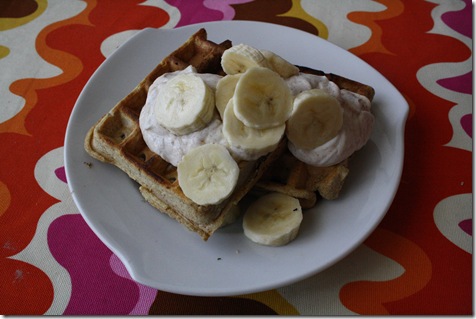 Instead of maple syrup, I mixed 1/2 a container of plain Greek yogurt with some honey and cinnamon.  And then I topped with 1/2 a banana.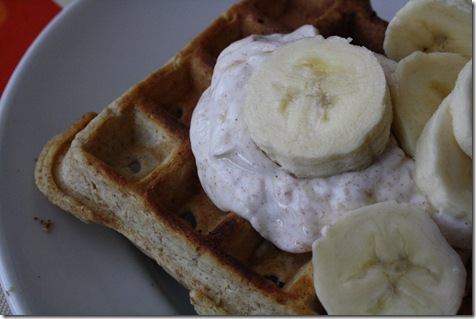 Spectator Fun
Guess what I'm doing tomorrow?
No, no, no! I'm not doing a Half Ironman!  :)  I'm watching Ashley do her first Half Ironman tomorrow.  I'm really excited to be a spectator because I LOVE CHEERING for racers!  I know how much I appreciate spectators when I'm running and love to be on the other ride of the tape.
Tomorrow's Half Ironman consists of a 1.2-mile (1.9 km) swim, 56-mile (90 km) bike ride, and 13.1-mile (21.1 km) run.  Isn't that crazy? My Olympic Triathlon was a 0.9 mile (1.5 km) swim, 24.8 mile (40 km) bike, 5.6 mile (9 km) run.   I can't imagine doing those distances + a LOT more! And all at once!  But I know Ashley is going to do great.
Have you ever been a spectator at a race? Do your friends and family come to your races?  I've done races with friends, with friends and family as spectators, and all by myself.  It's such a different experience depending on who's there!