I'm waiting for the UPS man to make a very special delivery – a Netbook, my (early) birthday present from the Husband!  Well, technically I bought it for myself on BestBuy.com and told the Husband not to buy me anything else.  :)  Yes, I have two weeks until my birthday, but who's counting? 
A Netbook is basically a mini laptop.  I really need one for traveling because my laptop is heavy, and the power cord is duct taped to the laptop.  Maggie tripped over the cord once and it's on the verge of breaking off.  I look extremely professional when I lug this duct taped monstrosity to conferences and presentations.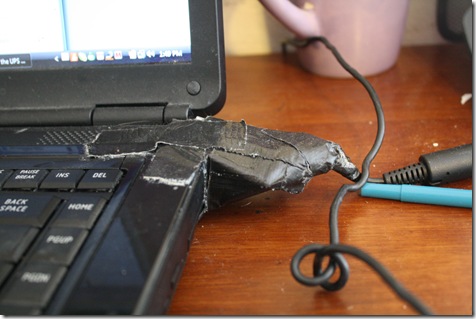 Ghetto fabulous.
But… I can't leave for  my bike ride until the UPS man makes his delivery, and the weather forecast calls for intense rain this afternoon.  Looks like I won't be able to squeeze a long ride in before my work trip.  🙁
Lunch featured one of my favorite recipes.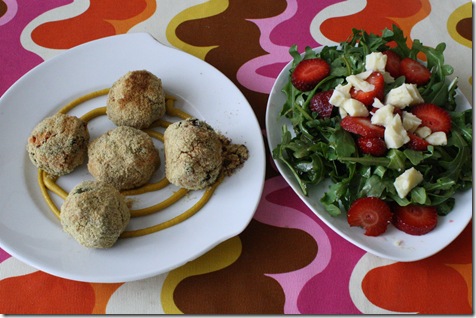 Flax-Encrusted Sweet Potato Balls!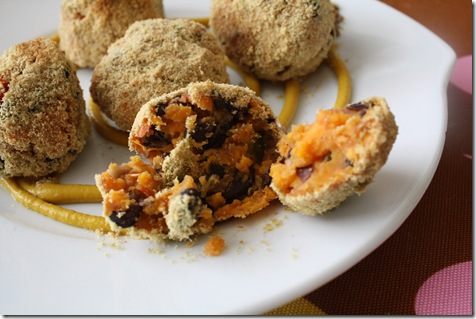 These balls contain sweet potato, black beans, salsa, and jalapeño.   The complete recipe is on this page (towards the bottom).  The mustard is key!
Plus, an arugula, strawberry, cheddar, and balsamic dressing salad.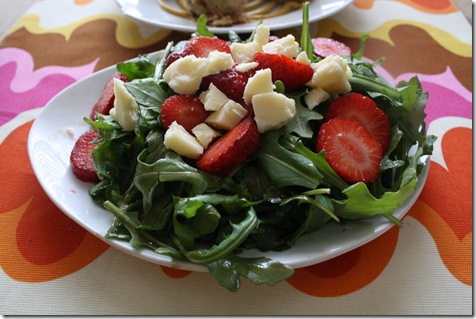 I love the peppery taste of arugula.
Do you buy yourself birthday presents?  I always do.  As I get older, birthdays get less exciting.  Might as well gift myself something fabulous!