Catching up on weekend posts?
The sun is shining, the coffee is hot, the wienerschnitzel is snoring…  It's a typical Monday morning in Central Florida.  
Breakfast: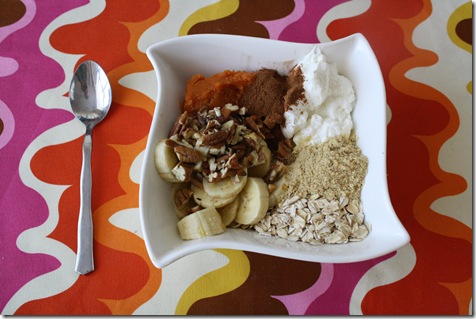 I can eat hot oatmeal all year round, but today I was craving a cold breakfast.  I am really enjoying the use of raw oatmeal instead of granola.  It's cheaper and I've definitely do not miss the added sugar.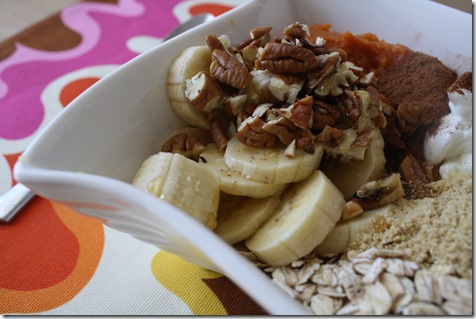 My mix contained:
1/2 cup oatmeal
1/2 cup Greek yogurt
1/2 cup pumpkin
Drizzle maple syrup
Cinnamon
Banana
Flax
Pecans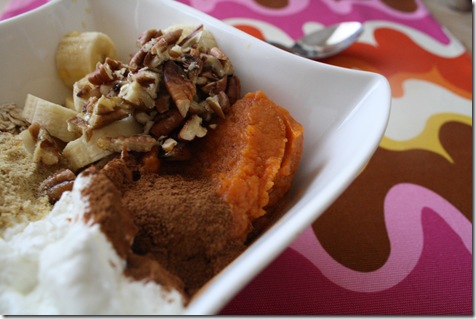 Brock Cassell
Want to help Brock Cassell, a 20-month old with leukemia?
Head over to Emily's blog to donate a minimum of $1 to her fun foodie raffle.  All proceeds will benefit Brock's family during this difficult time.  :( 
Getting Our Move On…
As mentioned a few times on the blog, we are moving to Charlotte, North Carolina at the end of June.  We're moving because Orlando is not the ideal place to launch the Husband's acupuncture business and, although we like it here, we don't see ourselves here forever.  My in-laws are also moving to Charlotte, and North Carolina is a lot closer to my mom and other relatives.
Suddenly, I cannot think of anything BUT moving.  It's starting to become a weird obsession.  I'm focused mainly on finding the perfect apartment/townhome/house.  We're going to continue renting because we're not in the position to buy.
We have this LONG list of "wants" in a new place.    In order of importance:
Pet-friendly
Three bedrooms or two bedrooms with an office area
Within close proximity to the Husband's clinic so he doesn't have a long commute
Located in a mixed-use neighborhood so we can walk to shops, restaurants, and bars
A good running/biking neighborhood or near a large park
Good lighting for food photography 🙂
Off-street parking
A small backyard area (unless it's an apartment)
Renovated and modern
Dishwasher
Air conditioning
Whew.  Does a place like that even exist?
If you were to move to another city, where would you go?  What kind of place would you want?