Tomorrow I'm running a 5K with my brother-in-law, Nick.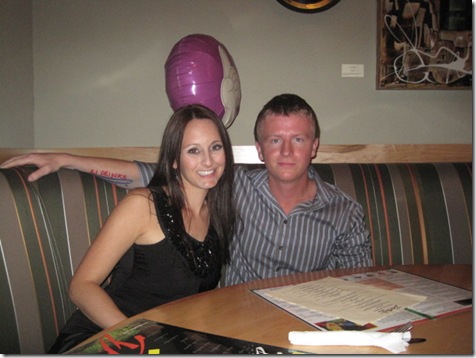 Nick is probably one of the most interesting, hysterical (seriously, a truly funny guy), thoughtful, and awesome people I ever know.  Don't believe me that he's really just that great?  Check out his 21st birthday recap.  One of the funniest nights of my life!
So, Nick was suppose to do the Founder's Day 10K (race recap) with me back in November, but a week before the race, he tripped down the stairs and twisted his ankle.  It was a really bad sprain and took months to heal properly.
He's really excited to do a 5K with me tomorrow and has been training hard.  I thought it would be an "easy" race for me… I envisioned us doing a walk/run style, with me encouraging him to run more.  Guess what?  Nick has turned into a RUNNING BEAST and keeps sending me texts like, "2.5 miles in 20:08" or "3.0 miles in 24:00."  I kid you not.
There is a real possibility that Nick's first 5K will also mean a 5K PR for me, if I can keep up!
Tonight's dinner: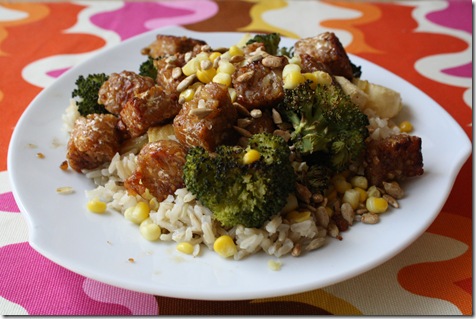 I made a great baked tempeh bowl:
1/3 block tempeh, marinated in maple syrup and baked
Roasted broccoli
Roasted parsnips
Corn
Brown rice
Sunflower seeds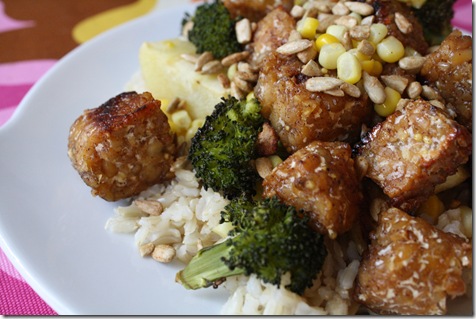 The sweetness of the tempeh contrasted really nicely to the saltiness of the nuts!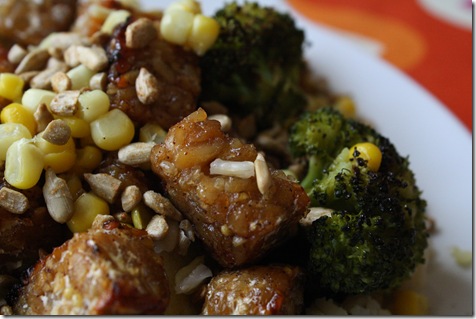 With coffee ice cream and shredded coconut for dessert: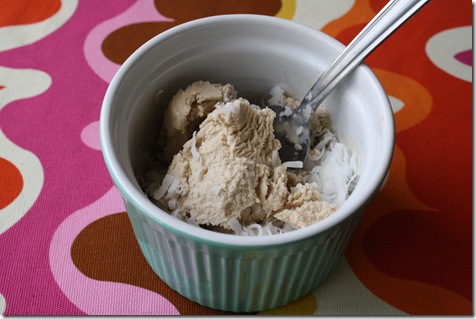 See you tomorrow morning for a RACE RECAP!  And keep your fingers crossed for Nick!  I think he has the running BUG now and I hope he enjoys himself.  🙂